When you take a look at the OCR community, it is very noticeable that more younger athletes are getting involved in the sport. Putting it all into perspective, as the more seasoned OCR athletes turn to other athletic competitions/ventures, it will be the younger athletes that will be competing for those coveted podium spots. With that being said, I would like to start off my "new" mini article series called the Bad Ass Kids of OCR by introducing Chris Schomberg. Chris has embraced the OCR sport and lifestyle, and it is with great pride that I share his story with you. I want to thank his father Jason, for helping me put this together.
Tell us about yourself and your Son.
I'm 41 years old this year I have recently started doing OCR races. I started going to these events and races to support my friend and now my son and daughters as they all have been bit by the OCR bug. My first event was the 2017 OCR Championship course in Blue Mountain Collingwood Ontario I volunteered for the Saturday to support Chris and I decided to do the charity race 7km on Sunday boy was I in for a surprise not as easy as it looks. I've been bit by the OCR bug as well.
Chris is 21 years old working full time as a plumbing apprentice- he is 1 year from getting his plumbing license. He came along way in fitness over the last 5 years shredding off 60+ lbs. and last season alone another 20 dropping to 180 lbs. This is the best he has ever felt. He grew up always being the bigger kid and being teased and called names, but he always stayed strong and ignored it. When Chris started high school, he jumped two feet first into playing football and Rugby as well as pond hockey and golf although he is terrible at golf. Practice and being active every day drove him to a healthier lifestyle getting into the gym daily and now running regularly according to his coach's orders. Chris flipped a whole 360 joining OCR. He never really partied much he has been very dedicated to a healthy lifestyle.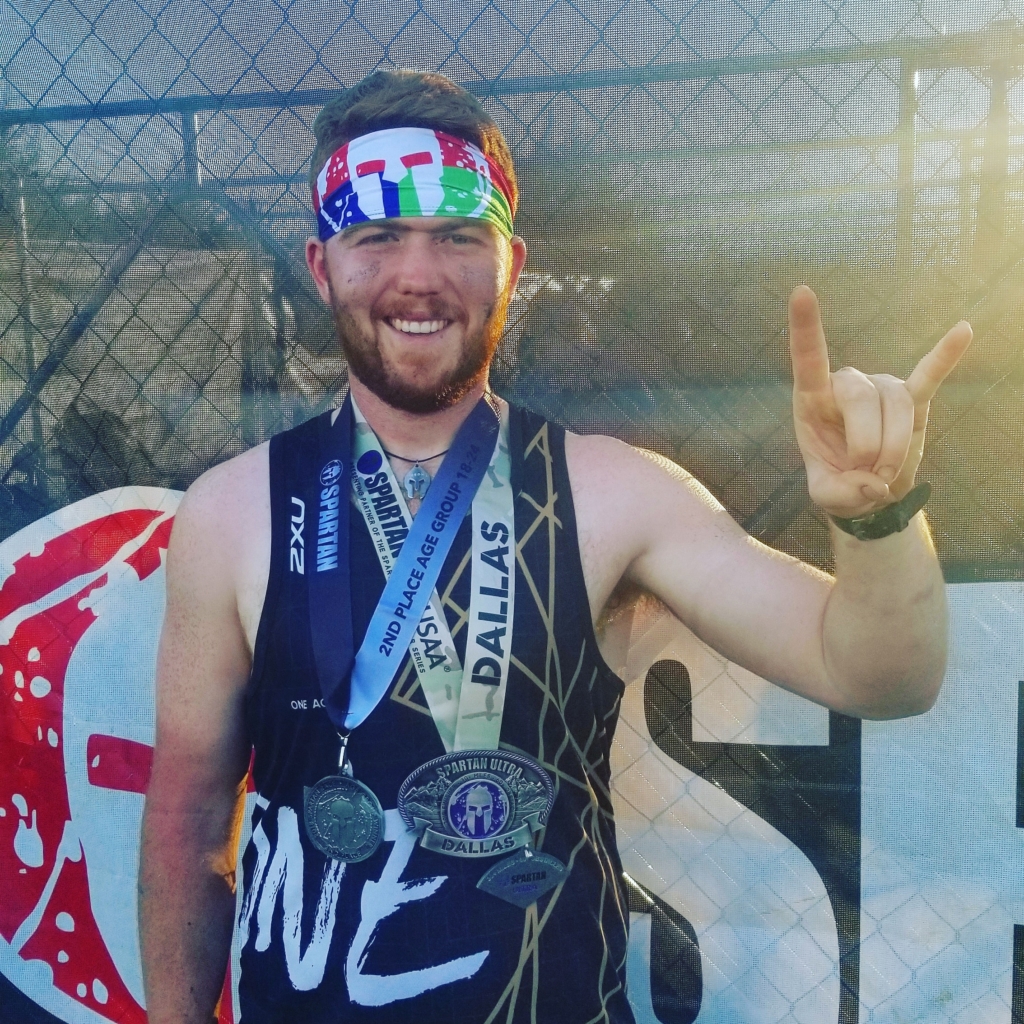 How did Chris get into OCR?
Donny Young, a good friend of mine, introduced Chris and myself to OCR racing and the gym. He's been racing for years and we saw pictures on Facebook of his OCR adventures. He saw that Chris had liked a local race is Kingston called Cannonball Crush, a 5k race with 15 obstacles. After that race, Chris felt great and wanted more! He then got Chris to run 3 Spartan races a Northman race and OCRWC in 2017.
What was his first event like?
His first event was a short 5k with 15 obstacles in the spring of 2017. Just a local race. It was hard with lots of hills but he loved every moment of the grind. I ran the same race in 2018 with him. Chris shaved a solid 5 minutes off his time from the previous year.
Has he done both short and long courses?
Yes, he has run both short and long events mostly Spartan races like Sprints, Supers, Beasts and Ultras. He has tried some of the other series races like Northman, Deadend and OCR Nor-Am.
What is his favorite distance of course now?
25 km+ is his favorite distance as of now. I find his times get better and faster after 20 k.
What is an obstacle on course he struggles with and what is he doing to overcome it?
Rigs and Spear throw. He puts lots of training in at the gym. Tons of pull-ups and at races he practice's holding and tossing the spear when the race isn't going on. He set up rings at parks with his friends and teammates to swing from them like it's a platinum Rig with different unique grips.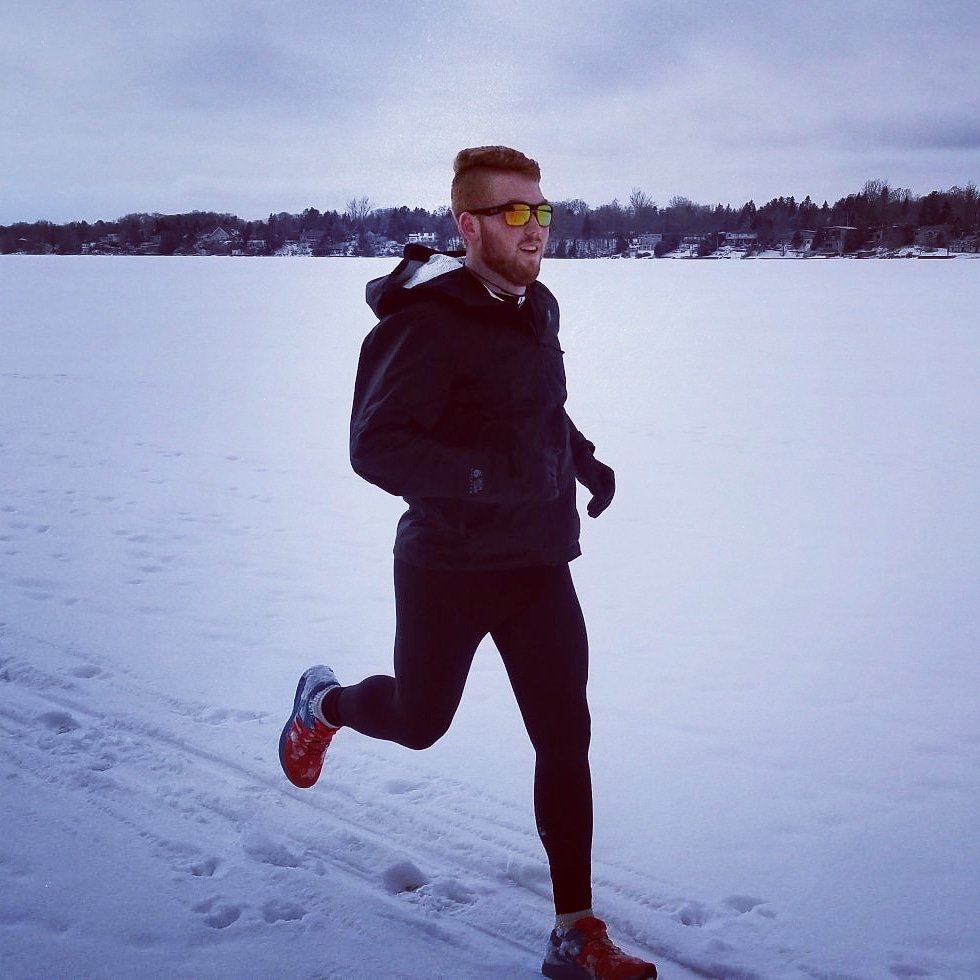 What kind of training does he do for OCR?
High volumes of running 4-6 times a week and then 3-5 strength and core sessions. Mostly contain loads of pull-ups and push-ups. Also, lots of hill training.
I have been told Chris does UltraBeasts. Tell us about his first one.
His first Ultra was Stoneham Montreal Spartan Ultra. He signed up the morning of the event from the Beast to the Ultra. The year before he raced his first Spartan sprint on that mountain and in 2018, he came back to run 50km. The race was amazing. He took home a 3rd place finish and that showed he had a secret talent for the Ultras.
Does Chris currently race in other series, besides Spartan?
He races other series as well such as Deadend, Northman, OCRWC events. He is interested in others like Savage race, Bone frog, Tough mudder and really any OCR event.
What is one huge OCR goal that Chris has?
To make the Spartan Pro team and get on the podium at one of the National championship events of OCR.
Which OCR athlete inspires him and why?
Jesse Bruce!! This guy is his inspiration. He wants to be like him and as good as him one day, he's shown him anything is possible. Chris met Jesse at his first Spartan, Chris thought he was someone famous and honestly still finds him to be one of the coolest guys he knows. Now they're like brothers. He shows true heart and determination in everything he does and it is exactly how Chris started to live life. When we are out on course you hear Jesse cheering for every single person on course especially his One Army crew. He inspires everyone to be better every day and when things get tough to know they will get better if you make them.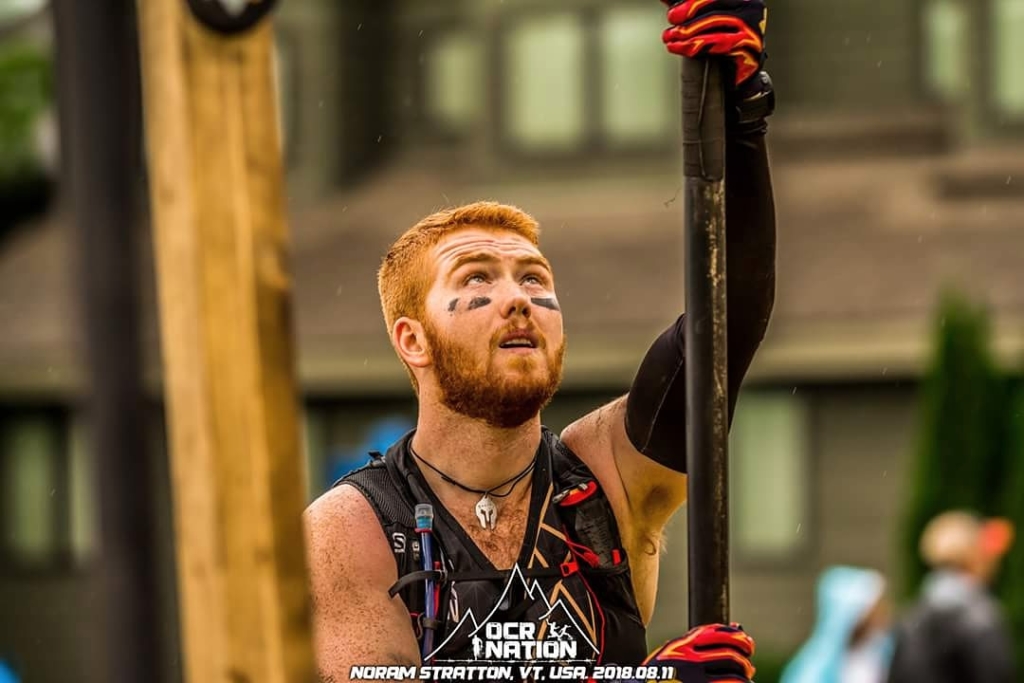 If he were given all an expense trip to do an OCR anywhere in the world what would it be and why?'
2019 Sweden Spartan Ultra World Championships. In 2018 we traveled to Iceland for the Spartan Ultra World Championship, Chris was sponsored by our Local 401 Plumbing Union Hall. He ran 50 miles and came out on top of his age group after 21 hours total of running. The longest he has ever run. He would like to head to Sweden to defend that ranking. On a side note when attending the race in Iceland I went to support him and pit for him but was given a pass to run the Ultra open as well also the longest race I've ever competed in. 22 hours 32 miles.
Does he have any advice for anyone just starting out in the sport?! 
His advice to anyone starting out in the sport is to go out and have fun! That's what this sport is all about. Race at your own pace and don't worry about others. OCR is a sport you can't base yourself off others it's all on you.
Is there an OCR race that Chris won't do? If yes, why?
Currently, there are no OCR's he wouldn't do. Chris enjoys a challenge and new events he's unfamiliar with will have new obstacles he has never seen. Right now, Chris has a lot of focus on Spartan Ultras
Is there anything else he wishes to share with us?!
"This sport has changed my life. Ever since I joined OCR racing a new part of me, I never knew I had has come out. I'm extremely positive in everything I do, I hardly ever let things bring me down. If I fail, I know I have to improve somewhere to not fail again. My body has changed, it taught me how important nutrition is if you want to feel better inside and perform better. I just started running when I found out about this sport in 2017 and I trained hard all offseason to come out and compete in 2018 which I did. I found my distance where I perform well racing 3 ultras total and finishing in order from 3rd to 1st. My union was a big help sponsoring me to run in Iceland. I'm a go big or go home kind of guy. The opportunities that come in life come for a reason so take advantage of every little thing. The longer the race the better!".
If someone wants to reach out to him what are his social media channels?
Instagram @ChrisSchomberg where he posts a lot and his Facebook is chrisschomberg@facebook.com