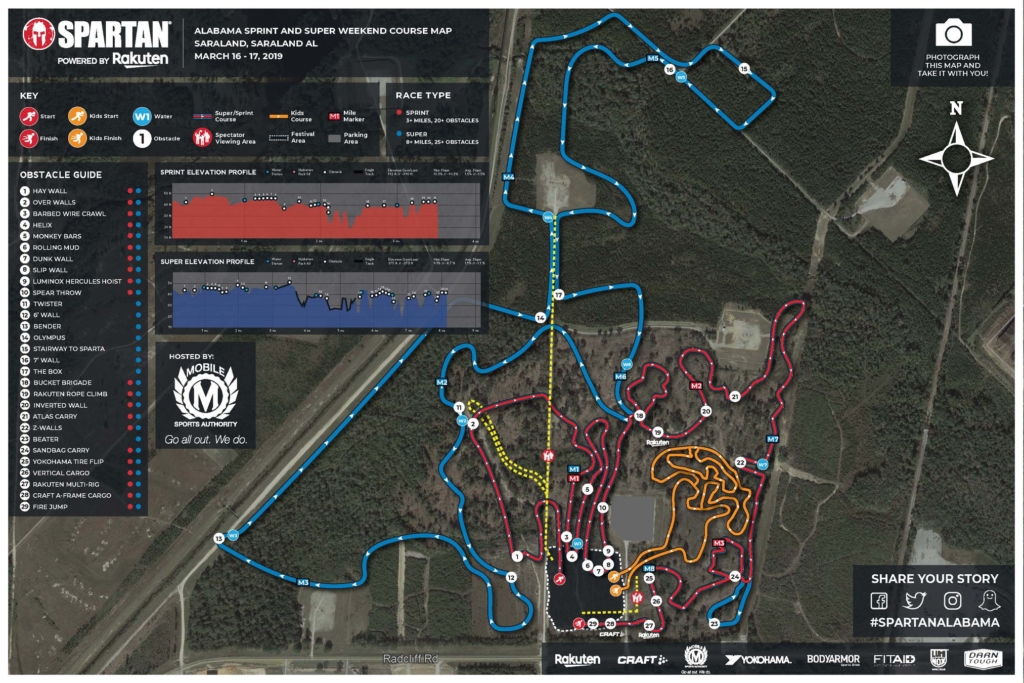 After almost a year and a half away, Spartan Race returned to Alabama for a weekend full of dirt and obstacles. For the first race in Alabama since 2017, they returned with Super and Sprint courses, and a new location just up the road from Mobile.
Course
The terrain was fairly representative of South Alabama. It was mostly flat, a mix of recently cleared land, a few muddy sections, backwoods trails and trails parallel to dirt and gravel roads. Never on the roads, that would be too easy.
The cleared land sounds like it would be easy, but there was an abundance of roots and downed saplings to keep runners on their toes. It was fun the first mile, but maybe a little annoying by the final mile.
The highlights of the 8.4 mile Super course was the dips into authentic Alabama swamp and a shallow creek crossing. There were no alligator or bear sightings. In case you were curious, the Sprint clocked in at approximately 3.4 miles.
I do miss the terrain at the old Saraland location, which I've heard has been turned into suburban housing developments. The old location featured more elevation changes, more swamps and more natural obstacles including ravines narrow enough for just a single track to go through.
Just as much of a factor as the terrain, the temperature played a role. It was unseasonably cold on Saturday for the Super and cool on Sunday. I almost felt like I was racing Greek Peak…okay, maybe it wasn't that cold, but I've never seen so many people racing in sweatshirts and hoodies in the south.
Obstacles
New Obstacles
I got try Beater for the first time. I thought my grip and upper body strength was getting better, but Beater reminded me that I still have more work to do before my next Spartan Race. It didn't help that it was strategically placed semi-near the end of the Super.
The Box looked easy until I tried it. The placement of the metal pipe at the top makes it difficult to grab and the whole top is awkward. I feel like they did that on purpose.
We also got to try out the Helix. It was fun, but not challenging when I tried it. It was right after a muddy barbwire crawl, but the Helix was mostly dry when I went across.
Old Favorites
Speaking of barbwire, the crawl was uphill and freshly watered. The barbwire was a little on the high side, but I'm not complaining.
The tire flip was humbling. I've seen the Yokohama tires on the livestream, but this was my first time seeing them in person. On the screen, they didn't look that heavy. They were very heavy in person and it wasn't long before I was in the burpee pit and planning exercises to help me conquer it next time.
Festival Area
Two thumbs up for the food trucks there. There was one serving salad and another serving local BBQ in case you need to replenish your calories post-race. Another two thumbs up for the post-race beer. Gone was the generic domestic beer. Instead, they were serving Sierra Nevada. I wouldn't have complained if they had served something local.
The kids' race was phenomenal. My five-year-old love the course, especially the not so pint-sized A-Frame cargo net and the "barbed" wire crawl.
Final Thoughts
Overall, it was a solid experience and fast course if you're that kind of athlete. It was a good course and a great lineup of obstacles. I think everyone in the Gulf Coast area hopes Spartan comes back to Alabama again next year.
Rating: 4/5
---
Have you done an Spartan Race?
Leave your own Spartan Race review and feedback...