Next up in my Bad Ass Kids of OCR article series, meet Nate. At the age of 17, he has participated in multiple OCR events and is not afraid to go after what he wants. Nate keeps his sights on his goals and trains hard to achieve them. He wants to show OCR race directors that kids are capable of more, and should be given the chance to prove it. I hope you really enjoy Nate's super inspiring story.
Please tell us a bit about yourself
I am a Junior in High School in Northern Virginia. I have been active in cross country and track since my Freshman year and have been an avid Spartan athlete since I was 14.
What first sparked your interest in running OCR races?
I ran my first OCR race when I was 14. I filled in an open space in a group my parents were running with at a local race, I really enjoyed it but wanted it to be more competitive, so my dad suggested I try Spartans.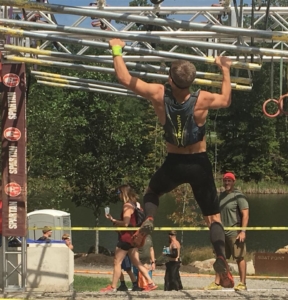 Please tell us about your first OCR race?
My dad and I ran the Spartan Super in Ashville in 2016, it was different from anything I had done before, and I loved it. That first race showed me how much training I would have to do to be competitive, but I was excited to be a part of the sport.
As a younger participant in the sport, what do you find your biggest struggles are?
I think many times people have lower expectations of younger athletes but more and more that is changing. Veejay Jones was on an Elite podium when he was 16 and this year he is leading in the Elite group, he proves that youth does not mean you cannot compete with the best in the field. I do admit that the 400-pound tire is still more than I can flip but I am working on that.
Do you prefer to run in the competitive waves or in open heats?
I prefer to run in the competitive waves. I like the camaraderie that comes with the competitive athletes and over the years we have gotten to know each other, we look forward to meeting up at the races and push each other to our best. I have jumped into Open waves to run again with friends who have signed up for the Open but only after I have finished my competitive run.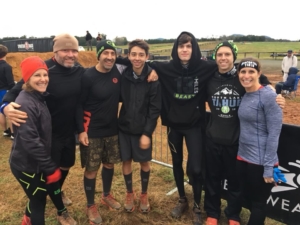 How do you train for your obstacle course races?
I have specific workouts to focus on Spartan obstacles including bucket and sandbag carries but we have also set up a spear throw, herc hoist, rope climb and multi-rig, which is in our family room with a cowbell at the end.
What is the biggest obstacle that you are working to overcome?
I am focused on being able to do the 400-pound tire flip. I have talked with Robert Killian about his approach to this and I am sure I will get this in the 2019 season.
Do you play or participate in any other sports? If yes do you find this helps with your obstacle course racing?
I run both cross country and long-distance track events for my high school. Doing the obstacles is important but running is where you can really win or lose at OCR. I am a strong mountain runner, but I don't train at high altitudes so traveling to Tahoe last year was tough.
As a younger athlete, who inspires you and why?
I have great respect for all the elite Spartan athletes. I have followed Robert Killian since I started with Spartan. He is a great athlete and always so generous with his time and advice. I have recently spoken with him about my choice to enlist in the Army National Guard and he has been so supportive and helpful. He is a great mentor and role model.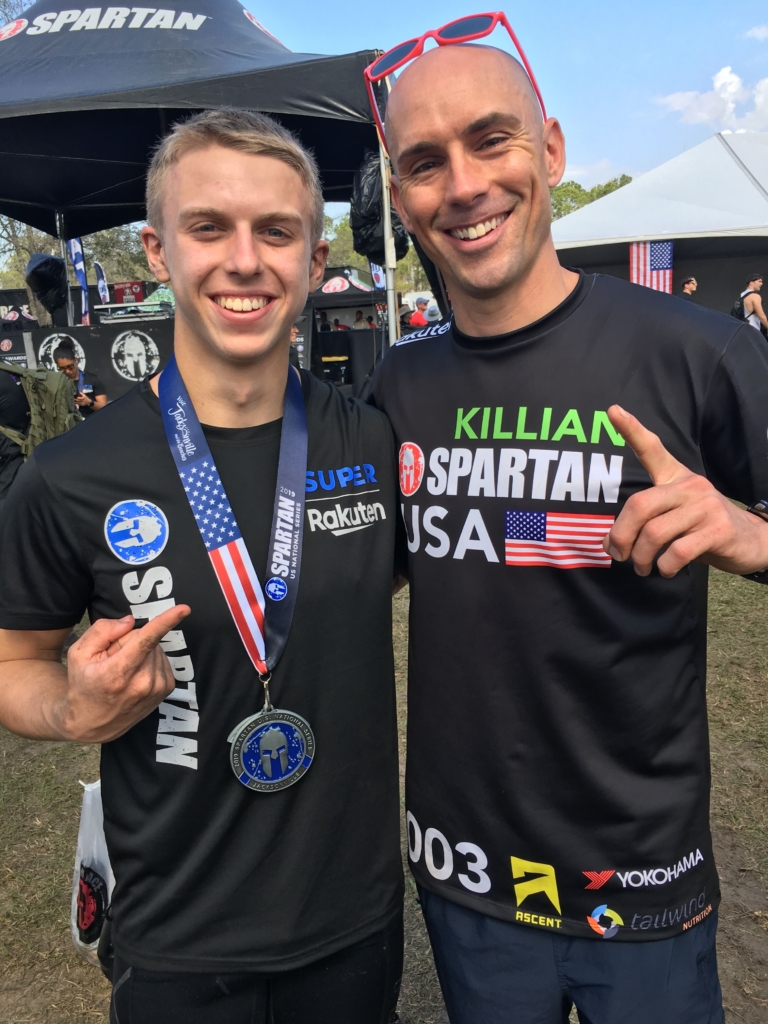 What has been your proudest OCR moment to date?
Last year I was focused on qualifying for my age group in Tahoe and I accomplished that and more with 14 podium finishes at 10 locations and 4 trifectas.
What has been your scariest OCR moment to date?
I would have to say my scariest moment came last year when I finally made it to the World Championship in Lake Tahoe and the cold wind combined with the freezing water swim, I was afraid I would not be able to finish the race. This event pushed me harder than I had ever been before. The experience has made me a stronger competitor and more focused than ever to beat the Tahoe course this year.
What big race goal are you working towards?
My biggest personal OCR goal is to get on the podium in an Elite wave.
The OCR community is a family. Do you find that when you are racing you see people helping each other out on course?
In the Competitive waves you cannot physically help other racers but absolutely as a community, the competitive racers are very supportive and generous with their time and advice.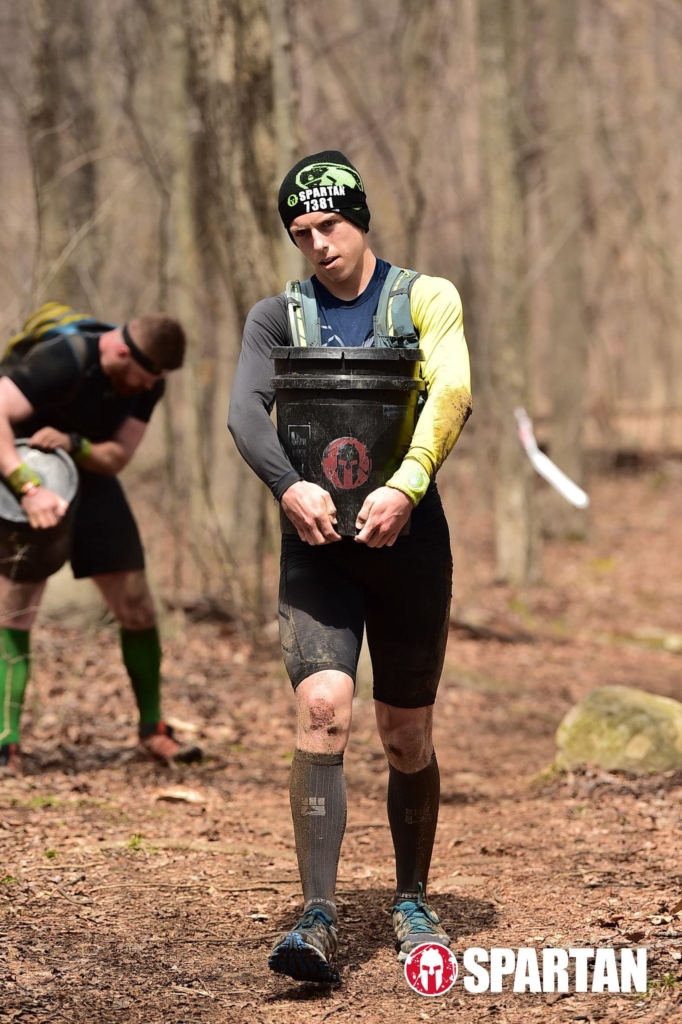 Have you ever done an obstacle course race with a parent or sibling? If so tell us about it?
My very first race was with my mom and dad and a group of our friends from the gym. I continue to race with friends in almost every race, many of which my dad also runs. At Nationals Park Stadium last year I was first on the podium for the youngest group and 2 of my friends rounded out the top 4, I also had a friend on the podium for the 50 plus age group. This also happened with another friend in West Virginia where she made it to the top of the podium for 50 plus. My sister is excited to start next year racing when she is 14. I have a great group of friends.
Do you see yourself participating in OCR 5 years from now? If yes tell us why.
Absolutely, I see myself on the Pro-Team within 5 years.
From your perspective, what can race directors / OCR companies do more of to entice kids to run the course?
I think that people underestimate what kids can do and recognizing that race directors and OCR companies can focus more advertising to a younger audience. Maybe include some racers outside the elite waves and bring in a few from the AG so that young racers see it is possible.
What is one takeaway you have learned from running OCR races?

OCR racing has built my confidence and strengthened my commitment to succeed. I am focused on a healthy lifestyle and I know this will help me to succeed in college and in the Army National Guard.
Is there anything else you wish to share with us?
I am grateful for the opportunities I have had to compete in Spartan races and am glad that I have inspired other friends to run them, including my sister. I would love to see OCR as an Olympic sport someday, some of the most versatile and elite athletes compete in OCR and it would be great to promote such a well-rounded sport.