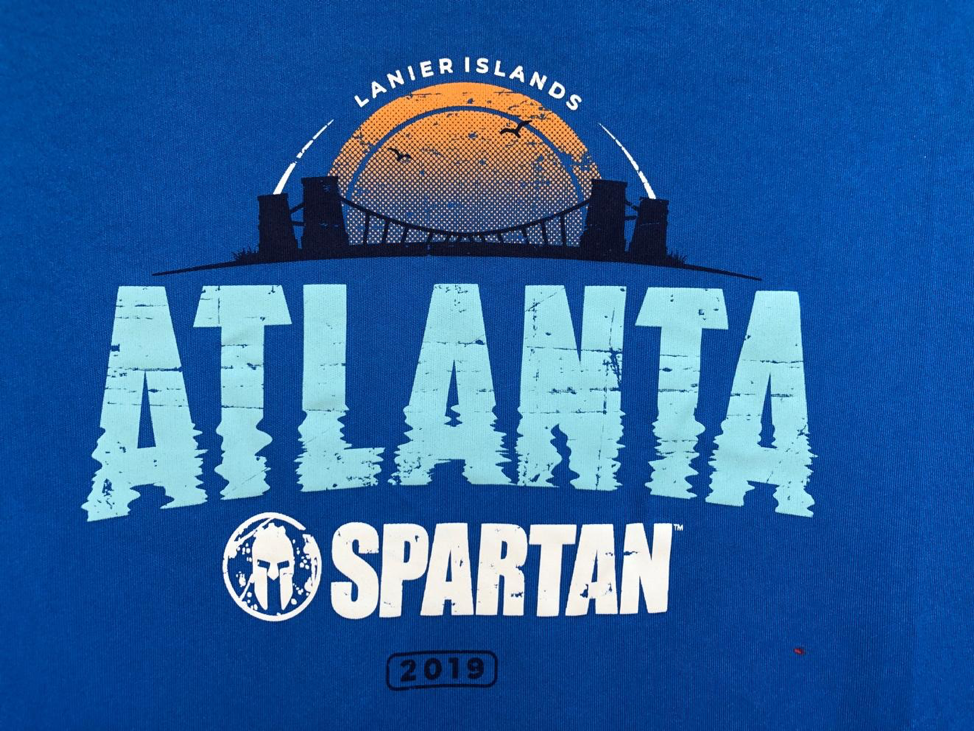 Picture this: It's a sunny day, margaritas, cabanas, ocean sand, beach chairs & golf courses. Here in Atlanta? Wait, what? I had never heard of this place before until I visited this location last weekend. Lake Lanier. A paradise destination for Georgia residents. Who knew? It was a beautiful, warm day with temperatures ranging in the 70s. Boats everywhere you turn to as you drive into the venue.
Lake Lanier Islands has lodging options, water cruises, water park slides, zip lining, golf, live music, fireworks, car shows, restaurants, seafood & egg hunts in April. Unbelievable. The lake features 1,100 scenic acres of terrain. Also 38,000 acres of 59 square miles of water. You can truly see how Atlanta earned the nickname "The City in the Forest."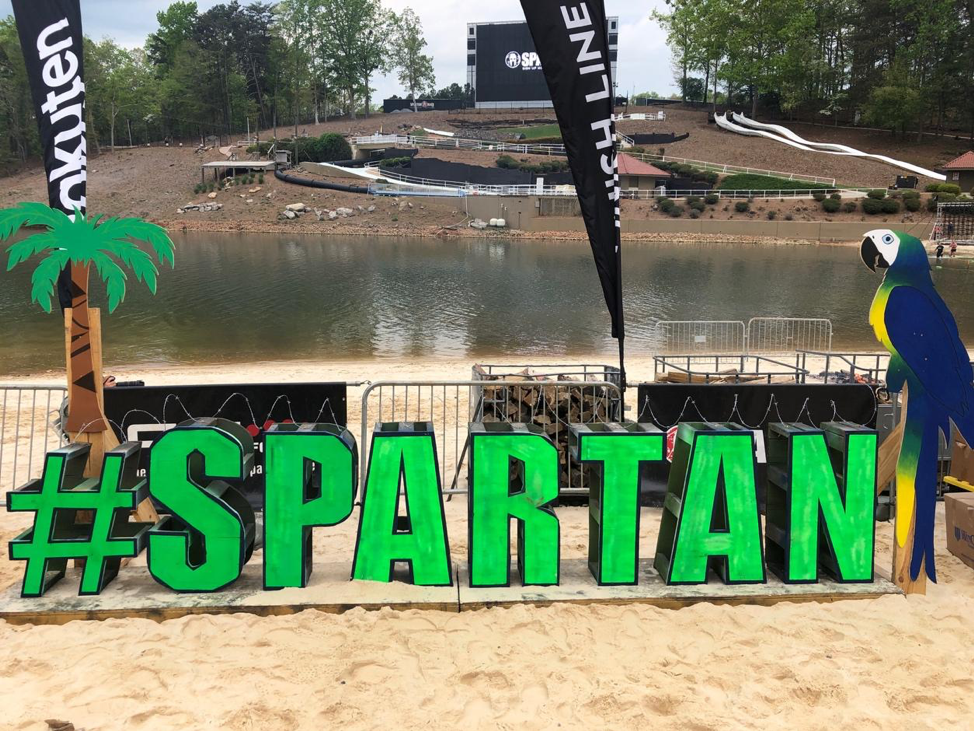 Athletes all over the east coast & south made their trips out to Atlanta, Georgia. On the same day of April 13th Spartan had events being held at other locations. Seattle, Washington. The Super, Sprint & the new trail course. Citi Field Stadium in Queens, New York. Stadion yellow medal course. Race season is in full effect for fitness enthusiasts everywhere in the US. The glory of the shiny new 2019 medal hanged around our necks is a glorious feeling. That's the goal. I've heard of a guy who did 4 Sprints in one day in this Atlanta venue. Outstanding. Smiles everywhere. Smoke blazing near the finish line fire jump. The quantum energy of shining bright red everywhere. The sound of medals clicking all over the campground was undeniable. Music to my ears.
The Terrain & Course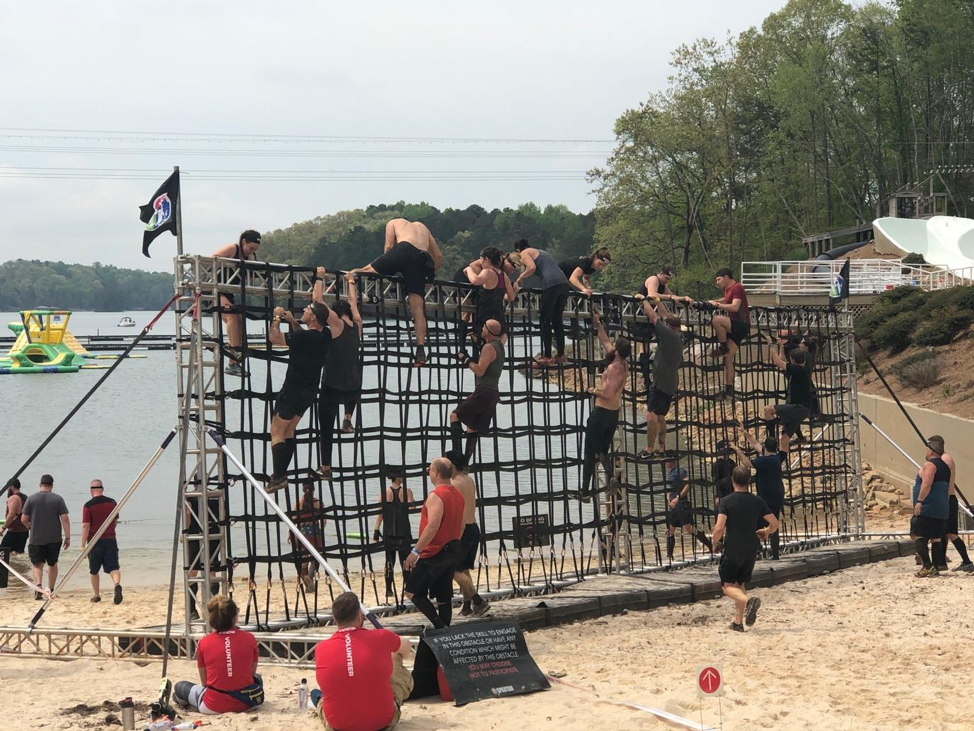 The race consisted of 22 obstacles in the 3.8 mile stretch on Saturday. Elevation level above sea level is about at 1050 ft. The highest along the race shifted at 1200 ft. Barely any hills. You could only imagine. Three water stations. First obstacles to conquer were over wall, 6ft wall, speed hurdles, 100 lbs atlas carry, iron medal monkey bars, bucket army brigade & tunnel crawl tubes. This was a wild sprint for many.
Peaceful wind and pleasant lake scenery. Soon after midway the challenges started to stack up. The military barbed wire crawl, water surge dunk wall, muscle up inverted walls, spartan spearman throw, balance z wall, and Rakuten multi rig. Shortly after that was a water break. Last stretch. Next was the upper body challenge rope climb, Luminox Hercules Hoist, sandbag carry, vertical cargo, elevated slip wall, and, last but not least the blazing badass fire jump right at the end to the finish. For many, this course was absolutely fun. Impossible? Not at all. On a scale of 1 to 10, the difficulty level from a solid 6. Professional Photographers were located at sandbag carry, monkey bars, rolling mud, victory wall, slip wall, bucket brigade & fire jump. The best part of the race: Photos! Bad or good. Save it for the memories.
Campground Events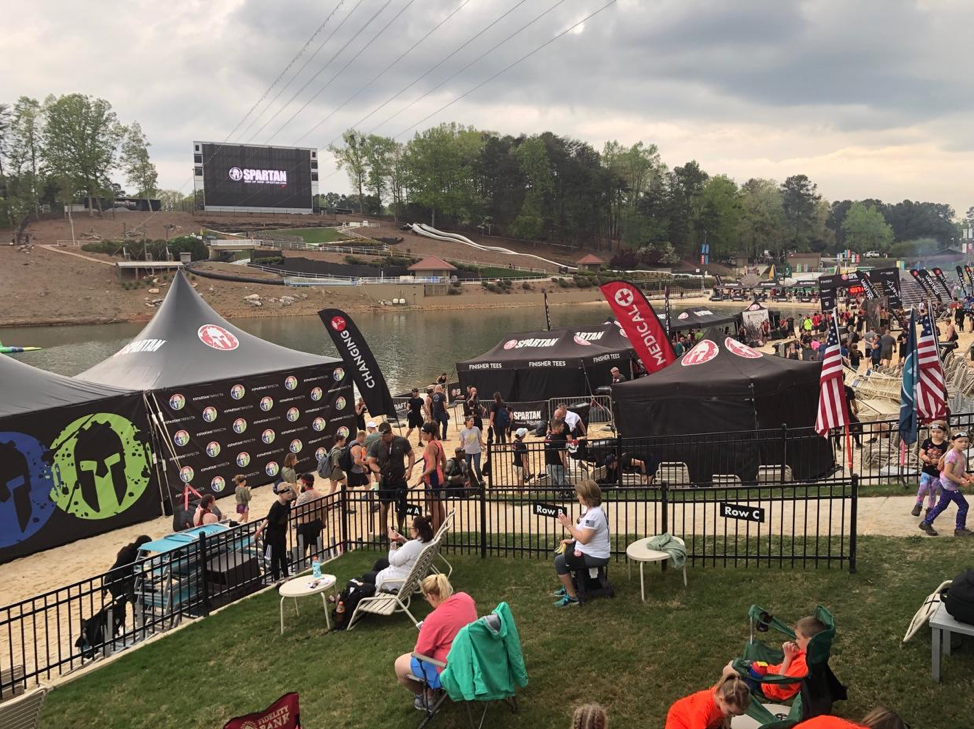 The festival area was vibrant. Souvenir booth stocked up. Food & drinks booths. Boston 26.2 beer from the marathon company. Sea salt ale. Not bad. Bold Rock Carolina Apple Smith hard cider. Amazing taste. Their slogan was "Be Bold." Crook & marker sparkling drink samples with organic alcohol. Tasted like fruit juice. Very sneaky. Body Armor recovery sports drinks, which are some of the best in the market. Gone Rogue High Protein Chips. Chicken chips? I found myself coughing up after my first few bites because it was dry, but flavor-wise it was ok. There were stacks on stacks of free sample of flavors to choose from for free. Buffalo, BBQ, Bacon & Teriyaki. You could've grabbed a handful, they were gracious. Statefarm insurance gave out goody bags.
Bag check was fairly organized at the Paradise Beach Cantina restaurant. You could even rent lockers on a bus! Very interesting. The Kids Spartan race just yards away from the campground for young athletes. Parents supervising & taking lots of cool pictures.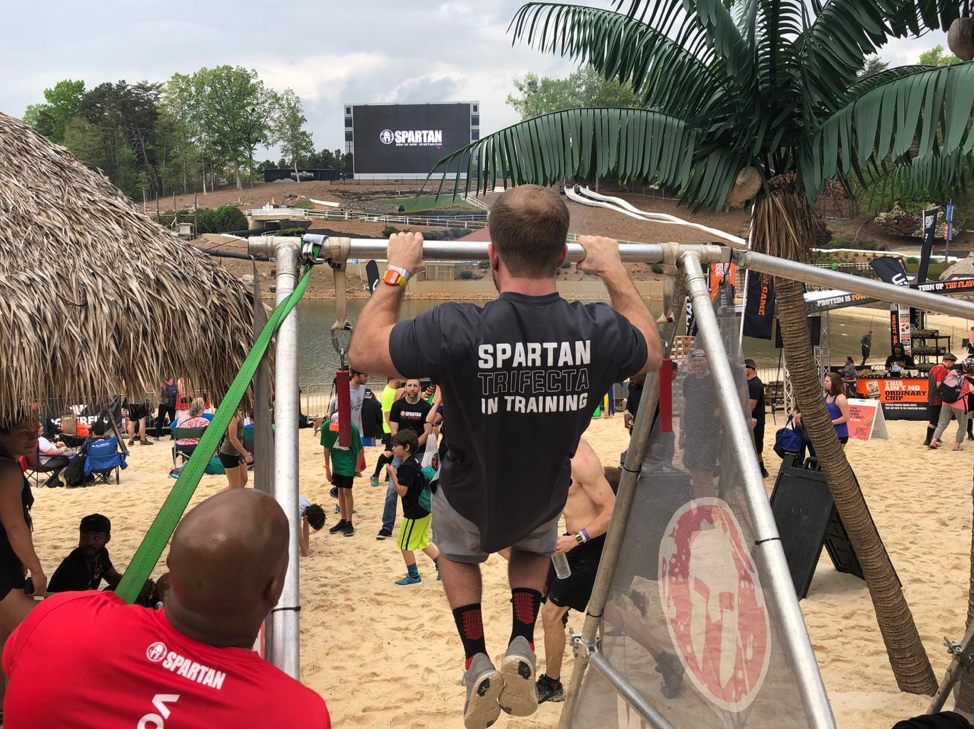 There was sand everywhere. I felt like I was walking in paradise. Fake palm trees. Lots of sponsors all over the place. I loved it. In true fashion, since Easter is right around the corner, the event coordinator threw out special easter eggs around the campground. About 7 in total. If you found them, you would win a free race to an event of your choice during the 2019 calendar year. Very cool. One was found buried in the sand. Pull up contest? Yes, I participated. Did about 15 before I couldn't continue. My grip started to fail due to sweaty palms. The record holder was a gentleman named Rodney who did 38 pull-ups in 57 seconds. Beast. Winner took a free race as a prize as well. Same prize with the women's record holder.
Spectator Vs. Race Participant
There's a clear difference. I can tell you from my experience. I've done over 30 OCR events as a race participant. Nothing beats being in the moment. Conquering obstacle after obstacle. It's a big confidence boost. In a strange way, you feel invincible. It's like going to war, everyone around you is struggling & fighting their own demons. We help each other rise above our fears. Chants of encouragement along the course. The bonafide sweat of leaders. 
Due to an unfortunate outcome at my last race in Charlotte, North Carolina I was sidelined this week. Not able to finish due to grade 2 ankle sprain. After my Doctors appointment, I am now wearing a boot for the next few weeks. Could've been worse. Glad my right foot didn't fall victim. so I that I can at least drive.
Being a spectator was somewhat special, but it does suck. I felt helpless. I'm used to moving & shaking. The adventure of getting dirty in the mud. Action packed time after time every second. The scent of joy & difficulty. Jumping over fire & claiming my medal at the finish. Finisher T-Shirt. Free beer. All amazing. Not today. Not that day.
It did feel good to just hang back this time to recover & rest up my ankle. I got to enjoy cheering for people I didn't know. Conversations of accolades. I got to see elite athletes stand on podium ranking one, two & three for each age group. I found myself cheering for many individuals successes. The road to glory is a journey I understood very well, but if you're going to spectate a race, Lake Lanier is the right race to choose. Cabanas. Beach Towels. Reclined chairs. Umbrella covered seats. Sand in your toes. Hip Hop. Classic Rock. Country Music. Sunshine beaming thru the clouds. 
Overall: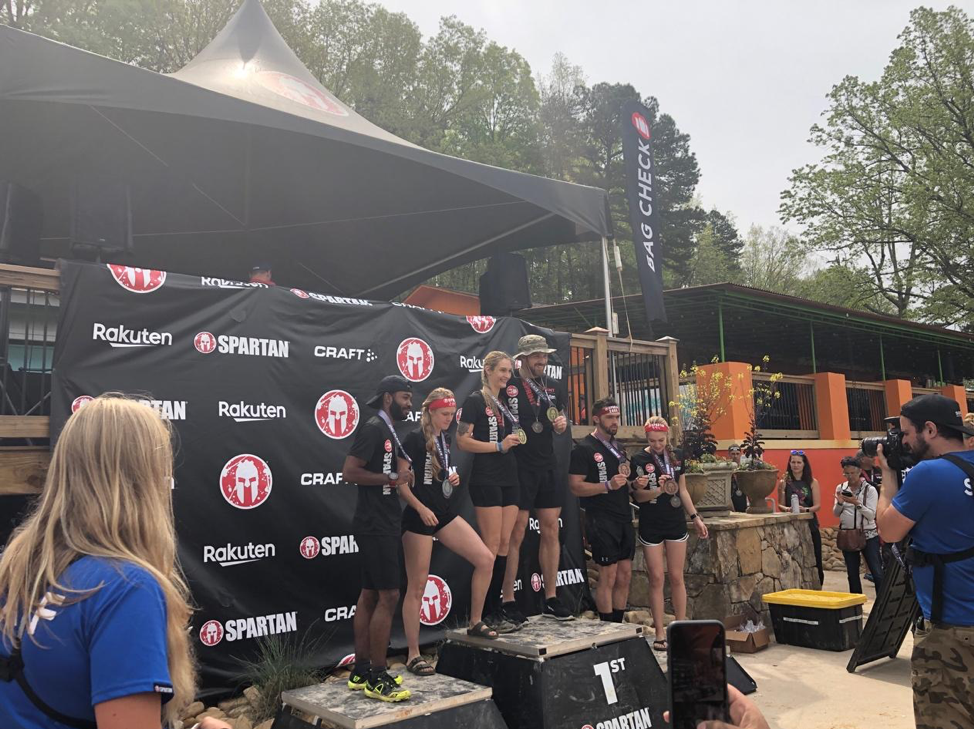 Every volunteer, event staff, photographers, sponsors, fire department, organizers & everyone involved who made this event happen. I must thank them all. Without them, nothing really works. They make the dream work. To enhance our experience. To give everyone a great weekend to enjoy with our friends & family. The Disneyland of the fitness community. From all backgrounds. A day to look forward to. Weekend warrior fun. I'll be back next year to fully tackle this course in 2020. Can't wait. Aroo!