Next up in my Bad Ass Women of OCR article series, meet Tina – a badass stay at home mom who homeschools her children, but manages to carve out time to train and race. Since 2015 she has been setting her own personal bar of achievement higher and higher, and it shows. With the support of her family behind her, there is no stopping Tina. She has put in the work to get herself into the amazing shape that she is in, and now she is ready to show the OCR community just what this badass momma can do! I hope you enjoy her story.
Please tell us a bit about yourself.
My name is Tina, I live in Las Vegas, NV, with my husband and 3 children. I am a stay at home mom to kids aged 11, 8 and 5, and I homeschool them as well! I love going to the gym, listening to music, drinking coffee and spending quality time with my family and friends. I also enjoy my pets – I have 2 dogs, 2 cats, and a tortoise. I've always loved animals!
Did you always consider yourself athletic?
Yes, I have always considered myself athletic! My dad was very into sports and being active so I grew up playing baseball, basketball, volleyball, cheerleading, and softball.  In my 20s I wasn't very active because I spent all of my time being pregnant and raising babies, but now that I'm in my 30s it's almost like I never stopped being athletic! And I honestly feel that I am in the best shape of my life right now.
How did you get into the sport of OCR?
After I had my last baby I knew that I was out of excuses and needed to whip myself into shape. I started working out but didn't really have a goal or anything big to work towards, so I had asked my husband if he wanted to sign up to do a Tough Mudder with me.  We signed up and had months to prepare, so in the meantime, we ran BadAss Dash with a few of our friends to feel out the OCR world. I had so much fun and conquering obstacles was a new element to me and I couldn't wait to do it again.
What was your first race like? Which one was it?
My first OCR race was called Badass Dash, and I ran that in May of 2015 with some friends. Looking back it was definitely a good beginner's OCR race. I did it with a bunch of friends for fun and we had a blast getting through all the obstacles together.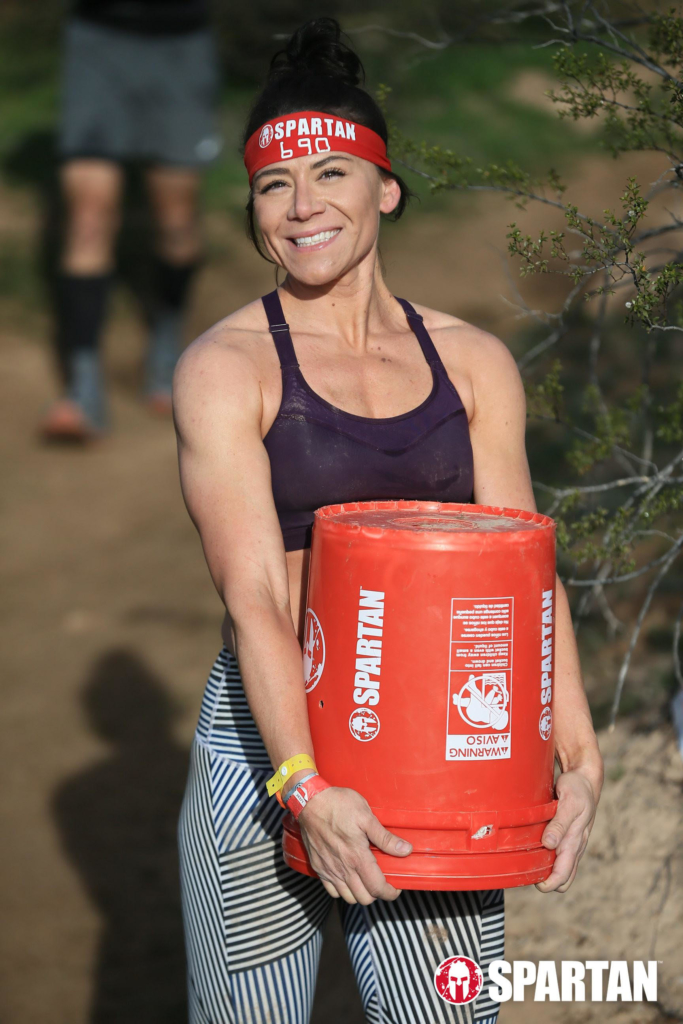 Tell us about the races you have done so far.
Since the summer of 2015, I have done 25 Spartan Races, 2 Tough Mudders, 1 Epic Series (including the Elite heat), and 1 Badass Dash.  Last year, in 2018, was the first time I started taking my racing seriously and I signed up for Age Group Spartan races. In my first AG race ever, I came in 30th out of 43, and that was enough to light a fire under me because I knew I could do better. Since then I have been on the podium for Spartan twice taking home a 1st and 2nd place so I take it quite seriously now! This year I also finished 4th place in my age group in the Epic Series Elite heat. I enjoy the competition a lot and I am so glad I found something that I am good at that I enjoy doing as well.
What initially drew you into the world of OCR and adventure racing?
I am not a runner by nature, I never have been so normal races like half marathons and 10ks didn't interest me at all–they still don't, to be honest! But I have a very competitive spirit and I wanted to see how I could stack up against other people, and obstacle course racing looked FUN because it wasn't just about running.  I prefer to lift heavy over running so it seemed that OCR would be a good middle ground for me, to give myself some goals and to see what exactly I could achieve.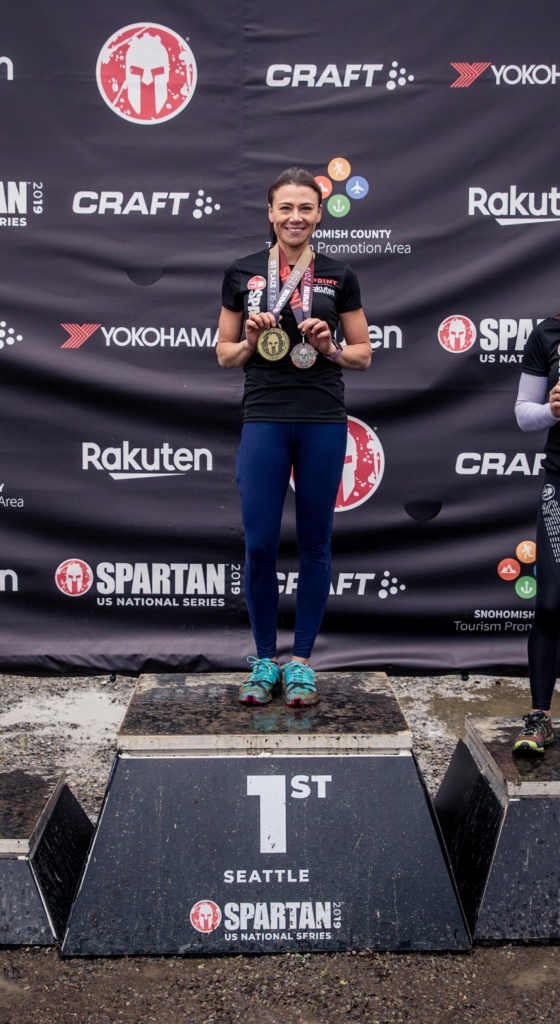 Do you feel that due to strong women like yourself, that others are more willing to push their own limits?
Yes, I absolutely believe that strong women encourage others to push their own limits! I follow lots of strong, inspirational women on Instagram and I use that as daily motivation for myself. Seeing other people out there pushing hard really gets me going too and that's one thing I love about the OCR community – we're all a big family who supports and encourages one another!
On-course, what has been your favorite obstacle and why?
It's so hard to pick just one favorite obstacle! I like the Barbed Wire Crawl, mainly because I'm fast at it and pass lots of people. I also enjoy the Herc Hoist, when I used to run Open I would need help getting the bag to the top but not anymore, so I feel badass when I can lift the sandbag that high and then return it down with control. Rope Climb used to be my nemesis because it took me 2 years to be able to get to the top and ring that bell! I have absolutely no problem with it now and that makes it a favorite of mine, it's an obstacle that I have CONQUERED. There's hardly a better feeling.
On-course what has been your least favorite obstacle and why?
I would have to say my most hated obstacle is Twister! I have only gotten across it twice and that is a hard one to train for, so I still get nervous when I come across it in a race. Spear throw is a close 2nd, and although I have been practicing that one like crazy it still intimidates me! I also hate the dunk wall, because, it's gross haha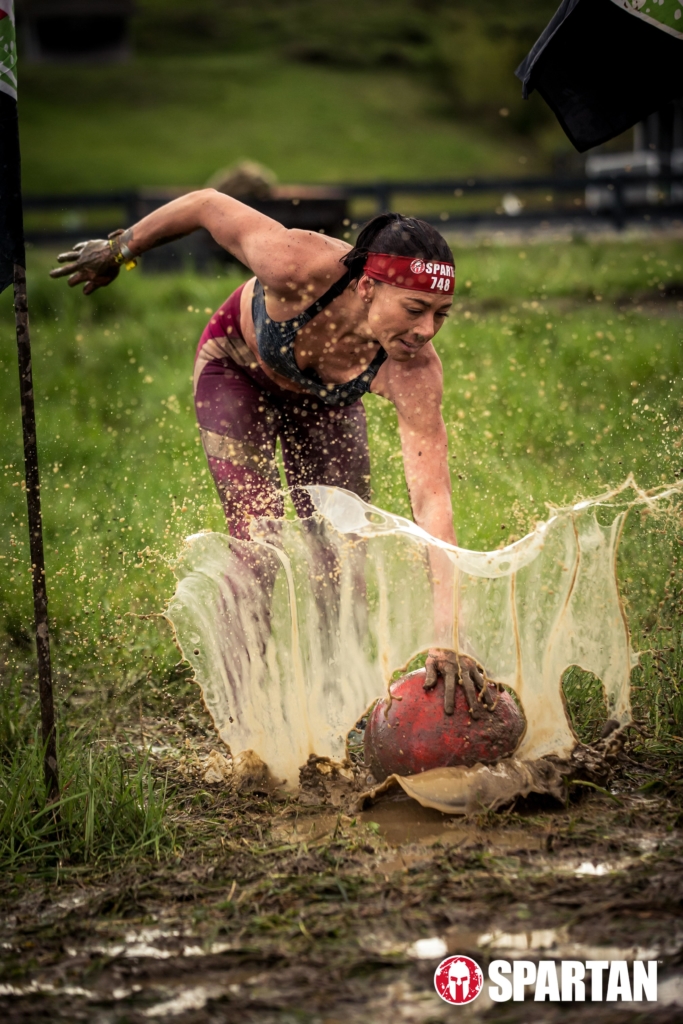 Is there is an OCR or endurance race that you will never do?
Most people who know me know that I am NOT an endurance racer!  I don't see an Ultra in the near future for me, although there are people who have tried to talk me into doing it. I'll never say never on that one but anything longer than a Beast is definitely not my forte. I'll pass on races like World's Toughest Mudder haha!
What do you do for a living? Tell us about that.
I'm a stay at home mom, so I have household responsibilities and I also school my 3 children. I am fortunate that I can do these things and I'm very thankful! It gives me precious time with my children but I also have the flexibility to train for my races so it's an ideal situation for me, and for that I'm grateful.
For someone that is newer to the OCR sport, what is one solid piece of advice that you wish to pass on?
Never quit! Yes OCR is hard at times, sometimes the obstacles seem impossible but if you're truly passionate about it and fully enjoy it keep going and don't stop. There were times when I felt defeated in races and many times that I wanted to quit, but that's where the mental part comes in and racing is as much mental (if not more!) than it is physical. If you keep working it will get easier, not because the race itself gets easier but because you get tougher and stronger. I always tell people, "If I can do it, you can do it too".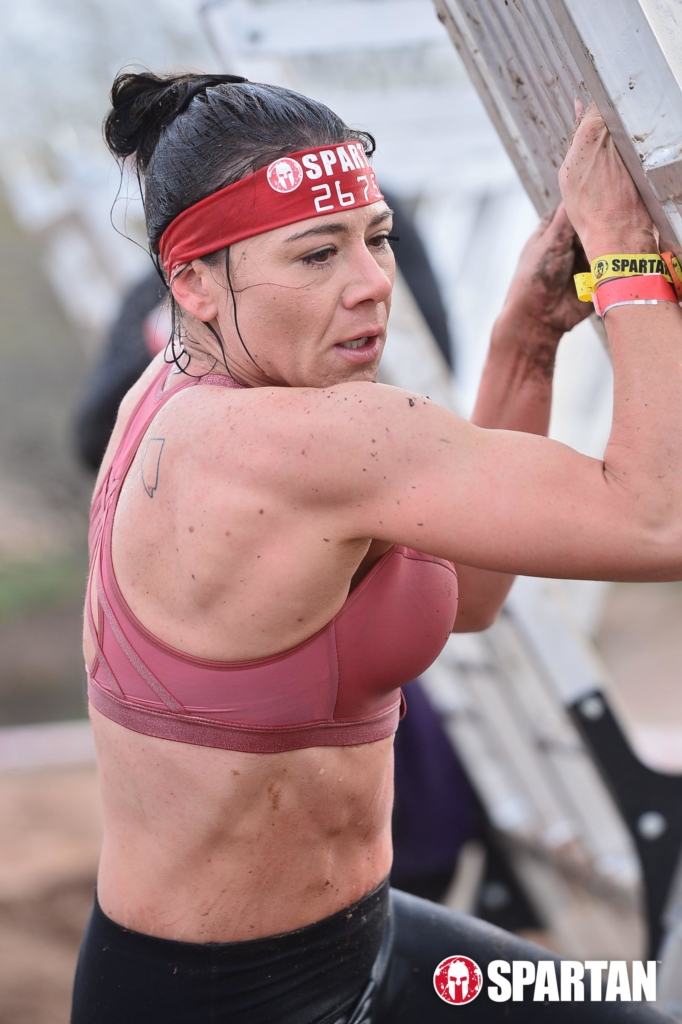 Who inspires you?
My inspirations are normal people who make it a priority to train. These people are my heroes. I'm in the same boat as them with not having any professional training, but I still carve out time to train for OCR. I know how hard it can be in our daily lives to make time to train so I completely understand that it's not easy! I enjoy watching people on social media do their thing and that in turn inspires me to keep going. With that being said I completely admire and respect these Spartan Elite women out there kicking butt too!
What is one A-race/bucket-list race you want to do?
One day I would love to do the Trifecta World Championship weekend in Greece!
Is there anything else you want to share with us?
Never in my wildest dreams did I ever think I could be a competitive OCR racer. This is something that I have wanted and have worked towards for quite some time now. I want to encourage others to follow their dreams, whatever that may be. Put in the work and the work will show through! Find your motivation and stick to it, whatever it may be.
What's the best way to reach you on social media if someone wants to reach out?
My Instagram handle is @tina.ocr and I love meeting new people in the OCR world!