Warrior Dash is celebrating 10 years of challenging people all over the United States to get off the couch and play in the mud. "We're going big, because we sure as hell aren't going home," says the company's messaging. This nation-wide series has made a stop in the Portland, OR area for years, and 2019 was no exception.
If you were expecting anything besides chilly temperatures and light rain at the start from a spring race in Oregon, you must have flown in from sunny SoCal to participate in this event, held in Canby, OR at Pat's Acres Racing Complex, only a 20-minute drive from Portland.
While Warrior Dash is more of an entry-level OCR, there is an opportunity to qualify for the Obstacle Course Racing World Championships in London. You just have to be one of the first 10 men and women to cross the finish line in the first heat, a competitive 5K. This is a huge opportunity for racers on the cusp of qualifying, who can take advantage of a normally smaller turnout for events that don't focus as much on obstacle proficiency. If you're a strong runner, the Oregon course was a breeze!
The Course
Warrior Dash starts their heats off hot. Heats. Hot… No? OK. Well, there's fire.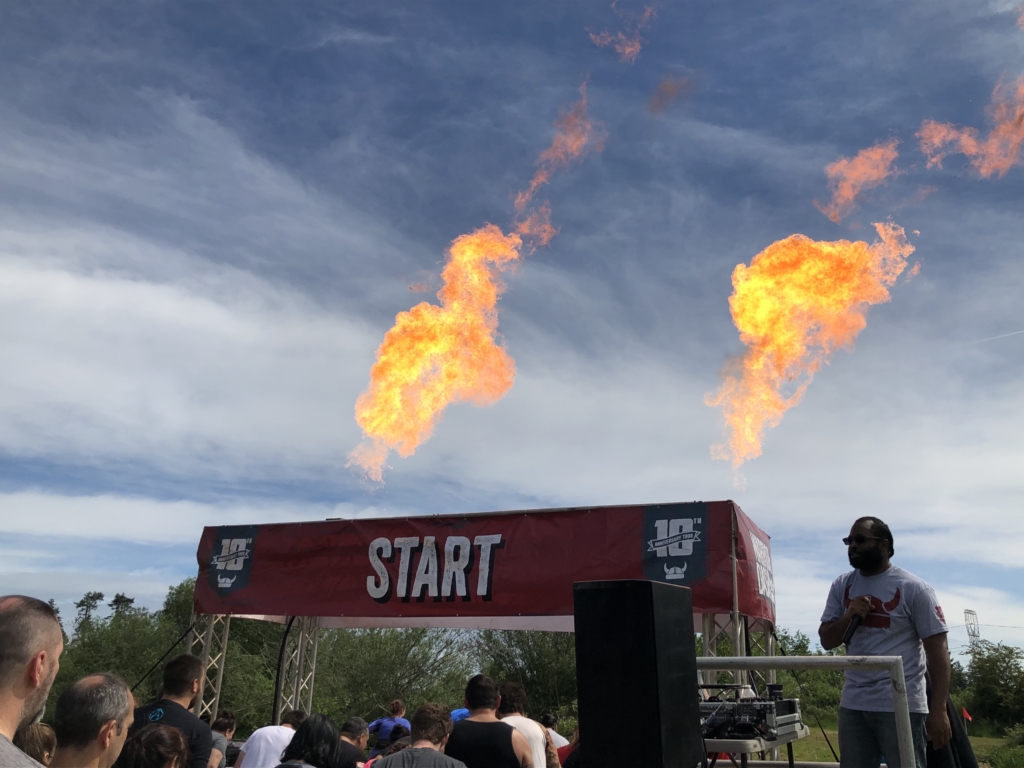 After a 10-second countdown to celebrate 10 years of fuzzy hats, participants took off on a very flat, padded down grass pasture, weaving around the outer grounds of the venue, while dodging a few ditches. Racers ran up and down Mrs. Muddington's Mounds and under the Devil's Crack within the first mile, before changing trail conditions. Halfway through the race, the grass turned into motocross track – while not extremely muddy, the track had a silty layer, contributing to a few near balance losses, or a complete sh*t eating for some.
The Warrior Roast, Upslide Down, Warden's Wall The Damn Dam, among other traditional and new WD obstacles, made appearances throughout the event. Then, after a short covered trail around mile 3, participants met the SUPER tall El Captian, which is a wooden ladder, followed by a cargo net, bringing you up to the top of three shipping containers. You then rode the slide down to a face full of mud at the Muddy Mayhem, right before you earned your medal, which conveniently doubles as a bottle opener.
There seemed to be fewer obstacles on the course than advertised – no sign of Super Fly, Chainsanity , Get A Grip, or Alcatraz. These are some of the more challenging obstacles Warrior Dash offers. That would have offered a bit more excitement for racers, especially those in the elite heat. At the end of the day, this was more of a trail run with a few obstacles, and a mud bath finish, but it was still a blast!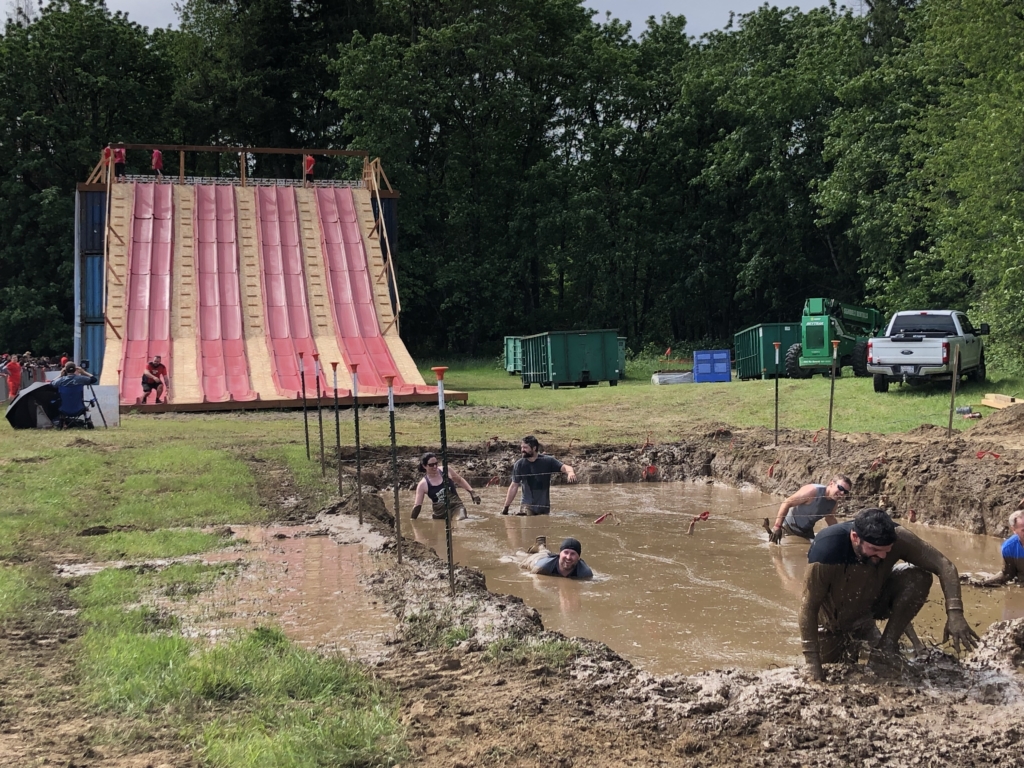 Warrior Dash offers a 1-mile, 5K, 10K (two laps) and unlimited lap options for participants. Of course, the trademark fuzzy hat is available for all racers, and you can even claim that and the participant shirt before you start if you want to improve your on-course photo game when crossing the muddy finish line!
Final Thoughts
I know this isn't an opinion shared by most of the open heat racers, but the Muddy Mayhem is a little much for the last few steps on the course. Yes, it's a mud run by design, but keeping participants relatively dry the entire 3 miles, then dousing them in mud is not as exciting for those racing for time. Nor is it the most exciting way to approach your own car, as most people were local to this race. The showers were on very low pressure after the first few heats finished, but were eventually turned up.
Luckily, as the day progressed, the sun did finally make an appearance, shining down on the later heat finishers, as they enjoyed their complimentary beer, protein shakes, and other fun games played in the festival area.
Rating: 4/5
---
Have you done an Warrior Dash?
Leave your own Warrior Dash review and feedback...
---
This author is part of the Mud Run Crew and received a free race entry in return for an independent review. All opinions are those of the author and were not influenced by the race sponsor or Mud Run Guide.
---