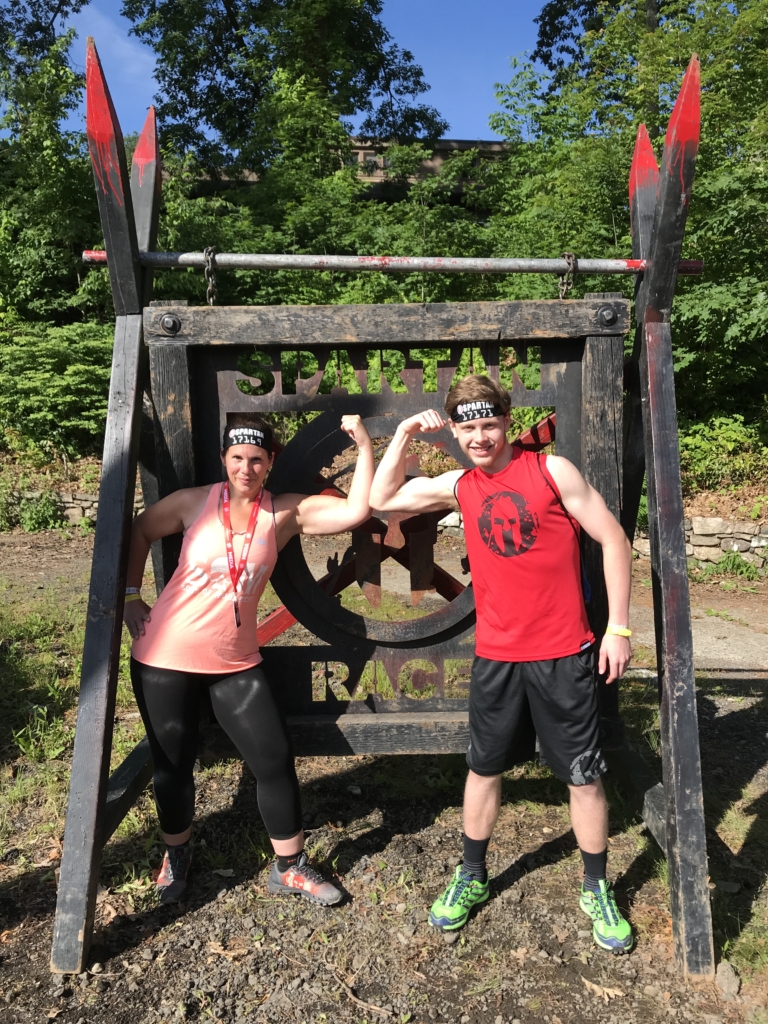 When my son Jack decided to run the Spartan Sprint with me in Tuxedo NY I thought, "Perfect!! I'll write a race recap on what its like to race with your kid." What I didn't count on was him blowing by me and not seeing him again until I crossed the finish line. Sure it was my 20th time running a Spartan and only his third, and he had only done Stadiums up until this point. I have multiple trifectas, and this was my 7th year in the OCR world and only his 2nd. What I  forgot that he's a 17-year-old, extremely fit boy and I was turning 42 the next day and can, at best, be considered someone who works out but also eats cookies. So the focus of my article had to change because I don't actually know what it's like to race with your kid. What I can offer are some insights to how this race has changed over the years, what kind of training is necessary to be totally successful and the most valuable thing I've gained participating in this crazy sport.
The Course
When I first raced at this venue in 2013 the thing I remember is walls– lots and lots and lots of walls. After my second year, I didn't go back because every other obstacle seemed to be a wall, and since I could not get over them myself, it was very frustrating. Over the years more and more obstacles have been added, but I did notice this weekend some of them were watered down. The Bucket and Herc Hoist felt lighter to me than usual and the Z Wall was the open-faced one that usually only appears at Stadium races. The Barbed Wire Crawl, once so bad I think my knees are still scarred from it, was very short and over grass this time. I wish they would bring back obstacles such as the Big Rock on a Chain that you had to drag around and the Gladiators at the end. All these years later those are two things that I remember that put a smile on our faces.
If you have never been to Tuxedo, it is a former ski resort and there is lots of land for Spartan to take advantage of. Every year the course is slightly different and every year it seems to get steeper and rockier. This makes for a very technical race, even though the distance is short. I hear this year it clocked in at around 3.8 miles.  It can take you more time to complete than you are planning because you really need to watch your footing.  I don't know if it was just at this race or if it's something new but the Dunk "Wall' was no longer a big piece of wood. They had a big rubber floating wall that actually felt wider to me on the bottom which meant staying under a little bit longer. While I am mentioning obstacles, I need to announce that for the first time in 7 years I hit my spear throw! I was jumping up and down in excitement. I actually watched videos of elites doing it and they mentioned allowing your heart rate to come down a bit and pointing the tip upwards and it actually worked! Jack pointed out that he carried his bucket upside down, something you can do now since the buckets are all pre-filled and capped. He felt that helped him hold it better. Neither one of us liked the hurdles because you feel like you are bruising your sternum and I've actually read some people calling for these types of obstacles to be discontinued for that reason.
The ups and downs on this mountain are something I always look forward to. I hike a lot and I feel like that definitely helps. I can't run the hills, but I can hike them at a steady pace. I actually find if I stop it's a lot harder to start again, so I just keep going slow and steady, normally tilted forward a little with my hands on my waist. Jack has phenomenal strength and stamina from running and weightlifting, but one thing he mentioned was his legs cramping up. He said at one point he couldn't even move his legs to walk. I told him if he starts hiking with me and his dad, his legs will become conditioned for mountain races. If you hike up those hills then run the flat parts and the non-rocky downhills, you will still have a great finish time and not cramp. So many times I see people posting asking if weight training, running, hiking, or cardio are the best ways to train and the answer is YES to all of them. I don't feel that any one of those things is enough when doing a race like this because you are using so many different muscles and techniques. Like I said, nobody on the podium is in any danger of me taking their spot because I am slow but I do have strength. My legs can carry me up the hills and I have upper body strength from my weight training. I saw women much fitter then me complaining that they couldn't lift the Hoist and I found it super easy and I probably could have tossed around that Atlas ball. Part of the training at our gym for Jack and I are heavy sandbag carries, 100 lbs for me and 175 lbs for him and that definitely helps. I just have to find a way to practice rope climbing and monkey bars because those are still two obstacles I head straight to the burpee zone for.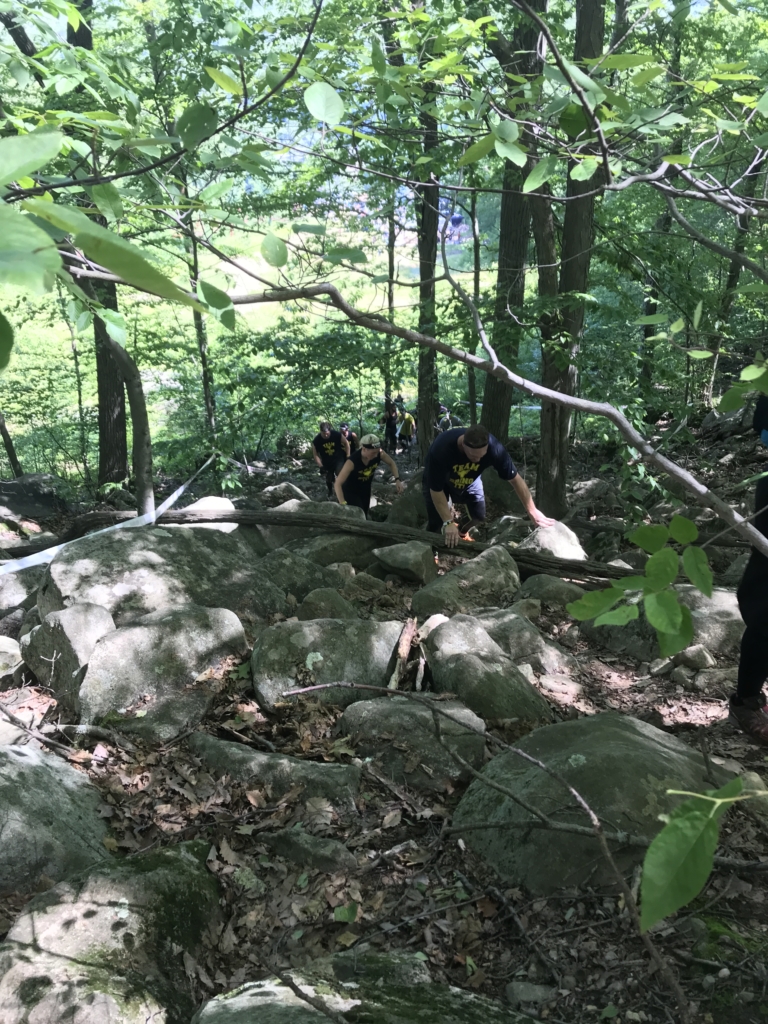 Overall
Even though I didn't actually get to run with Jack, training together and then talking about our experiences after has been so great for our relationship. I hope he respects me a bit more now because when I asked him what he thought after he actually said, "That was a lot harder than I thought it was going to be." I then reminded him that I had done that for 16 miles during my Beasts with more obstacles and steeper terrain and he said he wouldn't want to do that! I was so proud of him for taking this one and for doing it by himself. He went into this not really knowing what to expect and he crushed it! He finished in 1:31 and I finished in 1:51. That was my best time yet because while I usually stop to take tons of pictures and videos I didn't take any this time because I knew he would be waiting for me. That actually proved to me that if I really try I'm not so slow. Another Tara took first in her age group with a time of  59:06 and my friend Karen Matesic took 3rd place with a time of 1:04:03  and while I'll never catch them, I am definitely improving with every race!
Over the past 7 years, I have made so many friends that I only get to see on race days. When I started I was all alone and had absolutely nobody to talk to before, after or during a race. Now every time I show up it's like a big class reunion. These friendships and having something to bond with my son over have become my favorite parts of racing. Seeing so many smiling faces and getting so many high fives and hugs make all the bruises and mud under my toenails worth it. And the pride I have in sharing THIS  race with my son back where it all began for me on my birthday weekend is something I'll never forget. See you on the course!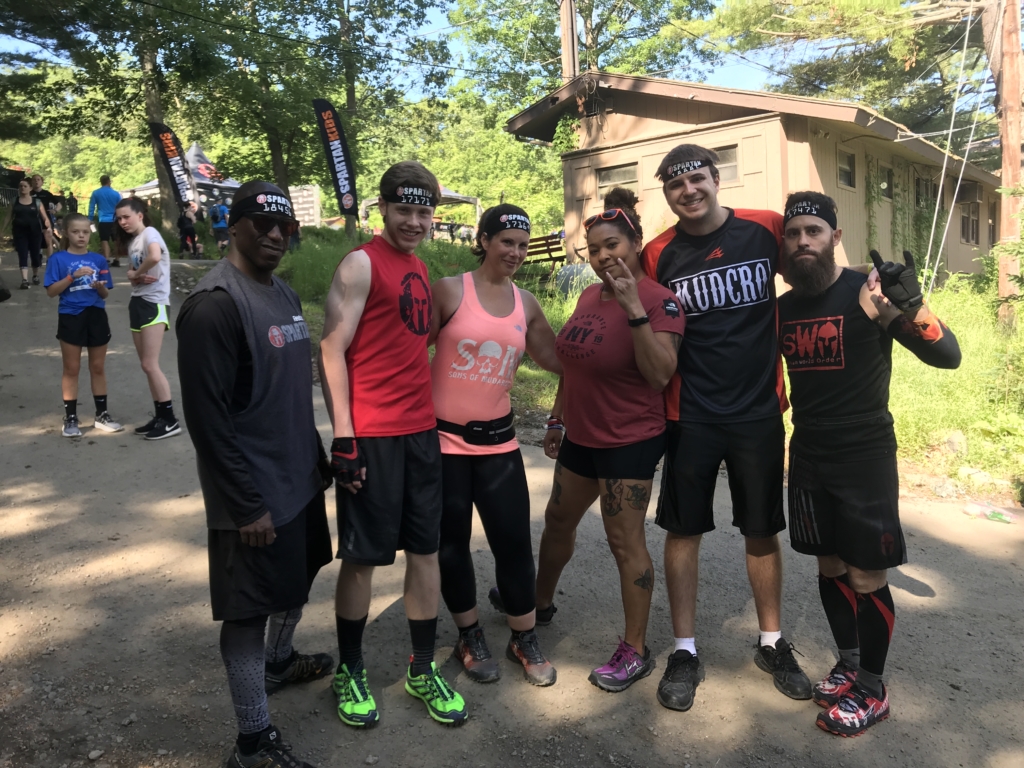 Rating: 4/5
---
Have you done an Spartan Race?
Leave your own Spartan Race review and feedback...
---
This author is part of the Mud Run Crew and received a free race entry in return for an independent review. All opinions are those of the author and were not influenced by the race sponsor or Mud Run Guide.
---