For years I have heard nothing but rave reviews for the Indian Mud Run. But, with scheduling conflicts in the past, I hadn't had the opportunity to test the course myself. This year however, I made sure to set the race as a priority to finally see for myself if it could really live up to the hype. So on June 22nd, 2019, I traveled to Coshocton, Ohio where I'm happy to report that my strength was tested and my mind was blown.
This was the 8th year that Indian Mud Run took place, and from what I heard from loyal attendees, it stood out as the best year yet. With its reputation for challenge and innovation, the event drew in around 1,000 participants who traveled from 36 states, Canada, and Great Britain. The event offered a 10k, 5k, team competition, and kids course – I myself took on the 10k course.
The Race
For the 10k, the course covered approximately 6.5 miles, 1500+ feet of elevation gain, and 72 obstacles. 10k participants ran in either Pro, Competitive/Age Group, or open waves, with waves released at 20-minute intervals, and the legendary Coach Pain ready at the start line to motivate and exhilarate participants as they began their journey on this incredible course.
For pro and competitive runners, the Indian Mud Run is a qualifying event for the North American OCR Championships and the OCR World Championships. Participants in these waves were expected to aim for mandatory obstacle completion and utilized wristbands to account for those who had earned that completion. Competitors were able to try obstacles as many times as they needed to pass the obstacle and if a competitor ultimately could not pass an obstacle, their wristband was marked, their number was recorded by volunteers and their finishing placement was adjusted so that those earning 100% obstacle completion would rank higher in the results, despite finishing times (to clarify: obstacle completion > finishing time).
The route itself challenged even seasoned racers with its ingenious use of the natural terrain and was extremely well marked as it twisted and turned along densely wooded, single-track trails. With the landscape in mind, the route leads racers to trek up streams, swim, climb over beaver dams, traverse canals, and ascent and rappel down cliffs and natural rock formations. At times, several cliff sides did cause me to pause and question the safety of the course; however, I'm glad to say that I made it through unscathed.
And as if the terrain wasn't challenging enough, I can't stress enough that the 72 obstacles were outstanding and world-class. There was a mix of natural and man-made obstacles that were well constructed, well-spaced and had an adequate amount of lanes. Obstacles such as the Nuclear Ninja Rings, Gibbons, 40-foot long monkey bars, and the Floating Weaver taxed competitors grip and endurance, while a suspended cargo net over a ravine, a 165-foot water slide, and Dragon's Back called on our mental strength. The sheer amount of obstacles (72) at this race, with their innovative design, challenge and exclusivity is what truly sets this race apart from any other.
The course was also well staffed with knowledgeable and incredibly supportive volunteers and included three water stations; however, given the extreme terrain, elevation and summer heat on race day, more water stations would have been appreciated – or in retrospect, taking along a hydration pack would've been a good idea.
To finish strong, participants made their way through the final obstacle – a combination of the signature Indian Mud Run floating walls, a two-story rig, and descending cargo net, before crossing the finish line just yards away from the obstacle. To celebrate such a success, finishers received a finisher medal, t-shirt, drawstring bag, beer ticket, banana, and chocolate milk.
After completing the course, I have only a few suggestions for future improvement: 1) offering additional water stations on course, 2) lengthen the distance between the end of the last obstacle and the finish line, and 3) keep in mind participant safety when climbing and/or rappelling the cliff sides.
The Festival
Upon finishing my race, I was able to stay and enjoy the fantastic festival area. There, spectators had access to the start and finish lines as well as to several obstacles, there was music playing throughout the day, a concession stand, merchandise tent, raffle tent, local art, craft, and business vendors, and more! Bag check was also available in this area and was offered free of charge to racers. Parking was a $10 fee per vehicle and was located a short distance from the race with shuttles provided to transport participants and spectators to and from the festival and racing area.
Another trait that sets the Indian Mud Run apart, is the unique, authentic American Indian made awards – handmade tomahawks and spears were awarded to podium finishers in each age group and "Chiefs Challenge" finishers (those who completed three laps of the 10k course) earned a handmade arrow.
Another moving aspect of this race is the devoted involvement of the race creator, Hubie Cushman. Not only does Hubie build and direct the event, but he also competes as a participant alongside his attendees – a true testament to the bond of the OCR community and to his commitment to providing the best experience to his participants.
As an avid obstacle course runner, having been a part of this sport and community for 5 years now, I can confidently say that Indian Mud Run raises the bar for all obstacle course races and racers. Next to the North American OCR Championships and/or OCR World Championships, the Indian Mud Run is the most innovative, challenging, technical obstacle course racing event I have yet to attend. So with that said, I rate the Indian Mud Run 5 out of 5 stars – this event by far exceeded my expectations, lived up to the hype, and qualifies (in my book) as THE bucket list race that every OCR enthusiast should attend.
Until next time, happy racing!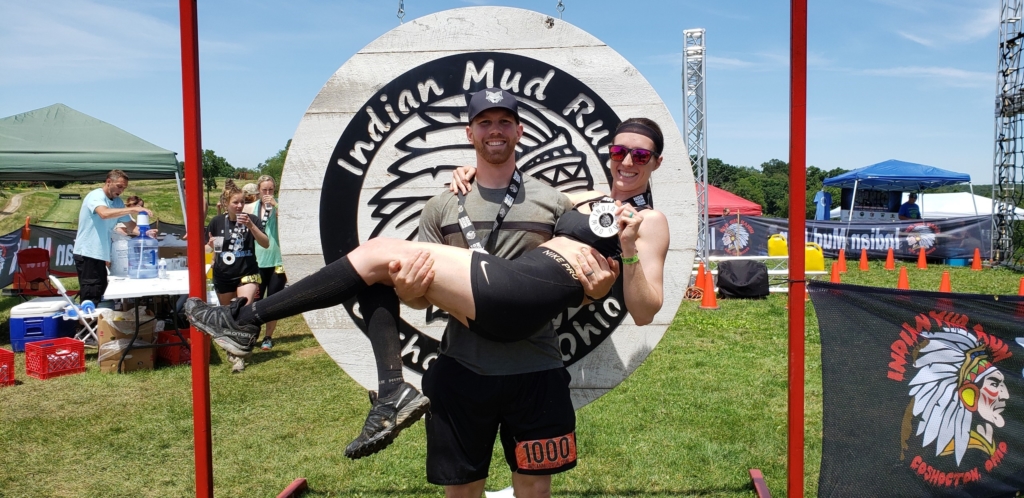 Did you attend the Indian Mud Run this year? If so, we want to hear from you! Leave your own review in the comments below!
*The Indian Mud Run is also the third event of the "Ohio Grand Slam" – a racing collaboration put together by locally-owned Ohio OCRs. Events included in the Ohio Grand Slam are Memorial Day Mayhem, the Black Swamp Dash, Indian Mud Run, Mud Ninja, and the Nightmare Challenge.
Rating: 5/5
---
Have you done an Indian Mud Run?
Leave your own Indian Mud Run review and feedback...
---
This author is part of the Mud Run Crew and received a free race entry in return for an independent review. All opinions are those of the author and were not influenced by the race sponsor or Mud Run Guide.
---