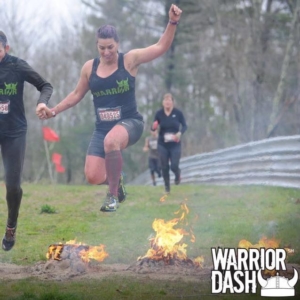 By now many, if not all of you have heard the news about Warrior Dash.
If you haven't its probably because you live under a rock or off the grid. Which if that's the case you probably won't be reading this op ed anyway.
To recap as of Tuesday, July 30th at 5 pm CST Warrior Dash ceased to exist. It has gone to the big mud pit in the sky where it can frolic and play with Battle Frog. To say the OCR community was blindsided is an understatement. While you tend to hear the occasional chatter about a company possibly going under or one company buying another, it all ends up for the most part being chatter.
We here at Mud Run Guide began hearing chatter about Warrior Dash early Wednesday morning. While my cohorts and I balanced our full-time jobs while frantically tracking down and verifying credible sources to get the story out to the community quickly and accurately, I began to ask myself the following: How did this happen? How did we get here? How did a beloved race company like Warrior Dash, that has been around since the dawn of time and forged from Valerian steel  sustain the last ten years all of a sudden go belly up? I know for a fact it wasn't due to the extra large turkey legs.
I think the easy way to look at this is through the corporate lens. Profit and losses, price points, TPS reports, participation, blah blah blah.  However, I'm not one to take the easy road. That's why we do OCR right? Because it symbolizes all of life's challenges am I right? No, just me…?
I began to think, how can we as athletes support our own community?
As I was scrolling through the Facespace newsfeed I stumbled upon Robb McCoy's diatribe on the matter. For those who don't know Robb, he is the Owner/Mohawk Aficionado/Race Director of F.I.T Challenge in RI. Robb posted the following
Warrior Dash closing up shop is NOT good for the OCR industry. It was my first and I know many peoples first OCR experience. I was having a chat with a good friend about the state of the OCR industry two days ago and this event certainly and sadly cements my thoughts about it.

What can be done?
Simple…SUPPORT FROM YOU! 
The events that are here (and I'm referring to local events now) are here and aren't going anywhere. These are the smart ones, the ones that grew organically, conservatively and intelligently and have absolutely killer products. The bubble, meaning the get rich quick, we are the greatest event ever nonsense, has burst, and that's over.
But what are we left with?
A couple big dogs and a STRONG and solid core of local events and a few excellent regional type events. But, without YOU these will go away.
Support them. Volunteer and help. Register early when it's cheap, bring a friend, share their event, comment on social media, just SUPPORT them.
We went to one OCR event per year for logistical reasons pertaining mainly to our venue and the time of year really sucking for me being in the fall. 
I assure you, we ain't going ANYWHERE anytime soon!

If you made a "bucket list" for 2020…and let's say had…
For locals…
-FIT Challenge
-Indian Mud Run
-NorthmanRace
-BoldrDash Race
-Viking Obstacle Race at Sunny Hill Resort & Golf Course
-Goliathon Obstacle Challenge
-EPIC Series
-Newbsanity
-Green Beret Challenge

Throw in…
-Savage Race
-Bonefrog
that have multiple locations

Your championship events…
-North American Obstacle Course Racing Championships
-OCR World Championships
-WTM

And then of course a big box Spartan, Tough Mudder or Rugged Maniac, trifecta, arooing, team building etc etc

I know I missed some great other local events (SORRY) but…YOU get the point…SUPPORT them
my friends…WE All Need YOU!!!
The man has a point. We see a lot of "Shop Local" and "Small Business Saturday" events on the weekend and around the holiday season. I think that mentality could easily be applied here. I'm not saying we as a community don't already do it. We do. In fact, on Wednesday the 31st, F.I.T Challenge experienced its largest sales day in race history.
We can be better at it. If you want to travel for a race, maybe instead of traveling for garden variety Spartan/TM race travel to a Conquer the Gauntlet or to Indian Mud Run. I've heard great things about both.
I completely understand people need to do this sport on a budget, myself included. Apparently, money does not grow on trees. However to Robb's point there are ways around it. Volunteer! Especially if you are someone who rags on the volunteers being terrible, go put your money where your mouth is and volunteer for a race. Sign up for early bird pricing. Carpool with friends and fellow racers, split AirBnB's. My point is if you are someone who travels for races consider traveling to local races.
I won't go as far to say that the large race companies will always be around because my crystal ball broke and the extra wasn't prime eligible on Amazon. Even these race companies started out small, just like every major corporation. What keeps them around though is the consumers.  It's easy to forget that we as the consumer, as the athletes we have the power of the purse strings to put our hard earned money where we want. So if you want to race the larger race companies, go for it. I'm not here to judge, as we all have our reasons.
Our sport is only as strong as its community. The success of the sport and race companies stand on the shoulders of the weekend warriors who showed up ten years ago and continue to show up. Let's do everything we can to honor that work to build a stronger, more supportive community. When you drop a pebble into the water it has a ripple effect. I know my pebble will be to #racelocal whenever I can. What will yours be?
---
Disclaimer: The viewpoints expressed by the authors do not necessarily reflect the opinions, viewpoints and official policies of Mud Run Guide LLC, or their staff. The comments posted on this Website are solely the opinions of the posters.