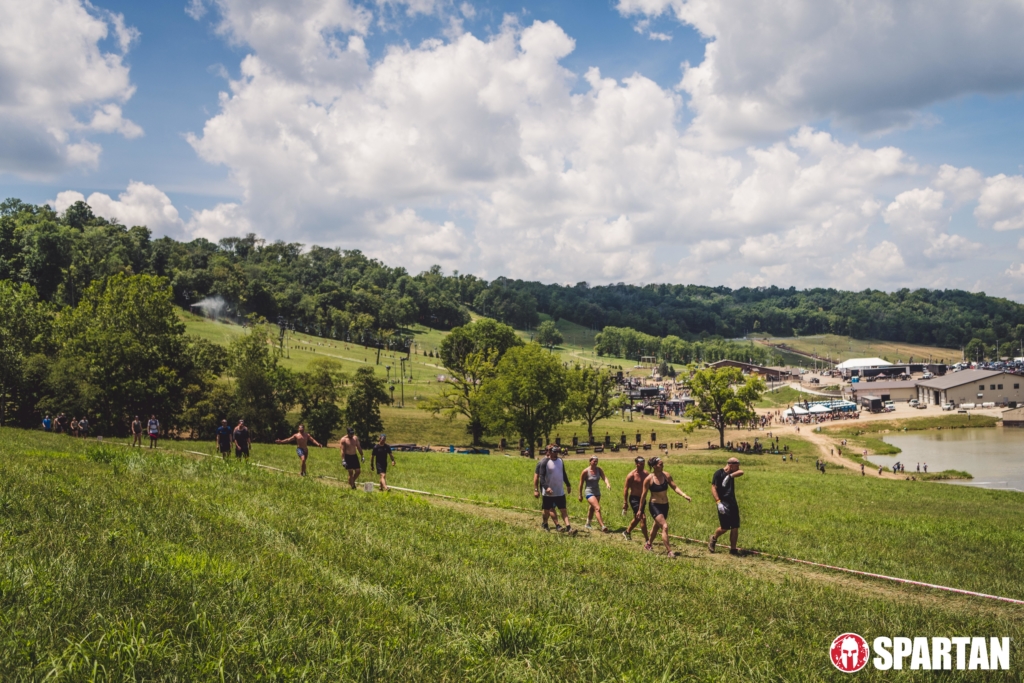 On July 20th, 2019, I traveled to the Perfect North Slopes in Lawrenceburg, Indiana, where Spartan has held a Sprint event for the past four years. Having attended this Sprint venue myself for each and every one of those four years, I will say, the event has changed a lot! In years past, the Indiana Spartan Sprint was one that left me battered, bruised, and exhausted (even as a seasoned racer); however, this year I was surprised to find myself fun-running a burpee free race. If I had to choose three words to describe the 2019 Spartan Indian Sprint it would be: easy, organized, and scorching. Here's why…
The Course
The course covered about 3 and a half miles of hillsides, moderate trails, and water crossings, and included 22 obstacles. This venue in years past had taken advantage of the ski-slope-terrain by incorporating intense elevation as well as included some of Spartan's more challenging obstacles, such as Olympus and Twister; however, this year, the elevation change was minimal with only one steep ascent at the beginning of the course and the obstacles were kept to the more standard, "beginner-friendly" obstacles.
For example: the highest wall was 6 foot, as opposed to the typical 8 foot walls we've come to expect; the only upper body obstacles were monkey bars and the multi-rig (which was all rings); the bucket carry and sandbag carry were both semi-relaxed, short loops with marginal elevation; and the barb wire crawl too was short in length and the barbed wire was high enough I could crawl semi-comfortably on hands and knees through the lush grass.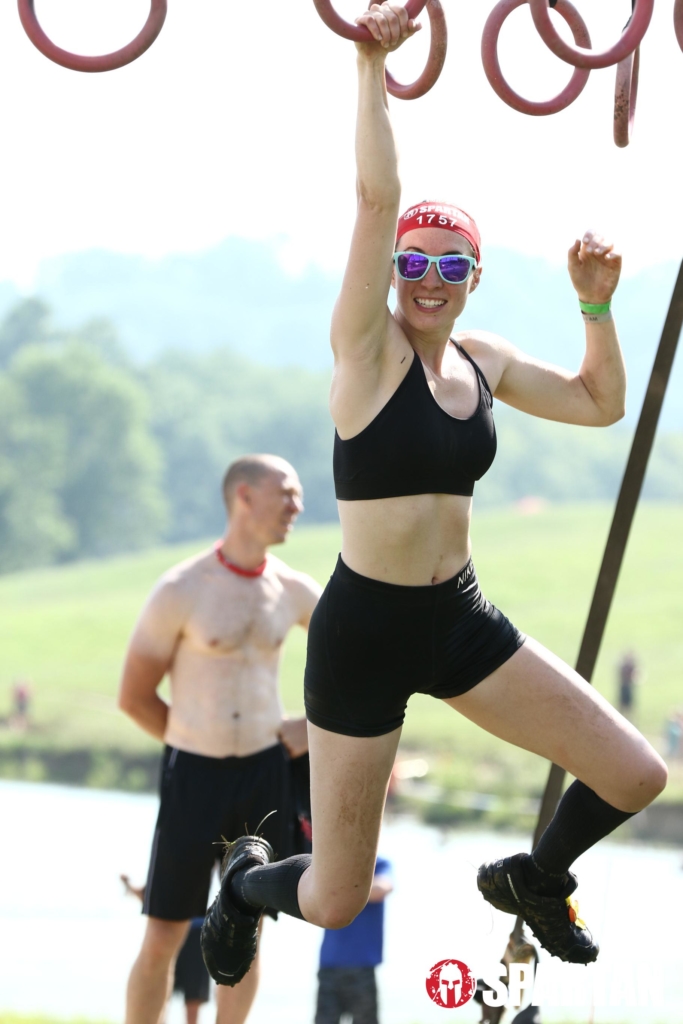 In fact, the feature making this race most challenging was one that was out of Spartans' control – the intense summer heat. That said, despite the temperature being just shy of 100 degrees and the minimal shade coverage on the course, Spartan did a great job accounting for the heat by offering 5 water stations on course, misting fans on the course (courtesy of the ski-lodge venue), and an air-conditioned medical building. (Aroo to that Spartan! – these adjustments were greatly appreciated!)
All of that said, I should add that the course and obstacles being "easy" is by no means a complaint! I appreciate an easy course from time to time as it allows for the chance to speed up for those competing, better odds for a clean, burpee-free race, and the opportunity to slow down, enjoy the community and camaraderie of a beginner-friendly course.  With this in mind, this Sprint was absolutely perfect for the beginner crowd.
The Festival & Swag
As usual, Spartan post-race swag was high quality and generous with participants all receiving an armful of goodies: a medal, trifecta wedge, technical t-shirt, beer voucher, banana, FitAid, BodyArmour, and protein bar.
On another positive note for Indiana, the festival area and overall layout at this venue continues to be one of my favorites. The venue itself allows for convenient, paved parking lots that are just a short walk to the check-in tents and also allows Spartan use of the onsite lodge with restrooms, concessions and shelter from the sun. The course layout was very spectator-friendly, allowing spectators access to multiple obstacles: Hercules hoist, A-Frame Cargo, rope climb, sandbag carry, multi-rig and fire jump. The festival area also offered access to bag check, the Spartan Shop, beer tent, and festival competitions in a way that was well spaced and organized for easy flow from one area to the next.
Overall
I rate this event at a 4/5 – Spartan Indiana was a great beginner-friendly event, but with room to improve in its level of challenge. With its high-quality festival area, clean course, and convenient Midwest location, I will definitely return for the fifth time in 2020.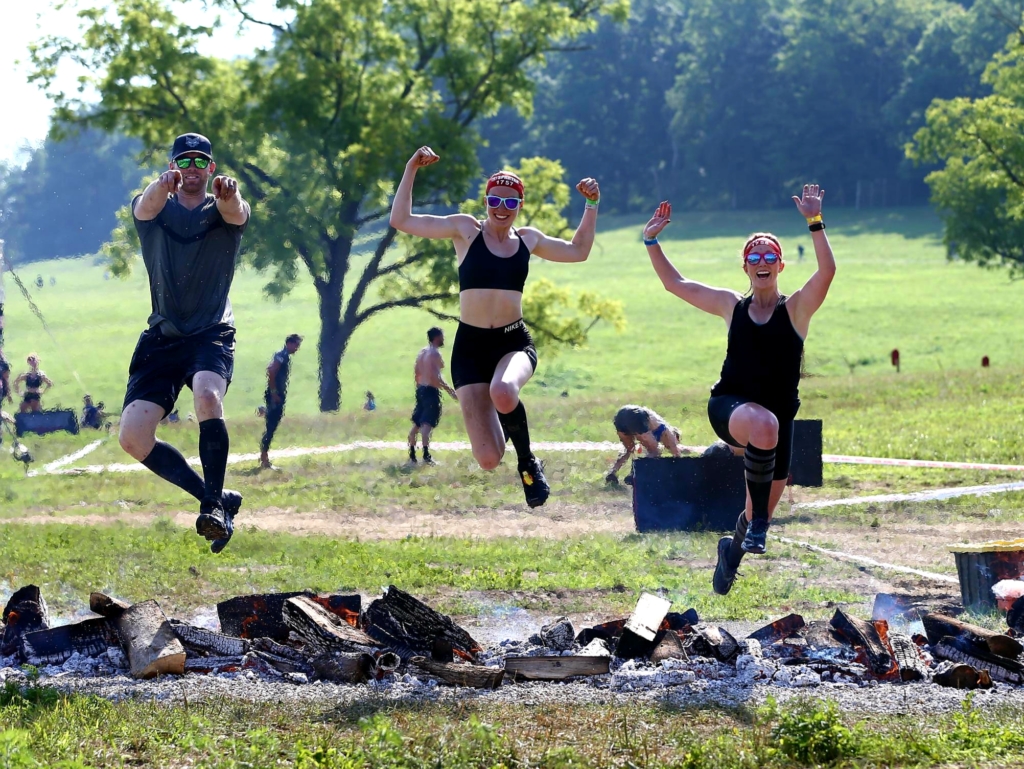 Did you race Spartan Indiana this year? Let us know what you thought of the event in the comments below.
Rating: 4/5
---
Have you done an Spartan Race?
Leave your own Spartan Race review and feedback...
---
This author is part of the Mud Run Crew and received a free race entry in return for an independent review. All opinions are those of the author and were not influenced by the race sponsor or Mud Run Guide.
---