"No Thanks, I'm Good"
Normally, when I receive an email from a shoe supplier "Hey Brett, do you want to try out…" I hit reply and say "YES" without thinking – as an unabashed kicks freak I love testing any new footwear that's thrown my way, and I've been lucky enough to be inundated with the coolest shoes for more than a decade. While the majority of my reviews have been high-tech running & trail shoes, occasionally I've stumbled into the nicest and most expensive dress shoes I'll ever own (thanks Carets!), my favorite-of-all-time casual shoes and boots (Lems FTW), and even the coolest high-tech Cross Fit shoes from Inov8. Speaking of Inov8, they absolutely knocked it out of the park with their new hiking boots – and I nearly said "No thanks, I'm good" when they offered to send me a pair. I live in the desert and would much rather run a steep rocky trail than hike; not to mention wet conditions are an extreme rarity. I honestly felt I'd be wasting a pair of shoes… until I thought about NorAm and OCRWC conditions. The '19 North American OCR Championships took place late in summer on a mountain in New England – the perfect time to test out waterproof shoes with tons of grip along with ankle protection for steep descents over rocky unstable ground. The unpredictability of weather conditions (surprise – it rained again this year) during a 28-day build and tear-down meant I'd have an opportunity to see how the ROCLITE G 370 handled a month of hard wear on the mountain covering nearly 300 miles according to my Activities app.
I'm sincerely glad I didn't say no.
What They Say:
Featuring revolutionary graphene-enhanced G-GRIP rubber outsoles, the waterproof men's ROCLITE G 370 with its versatile 6mm graphene studs delivers the world's toughest grip over all trail and mountain terrains, from soft mud to hard rock and everything in between. Weighing in at just 370g and packed with protective-features including an ankle cuff, hikers can move with speed and agility, while also enjoying that comfortable dry-feet feeling and increased ankle support.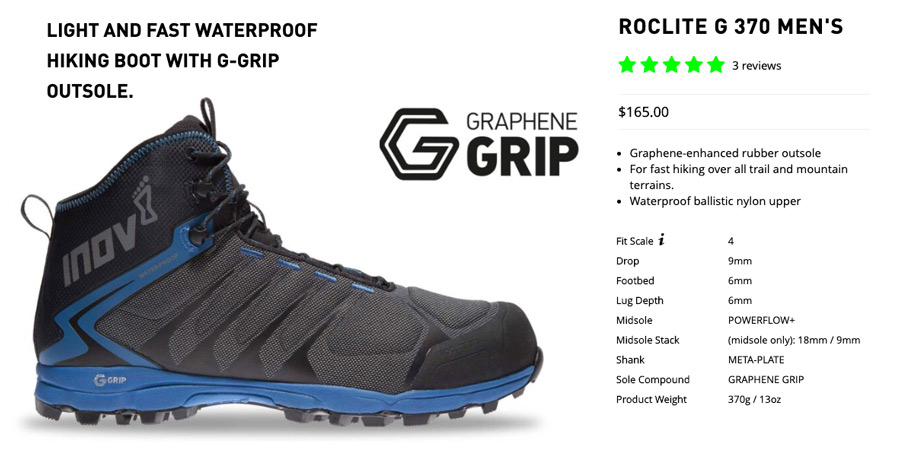 What I Say:
At 370 grams (13 oz) the ROCLITE G 370 isn't much heavier than some stability running shoes I've run in over the years, and they are significantly lighter than a few pair of hoops hi-tops I have in my closet (I may or may not have taken out a vintage pair of Nike VC I's to compare weights and then realized how much they are worth on Ebay and died a little inside) and the performance of these all-mountain shoes are worth every little gram. For the life of me, I can't figure out how a pair of shoes could be more suited for the duties of race director than these. Period.
Traction
Um, duh. They are ROCLITE trail runners with Graphene – they stick to anything wet or dry yet are wearable on normal everyday surfaces like the slick wood on the floor of a 53′ trailer, inside a cafe, and tons of mileage walking around a paved festival area. I actually found it surprising how little I noticed the lugs when walking indoors and outdoors on hard surfaces; at no time did I have that same feeling when I'd first strapped a set of mud tires on my Jeep and realized how noisy and uncomfortable the ride became. The ROCLITE G 370 is rather civilized and blended in nicely in a mountain town vibe *cough* coffee shop.
Fit, Form, & Function
I covered Inov8's Fit Scale in earlier posts; a 1-5 rating where 1 represents a narrow "A" fit while 5 is a wide "E" size, and ROCLITE G 370 slides in as a 4 that felt roomy enough for some thicker socks and also tightened up to prevent any movement while still remaining quite comfortable. At no time over the 28-day test did I feel like they were loose of floppy, and several days I didn't even tie the laces up top and just relied on the snugness around the forefoot to keep 'em in place when operating machines or walking around, etc. They are an extremely wearable shoe in all conditions, and I really appreciated how dry they kept my feet during what seemed like daily 5-minute downpours on the mountain. While the upper is waterproof, they clearly aren't rubber duck boots so my socks were dampened a few days and I simply propped 'em up by the fire overnight and they were ready to go the next morning.
Be aware, out of the box you'll need to really loosen them up to get your foot in – that's a sure tradeoff for the excellent fit you have once your foot is properly in-place. Once you put a few days of trekking in, they loosen up a bit to expedite getting them on & off. I also really appreciated not having to deal with the laces coming out of the eyelets, this can be an issue when the laces are too short but not at all in this case.
The shape of the heel cup and collar may be the best feature of this shoe, as they were stable on all conditions while still in an "athletic position" that allowed for fast short runs and quick hiking over any surface without rubbing on my Achilles.
With a waterproof shell and inner lining, I expected the ROCLITE G 370 to be a sweaty mess on the warm, humid days on the mountain but they were surprisingly comfortable given the New England temperature swings. My socks never felt swampy or sweaty, and while it may be TMI my feet never stunk even after 10 straight 14+ hour days. I got them so muddy one day that I actually threw 'em in the washing machine and left them to dry in front of the fire overnight; they were GTG the following morning.
Durability
I beat the heck out of these shoes for a month – bushwhacking all over the mountain planning a course to be cut, climbing rigs, scaffolding, loading & unloading trailers, running machines and UTV's and some extremely gnarly time spent on my laptop in the cafe – and while there are cosmetic abrasions on the upper from kicking rocks all day they held up extremely well and only had superficial scratches that didn't affect the wearability or water repellant properties of the upper.
The Wrap
The ROCLITE G 370 aren't as sexy as any of Inov8's trail and road shoes and are the slightly uglier cousin of the ROCLITE G 345 GTX, but they really perform well in wet conditions and never let me down during a month of tough days on the mountain at NorAm. Based on that result, I'm bringing them along to race direct the OCR World Championships outside of London next month, and will continue to beat the heck out of them all over the course.