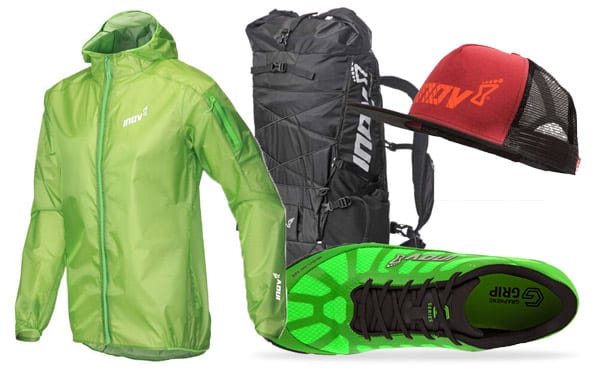 Last year on April 1st I kicked off my second run (pun intended ) at a #5keveryday. The first time I started the challenge was in March of 2017, and I was completely locked-in, logging enough miles to average well over 3.1 miles/day without missing a run – until I tore my right MCL playing soccer. I even tried to wrap the knee and make it through a mile later that night, but the damage was too severe and the #5keveryday streak was broken at just over 6 months. My second attempt last year started with so much promise – as well as a promise to myself – along with an awesome gear package from an amazing shoe and apparel company I've grown to love.
#5keveryday 2019 Edition – Powered by Inov8
Inov8 sent over the following shoe models for me to wear throughout the year and my #5keveryday attempt (not shown: Mudclaw G260, F-LITE G290, and a few additional pairs of Parkclaw 275 they sent along) :
While I've been lucky to have tested numerous trail and toad shoes over the years, this is the first time I've had the opportunity to test out an entire swath of a company's shoe line from mud to trail to the road and everything in-between and really get a sense of what Inov8 can provide any athlete for workouts and running in any conditions… and that's before I even mention how unbelievably impressed I was with their hiking models –  Roclite G 345 GTX and Roclite G 370 which I used extensively as race director for The North American OCR Championships at Stratton Mountain, Vermont and OCR World Championships at Nuclear Races' home in Essex, UK.
And the Reviews Are…
First and foremost, I want to acknowledge that Inov8 has an entire section of their site devoted to OCR Shoes – one of the only companies with the foresight to make and market models specifically for the sport of Obstacle Course Racing. While Inov8 vas voted Runner-Up for Best Shoe Brand of 2019, you'd notice that the overall winner doesn't bother to mention CR on their website at all…
Right from the start of my 2019 attempt, I was chronicling my use of and reviews regarding each of the shoes:
…and with yet another injury and recurring stomach issues, I was forced once again to abandon my consecutive days streak shortly after returning from Rome, at 92 days. I still never got the chance to write a complete wrap-up review of the Inov8 shoes because…
Worlds Steps In
Even though I broke my streak in July and wasn't running each day consecutively, I was still running quite a bit – and "running around" even more. By taking on the role of Event Director with Adventurey, the North American OCR Champs and OCR World Champs became my day-in and day-out obsession; I only had an extremely tight window to produce NorAm before turning my focus to OCRWC – both events required a ton of prep as well as on-the-ground planning, setup, execution, and tear-down which meant tons and tons of miles up and down a ski mountain in Vermont and hundreds of laps around a brutally muddy 15k course in Essex, London.
If my friends at Inov8 were bummed about the injury derailing #5keveryday, it didn't stop them from sending me the wonderfully-waterproof Roclite G 370 to conquer Stratton Mountain and the even more dynamic (and waterproof, warm, and grippy as all heck in mud) Roclite G 345 GTX for the month of epic muddiness in Essex, UK. As a sponsor of the OCRWC 2019, Inov8 supplied Roclite G345 for the entire build crew with across-the-board unanimously-loved results. Just the fact that both Roclite models performed so well in all that rain and mud was a huge compliment to Inov8's product development and quality control, but keeping my team safe from slipping on extremely muddy terrain and wet obstacles garnered them a tremendous amount of respect from me and the entire OCRWC team.
Each day during the NorAm and OCRWC build, my Apple Watch shoed my distances in double-digit miles – and many of these were difficult ones tromping through brush on the side of a mountain or literally waist-deep in a mud pit. (Note: While I did kill a radio that was on my hip due to the submersion in a Nuclear Races mud pit, both Roclites stayed on my feet as I slowly made my way out of the deepest mud pit I'd ever encountered. Needless to say, I routed the OCRWC course around that monster, it was just too much to deal with!)
Roclite Wrap-Up
I have a really hard time calling either of these shoes "hiking boots" because for the most part they are as comfortable as running shoes, and several times during NorAm and OCRWC I found the need to run from location to location, and never felt like I was slogging in heavy boots.
Both the G 370 and G 345 GTX are grippy and comfortable, yet I found the G 370 to be slightly warmer in cold and wet conditions as well as slightly wider for thicker socks. The G 345 GTX is a bit lighter, narrower, and feels like a more dynamic "running" shoe – albeit one with a padded hi-rise collar.

When deciding between these two Roclite G models, aside from the visible differences in upper design and construction they are remarkably similar in fit and feel for all-day comfort, warmth, and water-resistance. Even when my feet did become wet due to full immersion, both boots performed admirably and I was able to continue wearing them for 12-16 hour long, wet, muddy days or work. They both served me exceptionally well, but since I've returned back from the UK, I've kept the Roclite G 345 clean and wear them for rain or warmth while the Roclite G 370 are my go-to for dirty work building racecourses, obstacles, and even muddy Jeep off-road trips. You can't go wrong with either, I just think the 345 GTX are a little more attractive for wearing in public.
Inov8 Gear
I'd be a total jerk to not mention all the other amazing gear Inov8 sent my way along the way – and all of it has been very well-used and well-loved. Since the day my Stormshell and Ultrashell Pro jackets arrived, I've been blown away by the versatility and performance from such a thin, lightweight windbreaker. To say they are both technological marvels would be an understatement. They both keep me dry, warm, and can be rolled up into a pocket or backpack as soon as the weather changes. Both are lightweight enough to run in while being extremely fashionable – I'm not immune to runner's envy when you see another athlete wearing the best gear, and I'm not ashamed to say I feel a tiny bit superior (in gear only) when wearing these jackets while traveling, at race expos, or out on the run. I was extremely grateful to both these jackets during the wild temperature fluctuations in both New England and England.
They are both expensive jackets, but when performance is the only metric, they are both worth every penny.
Loving the Inov8-tion
I wrote in an earlier article about a little tiff I had with an overzealous booth manager at The Running Event in Austin some years ago where I was thrown out of an Inov8 booth and how I vowed to never wear their shoes… well, looks like I lied. While I did keep 'em off my feet dut to some misplaced anger for years, I am so glad I broke down and LIVED for the past year in Inov8 products from tees to hats, to jackets and of course shoes (Oops, I even have an amazing All Terrain 35 backpack that's been with me all over the globe too! See below)
The Bottom Line for me is Inov8 cares deeply about the sport of OCR – from their partnership with the OCR World Championships in 2019 to the fact that they have an entire section of their site devoted to OCR Shoes. Inov8 continues to make the best-of-the-best in various models for all conditions from training to racing and some of the most impressive gear I've ever been fortunate enough to wear & use in my daily life.
Based on the multitude of models, styles, and widths, Inov8 is the go-to brand for so many athletes' OCR shoes and gear.