As a self-confessed shoe junkie, I'm always excited when I get to review a new OCR shoe on the market. I was particularly excited to test out and review this particular pair, however. Why, you ask? Well for the last couple of years, I've been running and racing mostly in a certain zero-drop, wide toe box model and have been totally happy. So, quite honestly, the thought of stepping outside of my feet's 'comfort zone' was intriguing. Boy, am I glad I did. Salming's new Elements 3 impressed the heck out of me, and I'm about to tell you why.
Out of the Box
Admittedly, the first thing I noticed about these shoes was the striking color. The visual aspect of my gear is moderately important, and I'm always bummed out when a company comes out with a great update to an already good shoe, and the color is just…well, blah. So, first box checked. Upon taking them out of the box, the next thing I noticed was how light and flexible they were. At just under 9 oz. (US size 9), the Elements 3 took a full ounce off the weight of their predecessor, the Elements 2. And, despite the aggressive lug pattern, the soles seemed surprisingly flexible. The shoe's upper is made of soft, breathable fabric and gusseted tongue, which, while it seemed like it would lend itself to comfort and good water drainage, left me wondering if it would offer adequate support. For a moment I caught myself reminiscing back to 2014, when I first started running OCR, and had fallen in love with Reebok's Super OR shoe. Though the Super OR was eventually doomed by durability issues, it, too, offered almost slipper-like comfort, superior drainage, and an aggressive, yet flexible, outsole. Fingers crossed the Elements 3 were just as comfortable, and much more durable.
Testing, testing, 1, 2, 3…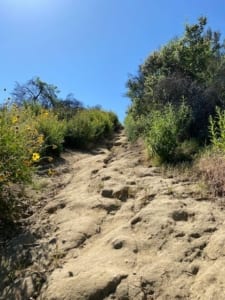 After my initial examination, I was really excited to put these shoes through the wringer and find out what they were truly capable of. I decided to take them out on one of my favorite trails – one that included a steep 20-degree grade initial uphill climb, a fairly flat middle section and ended with a steep and technical one and a half mile sprint. To be certain, I wanted to see how these bad boys would handle the varied terrain and conditions. Lacing them up, I found them to be every bit as comfortable as I had hoped. I was slightly concerned that the toe box (though not narrow, by any means) would put some pressure on my little piggies, but, thankfully, that never happened. The upper has enough give that I feel it would fit almost any foot comfortably, yet still offered more than adequate support, even on the faster, technical trails. Though I think running in these shoes on asphalt or concrete might be a challenge, the aggressive lug pattern was perfect for the steep uphill climb on loose gravel, the hard-packed fire roads, and the softer dirt trails. I was, indeed, very pleasantly surprised at how comfortable, yet supportive, the shoes were, and I could easily see them as a welcome addition to my ever-growing race shoe arsenal.
Final Thoughts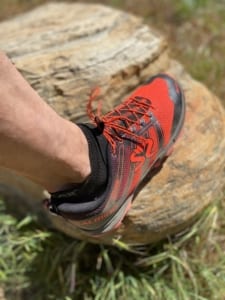 Overall, I was very impressed with these shoes, and I think you would be hard-pressed to find someone who didn't feel they were comfortable, even right out of the box. The aggressive outsole left nothing to be desired when it came to traction, and, with a minimal 4 mm drop, I was able to easily acclimate to these shoes, even after running in zero-drop shoes for over a year. One important note: Admittedly, I have not run enough in these shoes to truly test their durability, but I want to note that Salming (in a seemingly smart move) has equipped this model with a protective layer on the toe and sides of the forefoot, where wear is often an issue in shoes like this, with softer, more flexible uppers. Hopefully, this will do the trick, and keep these babies on the trail for at least a few seasons. For now, I'm planning on making them part of my regular race-shoe rotation, especially for a shorter distance or particularly muddy races, where traction and drainage are of particular importance. High five, Salming. You just might have made me a believer.
See also: Salming Elements 2 Review