By partnering with Savage Race in 2018 and re-upping that relationship in 2019, Salming quickly got their OT Comp (reviewed here) on the radar for obstacle racers. The fit, durability, and performance of this model showcased this small Swedish company's ability to build a very impressive race shoe. While the buzz around the sport was directed at their top-of-the-line "pro" OCR shoe, Salming also very smartly released a slightly wider trail running shoe with much of the same dynamic fit, feel, and function of the OT Comp with a bit more padding and a slightly reduced price tag.
That model? Elements.
Why didn't I test one of those last year when they were released? Because, not surprisingly, their common sizes (9-11) sold out very quickly through their USA distributors & website. Frankly, I couldn't get my hands on 'em to test. This year, I wasn't going to make that mistake and put my request in for the upper-overhauled Elements 2 as soon as it was released this spring. To top it off, and because my Salming rep David is a total rockstar, I also was lucky enough to be one of the first testers of their brand new 2019 running shoe, The Greyhound. Based on my absolute love of Salming's Speed 6, I was thrilled to test out their all-around mileage-eating road & training shoe too, and I'll post that review in a couple of weeks. First, let's tackle the Element 2: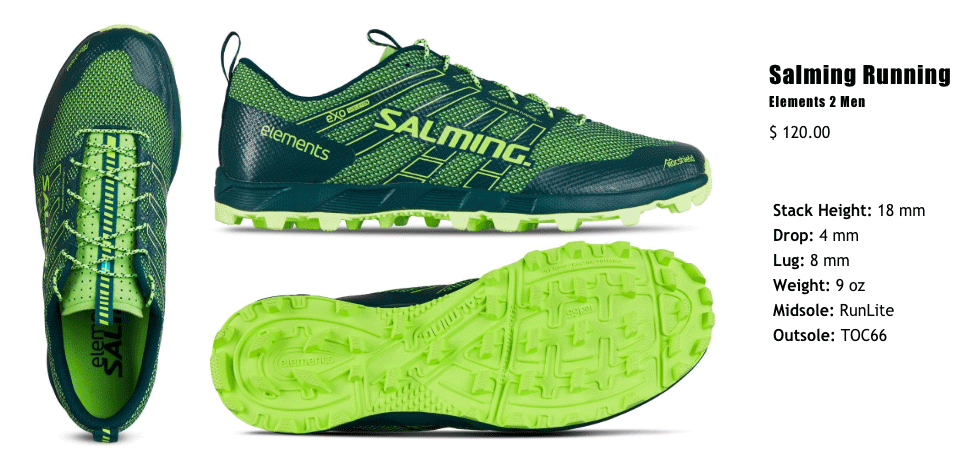 What They Say:
Elements – run anywhere!
The second generation of Salmings off-trail and OCR shoe features a lighter and more simplistic upper construction, decreasing the weight by up to an ounce for the US Men's size 10. The body of the shoe features the same mesh quality as the OT Comp model, providing an enhanced water drainage property and excellent breathability.
What I Say:
While the previous version of the Elements was marketed as a technical trail shoe akin to a sister shoe with a wider toebox to the T4 / T5 Trail, there was nary a mention of the sport obstacle course racing in the description. In fact, there was a nod to Swim/Run in the product description:
"Elements enables you to run anywhere or swim for that matter and get the best out of you. The outsole provides exceptional traction on both wet and dry surfaces." and "Elements has a more roomy toe box compared to its trail sibling, the Salming Trail".
Elements 2 is a completely different animal up top – everything from the sole has been minimalized to reduce weight and enhance flexibility. Weighing in at 9oz, Salming has taken a full ounce off the weight of their predecessor and moved this shoe farther away from the stability and traction of a technical trail running shoe (cough, the T5 Trail cough) and established Elements 2 as an OCR shoe for racers with slightly wider feet that can't squeeze into their OT Comp or other narrow trail/OCR models like Icebug Zeal. Would I consider these a "wide" shoe? Well, kinda. They are very roomy on my normal-width feet, but not to the point of being sloppy at all, the laces can more than make up any additional room with a good pull without puckering the shoe up at all. The upper also feels like it has some give to it as well, and if your feet are slightly wider than even these moderately-wide uppers can provide, I believe they'd still be comfortable within that slightly stretchy zone.
First Test
Upon pulling these lime green monsters out of the box I was shocked how light and pliable they were and threw 'em on to walk around for a few hours on a bunch of everyday surfaces and then threw them in my luggage to travel to Bermuda Triple Challenge. After experiencing this three-day event last year, I figured the Elements 2 would be perfect for the 8-mile event on Saturday that featured a ton of running on trails, sand, and even in the surf. I chose well, and these kicks worked perfectly and mastered all conditions.
While I really liked the OT Comps last year (see my review here), I'd actually put these Elements 2 one notch higher on my go-to-shoe list for trail running; not that the OT Comp isn't a badass shoe with fantastic fit & grip, I just happen to like the tiny bit more comfort and flexibility in the Elements 2 enough for them to wriggle their way into my top spot.
The soles provided excellent traction on all conditions from wet rocks to dry & dusty trails, digging in for climbing uphill with a sandbag or cinder block, even splashing through the surf for a 1/4 mile water run and over all of the wooden obstacles at the challenge course. Elements 2 ejected water very quickly while keeping nearly all of the sand out of my toes for well over a mile of combined beach running.

The Wrap
Heading into an extremely busy year of shoe reviewing (I have 6 pairs waiting for unboxing and testing at the moment #humblebrag) I can honestly say the Elements 2 is going to be a very tough shoe to beat. In my bag to Bermuda, I also packed another pair of similar trail shoes from a competing brand, and after a quick test run in Elements 2, they never saw the light of day. So, they've already bested a solid competitor to fight their way onto my feet for an event, let's see how well they hold up after a season of testing on the trails, mud, and more!
Final Word
I really like neutral, minimal-ish drop shoes that are uber-flexible and light for road and trail use – I basically favor racing flats over just about anything when I want to go out for some speedwork or at a race. While I train day-to-day in every type of shoe (zero drop, motion control, stability, etc.) in order to keep from building up a physical dependence to a certain model or style, my favorite runs usually take place in "pancakes" – what I like to call shoes that have just a wafer of padding but are mostly flat. The Elements 2 fall squarely in this category (along with Salming's OT Comp) and have the traction, fit, and comfort I'm looking for in a fast trail shoe.