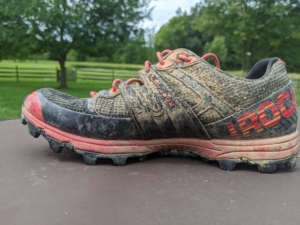 Gear Review: VJ Shoes iRock 3
Finding the right OCR shoe can be a daunting task. For that reason, once I found the shoe I loved, I've stuck with it (for the past six years in fact!) I am that person that needs a solid hour or two or three in the running store trying on and trying out all of the possibilities and comparing before committing to buying a pair, so naturally, I was a little bit skeptical to out the VJ Shoes iRock 3 I was hesitant. I was quite surprised once I tried them out. My test trial was doing 400-meter "Sprints" on perfect OCR terrain: part shoe sucking mud, part slick grass, part rocky terrain, interchanging between my old OCR shoes, the iRock 3's, left foot old shoe and right foot iRock 3's, then left foot iRock 3's and right foot old shoes (I told you, I'm that person) and here is what I found:
Grip: They claim to have "The Best Grip on the Planet", which I would stand by after trying them out. In the varying terrain of my test trial, and after the one race of 2020 so far, they didn't slide at all. The 100% Butyl-rubber soles and 7mm lugs will stick to anything, including a great grip on wet wood like ramp wall obstacles. I have never raced in a shoe that had such great grip on terrain while also providing good traction on flat surfaces. I was impressed.
Fit: I have slightly wider feet, but didn't have any issues with the fit. They did feel a little bit narrow at first, but broke in very well. I never got any blisters or hot spots, even after 15 miles of a multi-lap mock OCR.
Drop: The iRock 3's have a 6mm drop on the shoe, a good middle ground so that runners can find it acceptable if you are used to a higher or lower drop. (If you prefer a larger drop, the 8mm drop Xero 5, may be more your speed, if you prefer less drop, the 4mm drop of the XTRM is a good option.)
Style: The color combo only comes in one style, pink/red/black. At the end of the day, I don't really care what color the shoe is (it will be covered in mud soon enough anyway) as long as it is a functional shoe. It does look like a fast shoe, and I'm not really a pink kind of gal, but I wasn't upset by the color.
Price: The price for a pair of VJs is $160, which I have found to be fairly comparable to other race-type trail shoes. You definitely get what you pay for. The cheaper shoes do not compare or hold up, (believe me, I tried). Bottom line, the price is worth the shoe.
Training Performance: The shoes are awesome for training no doubt. I run on a mix of trail, paved trail, occasionally grave and pavement. While the shoe is designed specifically for trail, I could transition between all the ground types listed without issue. I'm hesitant to wear them on pavement too much for fear of wearing down the aggressive 6mm deep lugs on the bottom (which happens with all shoes) but they were comfortable regardless of the terrain. I've tested other shoes that weren't comfortable on road but VJ iRock 3 passed the test even for aspects they weren't specifically designed for.
OCR Specific Features: When selecting a race shoe for OCR, I'm looking for grip, lightness even when wet, and durability. Generally, you have to sacrifice a lot of comfort for the lightness, especially as padding tends to retain water, making the shoes heavy. Even with cushioning units in the front and heel and the strengthened rubber toe cap, the iRock 3's only weigh 8.47 oz (240 g), and they don't seem to retain water, even without drain holes. And despite the lightness, they seem to have more support and comfort than other racing shoes that I have tried.
Overall: I LOVE these VJ iRock 3 shoes. While I haven't put excessive mileage on them yet, they have held up unscathed against some extremely rugged and rough terrain, and with a part Kevlar weave, I don't anticipate longevity to be an issue. Granted, the apocalyptic conditions of 2020 have given me fewer race opportunities to put them to the test, but their performance was unsurpassable.
I raced in Mud Ninja, finishing first female, in addition to multiple mock OCR's trying to find a socially distant stand in for cancelled races. I'm looking forward to all of the postponed races late this summer and fall, as well as wearing them well into 2021 and beyond.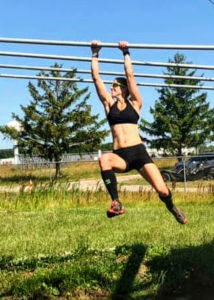 If you want to see other reviews, just look at the list of athletes that swear by them. It is basically a who's who of top OCR athletes. While not the cheapest shoe, they are well worth it. Anyone committed to OCR and performance should I give the iRock 3s a go.
5/5 stars