Mud Run Guide – Official World's Toughest Mudder (WTM) Coverage
Event: World's Toughest Mudder 2015
Date: November 14, 2015
Venue: Lake Las Vegas – 2030 Lake Las Vegas Parkway, Henderson, NV, United States
Social Updates
We're live on course throughout the weekend. Our tagboard at the bottom of this page will pull in all the updates, but if you want it straight from the source, be sure to tune in on Twitter (@mudrunguide), Instagram (@mudrunguide), and Facebook (@mudrunguide).
Coverage Overview
Click any section below to be taken directly to that part of our coverage
Pre-Race Coverage Highlights
Race Day Coverage
Recent Tough Mudder news
Race Results
Event Overview
Live News Feed
World's Toughest Mudder 2015 Results
Male WTM 2015 Champion: Chad Trammel with 95 miles
Female WTM 2015 Champion: Amelia Boone with 75 miles
Team WTM 2015 Champions: Sinergy with 80 miles (Jon Albon, Ryan Atkins, Eric Batty, and Matt Murphy)
Complete Results Here:
Featured Pre-Race Coverage
Interview with WTM Race Director Brady Archer: Evan Perperis interviews race director and course designer Brady Archer to find out what's new for WTM 2015
2015 Teams, Pits, and Bold Predictions: World's Toughest Mudder veteran Jeff Murphy makes his annual predictions for the 2015 World's Toughest Mudder.
WTM Nutrition Hack: Jason Rulo shares a few nutrition "hacks" to help participants stay on track on race day.
WTM Thermal Hack: Jason Rulo shares his "hack" for defeating the cold & wet conditions Mudders must face from sundown to sunrise at World's Toughest Mudder.
Course Walk-Through: The Mud Run Guide Crew will share all the video info they are permitted from the course, including walk-through, obstacle construction, maybe even demo a few of the WTM obstacles ourselves! Coming Friday 11/13
Mudders To Watch Out For: Our Editor-in-Chief Margaret Schlachter puts together her list of men & women athletes to keep your eye on, and what teams have the best chance to claim the $100,000 prize for 100 miles (20 laps!) in 24 hours. We spoke with a few people in the Tough Mudder Community about their predictions, Tough Mudder HQ sent us these athletes to watch.
The top women and men to keep an eye out for this year are returning champions Ryan Atkins, Junyong Pak, Deanna Blegg and Amelia Boone. Ryan Atkins is participating as part of a team this year, so that will be interesting to watch and will be sure to rev up the competition. His team is going after the $100k prize, and he completed 95 miles alone last year, so this year we know they're aiming to hit 100 miles together as a team.

We should also expect new athletes from across the OCR world to be in attendance this year for a chance to earn a top prize, as well as new teams going after the $100k prize for the first time. Additionally some of last year's top 5 men and women will be returning to compete and hold their title.
We also spoke with WTM Community Leader Ken Jacobus. He gave us the inside scoop on who he thinks we should be looking out for this year at WTM.
"In no particular order here are some of the athletes to watch other than the favorites, Tim Kacprzak, Anthony Tadajewski (finished 5th last year), Del LeViere, Joey Patrolia, Greg Armstrong, Scott Brown, Fischer Lumis, Matt Hanson is back this year after pneumoinia last year, and Daniel Kaali from Hungary. Finally, Jacky Boisset, he is an adventure racer from France who just finished a team bike race in China on Tuesday.

In the women's race other than the obvious favorites Kristy McBride is back after having a baby last year, Corinna Coffin, Amanda Steidle, Heather Heaton, Anna-Lee Markstedt O'Dwyer (from Sweden), Renate Kaufman, Lauren Andrews, Heather Clapacs, and Mandy Baskin.

In the team race, look for the Germans on Team Getting Tough, Lion's Pride of Vegas, and Team Bacon Grease (a new team but all Tough Mudder veterans). The Danish Team Valhalla rising is looking to improve on their third place finish from last year as well.
Race Day Coverage
"Real-Time" results, photos, video, interviews from the pit crews, and hopefully even a live stream from The Cliff!
Check the tagboard at the bottom of the page for real-time updates from social media networks – tag your Facebook, Instagram, or Twitter posts w/video & photos with official hashtag: #WTM2015
Tough Mudder is live streaming from the event.
Recent Tough Mudder News
Tough Mudder 2015 Updates: Mudder Half, etc.: Tough Mudder gets new sponsors, new shirts, and new race offerings for 2016.
Reaching the Tough Mudder Century Club: Eric Jenkins and Joe Perry become two of the newest members of the Tough Mudder Century Club.
World's Toughest Mudder Info
Course Description: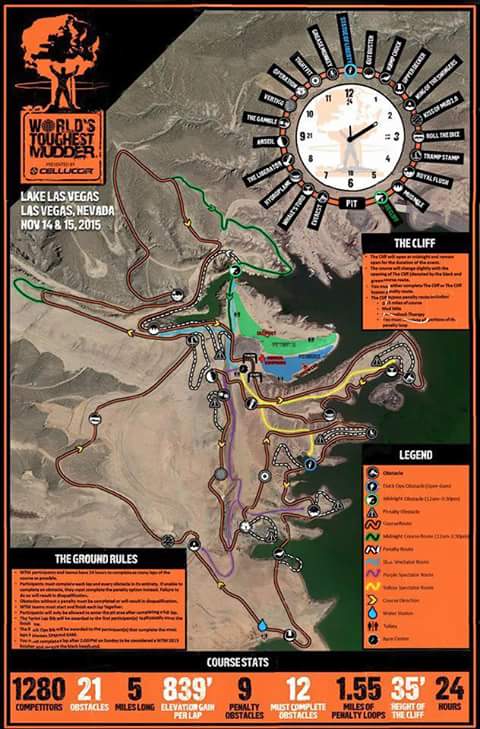 World's Toughest Mudder® is the culminating event of the Tough Mudder® global calendar, and takes the concept of being a Tough Mudder to a whole new level. Designed to push Mudders℠ to their physical and mental limits, this extreme competition puts the world's most hardcore Mudders through a grueling 24-hour obstacle challenge with double the obstacles per mile of any other Tough Mudder event.
Unlike any other Tough Mudder event, World's Toughest Mudder is a competition, with three official categories designed to find the toughest man, woman, and 4+ person team on the planet, plus cash prizes and other awards up for grabs, including an award for the largest World's Toughest Mudder team.
Located 35 minutes away from the Las Vegas Strip (the event's first major obstacle is leaving the partying until afterwards), and just 30 minutes from Las Vegas' McCarran International Airport (LAS), Lake Las Vegas is an ideal venue for the 2015 World's Toughest Mudder. The site contains several hundred acres of rolling desert landscape and runs alongside a massive freshwater lake. Several natural terrain features and use of the lake will be incorporated into the WTM course design. Temperatures are also expected to fluctuate significantly between day and night.
WTM 2015 is a 5-mile circuit race with 20-25 of Tough Mudder's insane obstacles, including the debut of new 2016 obstacles and a handful of WTM only obstacles, at a rate of 4 obstacles per mile. Participants set up camp in an area called "The Pit" to rest, recharge and refuel during the event – aided by up to 2 "Pit Crew" per participant (see below). When it's over, the event winners will be the man, woman and team (4+) that achieve the most laps in a 24-hour period between 2:00:00pm, November 14th, 2015 and 2:00:00pm November 15th, 2015 (participants then will be given until 3:00:00pm on Sunday to finish their final lap). Important Format Updates in 2015:
Race Begins 2:00:00pm Saturday, November 14th, 2015 and Ends 2:00:00pm Sunday
Participants will have (1) additional hour to complete their last lap on Sunday
Last Lap Rule Change: All participants intending to earn the official Black 24hr headband must complete a "Final Lap" after 1:00:00pm on Sunday to be eligible for the 24hrs of WTM.
Aid Stations:
5+ Water & First Aid Stations
Awards:
WTM 2015 Prizes
Special awards are given to those achieving the following:
25 miles — 25 Mile Recognition
Awarded — 25 Mile Recognition badge
50 miles — 50 Miler Award
Awarded — The Brown WTM Bib
75 miles — 75 Miler Award
Awarded — 2015 Season Pass
Awarded — The Silver WTM Bib
100 miles — 100 Miler Award
Awarded — Free Entry to WTM 2015 & 2015 Season Pass
Awarded — The Orange WTM Bib
125 miles — 125 Miler Award
Awarded — Lifetime Tough Mudder entry
Awarded — The Black & Orange WTM Bib
Category Winners
Two additional prize categories exist at World's Toughest Mudder:
BLACK OPS — For the most laps completed between sunset and sunrise. Only laps started after sunset and completed before sunrise will count towards winning the "Black Ops" award. Regular WTM lap completion rules apply. Nighttime rules apply.
Awarded — Free Entry to a Tough Mudder
Awarded — The Black WTM Bib
FASTEST LAP — Awarded to the participant completing the fastest first (1st) lap.
Awarded — Free Entry to a Tough Mudder
Awarded — The Green WTM Bib
Specialist Awards
One-of-a-kind recognitions of some of the amazing feats that happen during WTM, including:
OLDEST WORLD'S TOUGHEST MUDDER
MOST MONEY RAISED FOR WWP®
FARTHEST TRAVELED TO GET TO WTM
LARGEST TEAM TO ATTEND WTM
Tough Mudder encourages WTM participants to wear their WTM-earned bibs at regular Tough Mudder events.
Prizes:
| | | | |
| --- | --- | --- | --- |
| Place | Men | Women | Team |
| 1 | $10,000 | $10,000 | $12,000 |
| 2 | $4,000 | $4,000 | $6,000 |
| 3 | $3,000 | $3,000 | $2,000 |
| 4 | $2,000 | $2,000 | |
| 5 | $1,000 | $1,000 | |
Special Team Prize:
The first team to complete 100 miles in 24 hours or less wins $100,000
Live News Feed
Live coverage will resume next year.