Leading outdoor brand Merrell announced as presenting partner for 2016 Tough Mudder event series; 

New event format Tough Mudder Half introduced to grow Mudder Nation
Today, premier obstacle event company Tough Mudder Inc. and outdoor pioneer Merrell, a division of Wolverine Worldwide, announce a multi-year partnership, introducing Merrell as the presenting partner for global Tough Mudder events. The partnership includes the presenting sponsorship of 60+ global events in 2016, connecting the more than two million Tough Mudder participants with Merrell's industry-leading and innovative outdoor footwear and apparel that inspires people to seek outdoor challenges and enjoy the outside every day. At the same time, Tough Mudder is also launching a brand new event series, Tough Mudder Half, in addition to it's current events.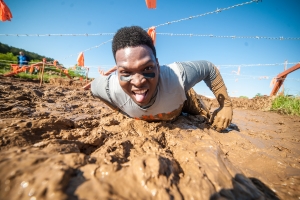 In the spirit of Merrell's commitment to bringing outdoor experiences to wide and new audiences, Merrell will also be the presenting partner for Tough Mudder Half. This worldwide event series will bring the mud and obstacles Tough Mudder is known for to a shorter-distance format. "At Merrell, we believe that hard elements shouldn't harden your spirit, that they should be enjoyed, not defeated" said Jim Gabel, President, Merrell. "Tough Mudder shares our vision of wit and grit, and together we are committed to inspiring others to overcome obstacles by eliminating barriers to enjoying the outdoors." The partnership will unite two brands with worldwide communities of outdoor enthusiasts who value teamwork, fun, unique experiences and physical and mental challenges.
Will Dean, CEO and co-founder of Tough Mudder Inc. said,
We are incredibly excited to welcome Merrell as the presenting partner for global Tough Mudder and Tough Mudder Half events. Tough Mudder is more than it's a lifestyle based on teamwork, courage, personal accomplishment, and fun, and our partnership with Merrell reflects these shared values. Together we will continue to innovate and improve the event in 2016, and help inspire a new community of Mudders.
This partnership comes at a pivotal moment for both companies. Since its founding in 2010, Tough Mudder has established itself as the world's largest event series, with over two million participants to date. Inspired by the trail, Merrell has been making performance gear for people who love the outdoors since 1981.
Merrell to Present Tough Mudder Events Across the Globe
In 2016, Merrell will present 60+ Tough Mudder events in six countries. Each event features a 10+ mile course with world-class obstacles designed to test both physical and mental strength. Courses will include brand new and updated obstacles developed by Tough Mudder's Obstacle Innovation Team with features designed to test Merrell's world-class trail and outdoor gear. The partnership will leverage both brands' innovation and design capabilities, bringing new products and features to global participants. Touchpoints for the partnership will include:
Finisher t-shirts: Every Tough Mudder and Tough Mudder Half finisher will receive a performance t-shirt celebrating their accomplishment. The lightweight technical tees will feature Merrell's M Select™ WICK technology to combat sweat and dry quickly -perfect for forging through water, barbed wire, and rugged terrain.
On-site Presence: Merrell and Tough Mudder will co-develop a unique obstacle that encapsulates the thrill of the outdoors. Merrell is also planning to enhance the on-site Mudder Village for 2016, which will offer participants the opportunity to engage with each other and with spectators as part of Merrell's new "Do What's Natural" brand platform.
Gear: Merrell will bring its heritage and expertise in performance gear to the ultimate outdoor event through a line of co-developed gear designed to get Mudders from sign-up to the finish line.
In 2016, Merrell will introduce the Tough Mudder inspired NEW All Out Crush trail running shoe, with additional products to follow. The M Select™ Grip and deep, multi-directional lugs of the All Out Crush shoe provide 360-degree traction while flex grooves release mud to allow the foot to move naturally and help propel on ascents. The TPU mesh coating helps protect you from the elements and allows for easy cleaning of mud and dirt – no more throwing your shoes out after the event. A UniFly™ midsole is soft to the ground to connect and cushion from the terrain for a firm foot and more efficient stride.
Giveaways: 50 Mudders who sign up for a 2016 event will also receive a $250 Merrell gift card, equipping them to focus on training and motivating them to conquer their next event.
"Wearing Merrell tells the world you love the outdoors," Linda Brunzell, Chief Marketing Officer, Merrell."Our co-developed apparel will not only celebrate the accomplishment of becoming a Mudder, but will enhance the participant experience."
Tough Mudder Unveils New Tough Mudder Half:
Tough Mudder Half Presented by Merrell. In 2016, the Tough Mudder Inc. family of events will welcome a significant new addition, Tough Mudder Half, with the worldwide events also being presented by Merrell. Featuring a 5-mile course with more than a dozen obstacles, Tough Mudder Half will bring all the mud of Tough Mudder in half the distance. This is an addition to the current Tough Mudder offering. 
Locations: Tough Mudder Half is launching with nine events presented by Merrell in 2016, including six events in the United States, one in Canada, and two in the United Kingdom, with an option for additional expansion in the second half of the year. For the up-to-date schedule of events and locations, visit toughmudderhalf.com. 
Obstacles: Each Tough Mudder Half course will include a selection of signature Tough Mudder obstacles and an exclusive Tough Mudder Half finish experience. There will be no obstacles including ice, fire, or electricity, but participants will experience plenty of thrills while tackling Tough Mudder favorites including Walk the Plank, a leap from a 12-foot platform into water; Kiss of Mud, a crawl underneath barbed wire; and Everest, a run up a quarter-pipe requiring both speed and teamwork.
Finish Experience: At the finish, runners will receive a unique Tough Mudder Half headband, a custom Merrell Tough Mudder Half finisher t-shirt, and an ice cold Shock Top beer (for participants 21+).
"The development of Tough Mudder Half has been guided by our community from the start," said Will Dean."From those yet to run their first Tough Mudder to multi-Mudders eager to bring new friends into the mud, participants and spectators have been asking for a shorter-distance format for years. With Merrell's partnership, we're excited to build this community and bring another world-class event series to life."