World's Toughest Mudder 2015 is almost upon us. Racers will take to the start line on November 14, 2015, at Lake Las Vegas, Nevada for the second year. The community is buzzing. Before Tough Mudder HQ lets too many more details slip, I felt it was time to get some things many are feeling out in the open.

Big Prize Purses
This year instead of the community contemplating on who the toughest man and woman will be the focus has instead shifted to the team competition. It is not about which team will take home the prize like last year's battle between Team Australia and The Wolf Pack but instead the conversation is about prize money. Will anyone get that $100k that's up for grabs for completing 100 miles? That is the question on most of the community minds.  
One of the biggest names, Ryan Atkins, has opted for the team competition this year. He will be joined by two-time OCR World Champion and Sky Running Winner Jon Albon, as well as Matt Murphy from Search 4 Hurt in Australia and Eric Batty, a former professional mountain biker.  If any team can break 100, it just might be these guys.
At Tough Mudder Missouri, I was asked if I thought a team would pull it off. The answer was no. With WTM being in Las Vegas, it's worth noting in the saying, "In Vegas the house always wins."
Brady Archer is the best course designer at TMHQ which is why he was once again tapped to design this year's course at WTM. Does anyone think he isn't putting together a challenging course to make that $100,000 nearly unachievable for any team? 
TMHQ released the elevation chart yesterday, one of my bold predictions before the email would have been "the elevation will be doubled from last year". With the email out yesterday, yes the elevation gain and loss has increased.
Combining the additional elevation and course designer without even knowing the obstacles, there will be no 100-mile team. But I am waiting to be proved wrong on race weekend.
The good news is teams can split up and go into the individual competition before 10:00 am Sunday as long as they are between laps, and no member has been disqualified. The only question that remains for teams is will the front runners stay together with their teams too long and lose their chance to remain competitive as individuals or will they part ways early when they realize 100 miles won't happen on this course at your buddy's pace? It will be interesting to see it unfold. 
The Pit
Next up is the pit.
Does the pit layout matter?
Does your pit location help you in any way at all or hurt you in any way?
The answer to this is going to be personal and nobody, not even the know it all veterans, can tell you how to feel. My perspective, the pit layout sucks. That comes from someone who probably will get what he feels is a decent spot.
Historically, the pit has always offered athletes about the same access to the start and finish no matter your location. At Raceway Park, the pit was along the track. A straight running path right through the center kept every single athlete the same distance from the course itself. Last year, the first in Las Vegas, we saw the pit in a v-shape with the course doing a horseshoe through the pit area. The result was most pit areas were only a few feet from the course path.  
This year there is a distinct advantage to being close to the start. The advantage might not even be to the competitors since many don't pit a lot as it is but for those out on the edges of the pit area your pit crew will be very far removed from the action of the race itself. For those who decry on social media that pit placement does not matter, we will see where they chose to pit on race weekend. 
2015 Predictions
Still with me? The moment you all have been waiting for! From the guy that brought you the predictions of "5-mile loops" in 2013 and "it'll be in Las Vegas with horrible weather at night" in 2014, here are my bold predictions for 2015!
First, be ready for more "must complete" obstacles. I promise there was more than a handful of people who dropped last year because they knew they could not hold that rope and go down that little cliff one more time, and they didn't feel like falling 15 or 20 feet.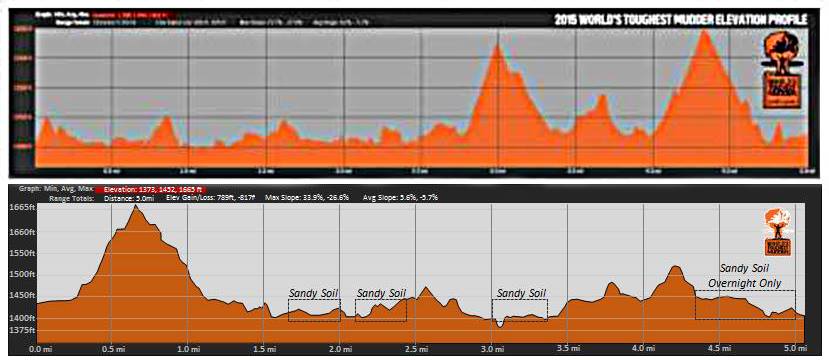 Get ready for even more water crossings. We already know that the start line will face south this year instead of west. What is south of the start line? Well, I went to Google maps and counted eight coves between the pit and the parking area.
Last, but not least, heights. I'm not only talking the Cliff but even more obstacles that play on your fear of being up high especially at night. Ok, none of these were that bold, so I will make one more.
There will be no lines at obstacles. Going back and seeing what worked at Raceway in 2013 on that 5-mile course the TMHQ design team decides to build more lanes instead of the scaled back version they did last year especially with the walls.
There isn't much here for a big takeaway for any of you but as always when I put something out there for everyone to read here's to hoping you enjoyed my insight. Good luck in the desert and reach your goals!
---
Disclaimer: The viewpoints expressed by the authors do not necessarily reflect the opinions, viewpoints and official policies of Mud Run Guide LLC, or their staff. The comments posted on this Website are solely the opinions of the posters.