"I'm Scared to death & beyond excited all at the same time!!!"- Kristi Howard
With hundreds of OCR's promoting the same-old 5K distance races, Superhero Scramble is breaking the mold – in a BIG way! Yes, Superhero Scramble is famous for their 4+ and 8+ mile "shorter distance" races, but once a year they roll out the most dastardly of events… the ultimate in punishment… the Super Villain!
Conquering the 26.2 marathon distance is hard enough for most athletes, but when you add over 60 obstacles, it becomes truly an extraordinary challenge – worthy of real-life superheroes.  Superhero Scramble is known for developing daunting and intimidating (yet fun and rewarding) courses to begin with – at any length. Elite racers have been following Superhero Scramble around the country because they not only have some of the most challenging races, but they also provide an extreme fun factor.
We sat down with Sean "Ace" O'Connor, the founder & CEO of Superhero Scramble, and asked him what he was thinking of when he developed the Super Villain:
"We wanted a race that was exciting, but incredibly demanding for all athletes. This race is surely not the average course, it has been devised to break racers mentally and physically. People shouldn't show up to this event thinking they are going to simply knock out another race and get back to having fun in the festival area. They are going to have to dig deep to earn their finisher's medal!"
If the 26.2 mile distance (and 60+ obstacles) are a little too much for you, the October 5th event in Marseilles, IL will also feature a "Villain" version, half as long as the super and clocking in at 13+ miles in length.
Registration is currently open for the October 5 Villain and Super Villain in Marseilles, IL.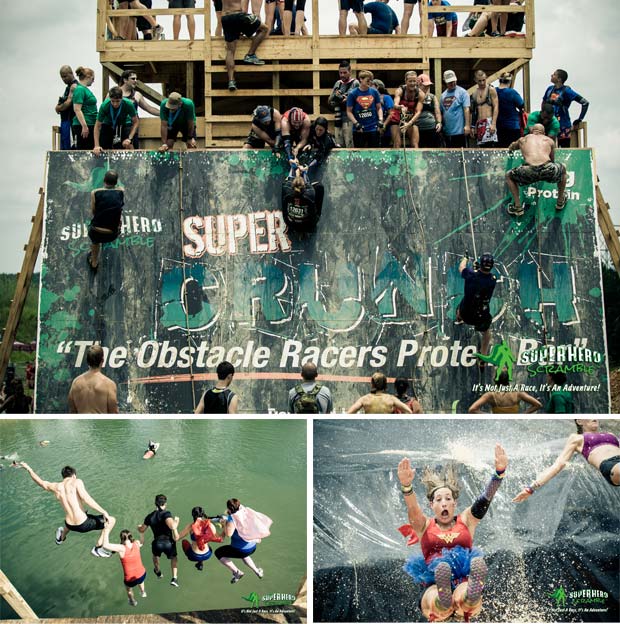 Superhero Scramble (SHS) Stats:
SUPERHERO SCRAMBLE is a superhero themed elite obstacle course race ranging from 4 miles of wicked terrain to marathon distance.
Founded: 2011 in Boca Raton, FL.
Events: 10 in 2013 and 12 in 2014
Course Distances: 4+, 8+, 13+, & 26+ Miles
Obstacles: 20+ to 60+ Obstacles
Terrain: WICKED!
Signature Obstacle: The BEAST to SUPER Slime Slide
Kids Race: Yes for ages 4-13
Atmosphere: Live music, DJ's, Emcee's, entertainment, games, & food and beverage
Interesting Tidbits:
There's a points series that rewards athletes at the end of the year with cash and prizes.
Scramble Gamble wave which is SHS's competitive wave that pays out cash and prizes to the top teams and individuals.
SHS also has night races at some locations.
Superhero Scramble: It's Not Just a Race, It's an Adventure!
Ace says, "When we started SHS we wanted to create something that would empower people….and not just athletes, but people that would never imagine doing an obstacle race. In order to empower people we had to figure out how to get these so called "couch potatoes to the events…so we decided to trick them. We designed our events to be much more than a race. We want to promote the crazy costumes, live entertainment, food and beer, and fun obstacles so we could draw out the majority of the population. Some people may come to an event just to hang out, but I can guarantee you that after watching others do the race, they will be looking to get in on the action asap."
From The BEAST, which is the steepest incline wall in the sport to the SUPER Slime Slide which is the steepest and fastest slide in the sport, SHS has made OCR addicts lie awake at night dreaming about the next race.
Have you conquered a Superhero Scramble? Let the world know – leave a review here.