By Rebecca Crump
When talking with friends about mud runs, one of the biggest gripes I hear is "they're so expensive!"
With that in mind, I wanted to pass along some tips that everyone could use to keep their pockets full of green, and every other orifice they have full of mud.
I decided to focus on the "big three" mud events: Tough Mudder (TM), Spartan Race (SR) and Warrior Dash (WD), however some of these tactics can absolutely be used for many other races. Also, these are only at US specific discounts. There are similar discounts for each race, however prices and rules vary.
Early Registration
Ask any participant and the first answer you will hear is "pre-register" and register early. During Pre-registration, you place your email on an interest list. When the event is opened, you are one of the first to know. There is a specified window to purchase your registration at a discounted rate. Each race also has tiered registration fees. The earlier you register, the lower your registration will be. Sundays are also cheaper (and generally less crowded). Registration rates for events vary, but are generally in the range of:
TM:  $69 – $185
SR:  Sprint – $60 – $100  /  Super $95 – $145  / Beast  $85 – $185  (SR charges an additional $30 for the Elite Wave or $25 or a Confirmed Start Time)
WD: $60 – $100
Volunteer
One of the best ways to save money is to volunteer. Not only are you saving a lot of money, but you are also helping your fellow runner (and gaining an appreciation for the event from a different perspective). Note – You will still need to pay the Insurance Fee if you volunteer.
TM: Volunteers receive a discounted registration based on how long they volunteer. Pay only $40 if you volunteer for a half day or $20 if you volunteer for a full day (or get a free Spectator pass for either).
SR: Volunteers receive a free race entry for either a half day or full day of volunteer work.
WD: Receive a 50% Reimbursement on your registration fees after volunteering.
Season/Annual Pass
Depending on how many events you plan to run, it may save you money to purchase the Season/Annual Pass.
TM: The North American Season Pass is good for any event in North America, to include sold out events (with the exception of World's Toughest Mudder). The price is $450, however you do need to pay the Insurance Fee ($15) for each event you participate in.
SR: The Annual Pass is valid for any US Race. It may only be used for one wave per event per day. If you would like to purchase an additional wave, you may do so for $15. The Annual Pass costs $450 and will allow you to run in any Open Wave. The Elite Annual Pass costs $600. For either, you will still need to pay the Insurance Fee at each race ($14).
WD: WD has just announced their Season passes. Race all you want for a flat rate of just $125. Purchase the pass through their website and then call to hold your spot for any event in the 2014 season.
Military/First Responders
Most races offer a Military/First Responder Discount. Make sure to check for this before making your payment.
TM: Tough Mudder offers a $10 Rebate that will be paid after the event for Active Duty Military, as well as Veterans.
SR: Spartan offers a $30 Military and First Responder discount, however it cannot be combined with any other discount (to include the pre-registration discount).
WD: N/A
Bring a Team
Some events will provide prizes to the largest teams. Some provide rebates to all teams, but the actual amount varies dependent on the number of teammates.
TM: Bring a team of at least six people and receive a rebate of anywhere from $5 – $15.
SR: Teams of at four or more will receive a rebate of $5 – $15.
WD: N/A
Event Specific Discounts
Both Tough Mudder and Spartan have some extra ways to save money. Take a look here before spending that hard earned beer money.
TM:
Participants that are at least 80 years old receive a free registration to any event.
Raise at least $150 for Wounded Warrior Project and received a $25 Rebate.
Register for both Saturday and Sunday (in the same weekend) and receive a Rebate of 50% of Sunday's registration.
  If you're feeling that TM love, ink it on yourself. Send in the receipt to TM within one month of the event you participated in. You will receive free entry to one event. Note – You can only claim this once.
SR:
Find a Street Team Member. They usually have discount codes.
Watch SR Newsletters, Workout of the Days (WOD) and Facebook for discount codes.
Check out the Spartan Up! Special promotion: get Joe De Sena's book on life & so much more than obstacle racing for only $18 on Amazon, and get a $25 coupon! You're getting PAID $7 to get a great book!
Codes for Any Event
There are a variety of websites to monitor for discounts to any mud run. Below is a small sampling of those. If you can't find a code on one of these sites, a quick Google search may produce results.
Mudrunguide.com – This should be your first stop for all Mud Run Coupon Codes. With a comprehensive listing of codes, you'll rarely find something better elsewhere. If you do, please feel free to share it with us.
"MUDRUNGUIDE15" is good for 15% OFF Spartan Race, the biggest discount you can find!
"WD2014MRG" is good for $5 off ANY Warrior Dash race!
We're still working on bring you the industry's first Tough Mudder discount… stay tuned!
Groupon / Living Social – There are always discounts out there for the smaller runs, as well as many of the up and coming new runs. On occasion, TM and SR will post events on these sites. Usually it is for events that are not filling quickly, and most times for Sundays only. If you are willing to travel, you may want to save a few cities within your search settings.
Retailmenot.com – I've never used this for mud runs, but a friend suggested it as one of his first stops. Check for discount codes to a variety of mud runs here.
This is not a comprehensive list, but hopefully it will help you to save a penny or two this season.  If you have any other tips, we'd love to hear them.
—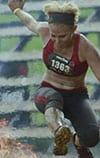 Rebecca Crump is a proud Army Veteran that grew up with an appreciation of the outdoors and fitness. Her passion is sharing this love with others, especially her children.