– Martha Pasquale
This was a very fun activity and it was designed for all levels! We arrived at 7:30 with our waivers in hand. The workout was scheduled from 8 to 10 am. Once we handed in our waiver we were given another waiver and we were given our Spartan in Training T shirt and our Unbreakable spartan bracelet. We were sorted into 7 groups as there were 7 stations to get through. We had a late start as apparently more people showed  then were registered with an estimate of 650? The weather was on the chilly side and we did 6 out of the 7 stations outdoors in 25 degree weather. Once the clouds parted and we had the sun, it is warm and people were getting rid of layers. My facebook group COR was there with about 20 to 25 of us participating. We all pretty much were in group 2, with our COR shirts under our spartan shirts! Burpees for non compliance of the shirt.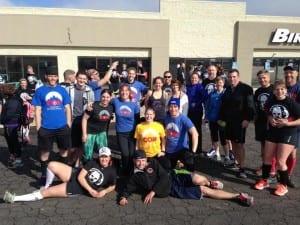 We were the 1st group to start on our 25 minute run. We had to carry the Spartan flag, I elected to do that, and a heavy bag and a vipr. Penalties for dropping anything was Burpees plus we had to keep moving. Which in itself was not difficult because it was cold. My boyfriend and one other that I know had to tie their shoes while moving. Quite interesting and here is where teamwork came into play. At one point we were told anyone who had not done 10 Burpees had to do them. We all hit the snow, and completed our assigned task.
Next up for us was parking lot activities. We did lunges and sprints down the parking lot 2x. From there we went to suicides  and that is where some throwing up occurred. Next up for us was the tabata sequence of squats,push-ups, side to side jumps and mountain climbers.  Our next station was the indoor workout hosted by Colorado's own April Luu. We did burpees sum push ups, squats holds, planks and lunges.
We missed the bear crawl and crab walk station and I attribute that to some confusion with the late start, about 30 minutes.
Our last station was the team sandbag carry up the stairs. We were divided into  6 teams with sandbags weighing from 20 to 40 lbs. You ran up the stairs with your bag, came back down and handed it to next in line. They ran up with you and stayed there while you went back down and handed it off. No one ran alone and we all worked as a team. We then all assembled for a group photo and several Burpees waves.
That was it, 7 stations, easily done by all fitness levels, no equipment except for the bags, and vipr. It was all bodyweight.
Having our Colorado Obstacles Racers together was great as we plan to have a huge team when Spartan is here in May. It is a great thing to get started in your state. We meet great people and we help each other with rides, information, training. It is amazing. We all went to eat afterwards and it was just so nice to do it the old fashion way.
All in all, a great experience, and it was not so horrible or difficult to do. It was a giant led boot camp.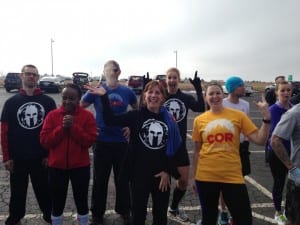 Martha Pasquale, staying warm with some friends ar Spartan SGX in Colorado.