by Martha Pasquale
Chris and I flew into AZ from Colorado getting in at 10:30 pm. Set our alarms for 6am. Weather was a bit chilly then but it did warm wonderfully at the venue. This race was at the same place as last year, Fort McDowell, but this year's start line was at the Rodeo grounds (the place where we parked last year – before we were shuttled by bus to the actual start line.) This year the parking was so close to the start & finish area we didn't even have to use bag check. Pro tip: Get free parking – hitch a ride or drive volunteers! We gave a ride to a fellow Colorado Obstacle Racer who was volunteering and racing.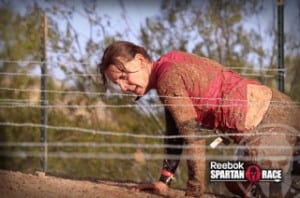 This race we both wore arm and calf sleeves. I wore OCR gear arms as did Chris and I wore Skins  for my calves and he wore CWX. I definitely liked the arms sleeves as did Chris, but I do not know about the skins. He still cramped but I don't have that problem. I did run more so the jury is out on the calves. Truly on the fence about whether they worked for me. Our shoes were different too as I wore my inov 8 and he wore Salomon fell raisers. I do know that when we washed them last night, mine dried way before his did. As to other gear, I wore my usual Athleta shorts and North face t shirt. I was fine as temps were close to 60 when I started at 8:15
I had 3 goals this time around, take 1st in my age group, not come in last for elite women and qualify for OCR championships. Done, done, done.
The course had several new obstacles, one of which was the vertical wall with rope. This was fun and to us not as challenging as some others. The course was hilly, rocky and sandy, always an interesting combination. There was a split at one point where you either went shorter/harder or longer/easier. We both opted for the shorter way. It was a gully trail which was winding and sandy.
We found the walls as usual, it seems the inverted wall was taller than when we saw it in Nebraska and Pacific NW. Maybe 8 feet plus? But there are blocks for us short people which I used.
I found the heavy lifting obstacles are now way heavier. The atlas is a round sphere which is tricky to pick up. The cement block was the same for both men and women and that was I heard over 100 lbs and it felt like it. We had to drag it through sand and then up and down the hill. My technique up the hill was at a diagonal and I pulled it and walked up backwards. Worked for me. The hoist was extremely heavy , it seemed they made the pulley smaller. It is a sandbag and you can not drop it. I had to go way out and I know that weighed in excess of 100lbs. That fired my arms. And the wonderful Spartan people decided after that you did the rope climb. Chris and I both got an arms length form the top but were too tired. I think the knots actually made it worse for us and we should have used the s technique. Burpess there and afterwards when running I had noodle arms, couldn't feel them.
Barbed wire crawls were gritty, and of course up hill. I did my other burpees at the spear as it went in and them fell out, lame. Chris did his other burpeees on the traverse wall. That was all we missed.
I love the finish at Spartans, with the mud crawl and the under water and then the sprint over that fire and running into the gladiators. It is a good finish, as you get lots of food, water, your medal and the race results are right there. You can get them emailed to you so that is a great feature. The medals are the full medal and the 1/3 part of the trifecta. I am glad spartan abandoned that 40 burpees thing. The t shirt is nice and it is a great improvement over that black one.
A great race, a great course and I have yet to be disappointed in the set up for a Spartan race.