Review by Eric Acuña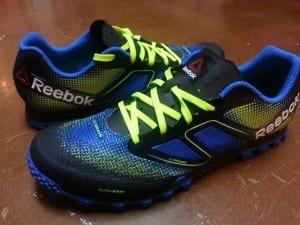 I was lucky enough to test out the new Reebok All-Terrain Super shoes. As it is my first full year doing Obstacle Course Races, I was looking to find the best shoe for this sport! I have always had a good selection of workout shoes but nothing really made for this sport. I got into the minimalist "craze" and purchased Vibram's Fivefinger shoes in 5 different models within the past  4 yrs. They seemed perfect for the sport but after a while it takes a beating on your feet especially on the longer terrain runs. To be competitive in this sport you really need more support and better traction. So I needed something that provided cushion but not too much since I was use to running with minimal protection.
I can go on and on about these shoes but lets get to the point and talk about how they feel.  They have a low drop feel, as close as minimal but enough protection for any terrain.  For me I have tried various shoes, Salomon, New Balance, La Sportiva, etc. But they all felt too heavy and sluggish especially if they were going to go through mud and water. These were light & perfect!
One of my favorite features is the "H20 drain". The water almost instantly drains out after being fully submerged.  Not only does the "H20 Drain" help drain the water out but the material of the shoe seems like it wicks out moisture. The tongue of the shoe will not hold any water due to the rubber material used.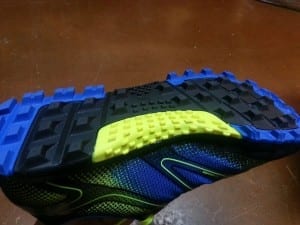 Another great feature that I like is the "Obstacle grip" which consist of  small little teeth on the instep of the shoe to help with rope climbs and scaling walls. These are great if you're new to the sport or don't have that much upper strength on climbing the rope, any little thing like this helps! Overall the soles were perfect for terrain running. The squarish lugs provide great traction for going up and down hills without worrying of slipping and falling. They are well spaced so you don't get those annoying rocks stuck like other shoes.
There are a lot of trail shoes on the market and some work great for the sport of Obstacle racing, but Reeboks All-Terrain Super shoe is the 1st to be made specifically for OCR's. You can really tell they put a lot of thought and effort on this shoe. Joe De Sena is coming at full force with Spartan this year with their new shoes & his motivational book "Spartan Up!". This year I am on a quest to get my 1st Trifecta with Spartan Race. I am happy & confident that these shoes will help me along the journey.
The Reebok All Terrain Super shoes are on presale now for men and women, Pre-Order Now: Reebok All-Terrain Sprint for Men and Women