Prosok – Gear Review
The performance socks market is expanding because let's face it, you might train for years to have the body of Adonis coated in bronze but a quarter-sized bleeding blister on your foot could put you on the DNF list. There are many different options available out there with varying blends of fibers and styles, each touting their own merits, but it comes down to figuring out for yourself which pair of socks works best for you in specific situations.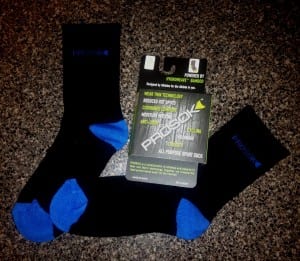 Prosok is a full-foot traditional sock (not toe sock) that is 80% Viscose of Bamboo, 14% Nylon, and 6% spandex. The "Hygroweave" Bamboo technology provides the ability to be moisture wicking and anti-odor while reducing hot spots and giving cushioned comfort. The use of bamboo fibers seemed odd at first to me, but it's an organic fiber that allows your feet to breathe and it has natural anti-odor and anti-microbial characteristics.
The socks have "Shrinkfit Technology" that causes them to shrink in the dryer, then stretch to fit your feet. Some performance socks recommend that you don't dry them, but I'd rather have the convenience of being able to wash and dry my socks along with my other gear. It was funny though when I did this initially because out of the dryer it looked like my new socks had shrunk enough to only fit a small child. But when I put them on they stretched well to fit my feet, and actually molded themselves to my contours perfectly so that I had no spots where the socks were too loose or too tight.
The blend of fabrics makes the Prosoks very soft and supple. They feel comfortable on your feet, and there is a nice amount of cushioning all around, providing protection from your shoes. They come in white and black with colored choices for the toes and heels that will assist in pairing them up after washing, and currently come in half cut (lower calves) and low cut (just over the tops of your shoes). A full-length, over the calf version might be a good addition since it would provide calf compression and protection while preventing mud and sand from getting into your socks.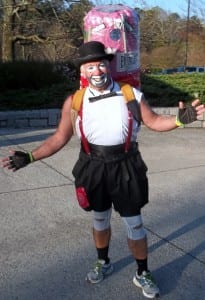 I wore my half cut pair of Prosoks recently while doing a heavy ruck up Stone Mountain. The socks fit my feet well and provided ample protection from the rubbing and hot spots that can result from carrying heavy on uneven surfaces both up and down a mountain. They performed as advertized in the moisture wicking department too because even though I was lathered in a good sweat, my feet felt dry and comfortable throughout. At the end of the day I didn't have "prune feet" which usually happens to me after a day in wet socks.
To test the anti-odor function I purposely left them out of the hamper and wore them again last night for some OCR training. They truly smelled as fresh as they did when I initially wore them clean. They still formed themselves well to my feet and I had no hot spots or soreness afterwards. The half cut length helped too in rope climbing training because the socks are just high enough to protect my ankles from the rope burns I always suffer through when I use the J Hook technique on a manila rope. Keeping rope burns to a minimum while staying securely bonded to my feet and legs is a huge plus in my book.
The Prosok people say that their socks are for cycling, running, Crossfit, and are all-purpose sport socks. After trying them out I feel they are a good pair of socks to wear in obstacle course racing, rucking, and endurance racing also. I plan to add more pairs of Prosoks to my gear bag and hope that a full length version becomes available soon.
5 out of 5 stars
—–Tony Ferrante—–