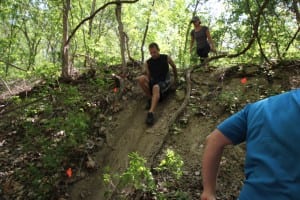 I got the privilege to check the new, first time, KC Timber Challenge OCR in Bonner Springs, KS this past Saturday. This is the first OCR that I have seen that is literally STRAIGHT UP NATURAL- NATURALLY TOUGH!! It's on 130 wooded acres along the banks of the Kansas River. It's definitely a one of a kind natural course with unique terrain and landscape. I'm talking huge fallen trees you're jumping over and crawling under, sliding down ten foot banks into creek beds, mud pits, hurdling fire logs, boulders and rock bluffs, just to name a few. Some of the man-made obstacles are their 300 foot hand held zip lines over a muddy water hole, swimming through the Icy Shriveler, and a 40,000 cricket cage crawl. Is that crazy enough for you?? No…well then there is one obstacle overall that is absolutely nuts…..A wrecked school bus pushed off the side of a 150 foot bluff. Yes, the side of a rock bluff! You have to crawl up the rock bluff, into the school bus and pull yourself out through the back side of it from a suspended rope inside.


I can't reveal all the surprises that you're going to be in for, you'll have to UNLEASH YOUR INNER BEAST and find out!!!
The KC Timber Challenge started out as a 5k OCR with 15 obstacles that now has been turned into a 5K OCR with 30+ obstacles. Dan and Brad have under sold and over delivered on this race. I can't wait to see what else they have in store in their upcoming races!! I do want to emphasize that this is NOT a race….it's a personal and team building challenge. Racers you are definitely going to be getting in touch with nature on race day!! Good Luck and come ready because it's going to be CRAZY!!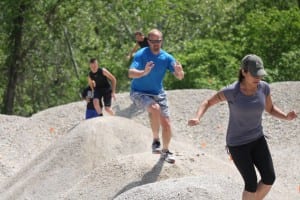 Racers make sure and bring $10 for parking, which there is plenty of right in front of the venue. Wear long pants, long socks, eye protection, gloves, bug spray, sunscreen and sturdy shoes.
I want to "Thank" the KC Timber Challenge for sponsoring the KC Pet Project. A portion of the proceeds from this event will be donated to their mission to end the killing of healthy, treatable pets in Kansas City that are in need of a good home.
3.5 out of 5 Stars
As a bonus, MudRunGuide has an exclusive code. Sign up for the event on Saturday, use code MUDRUN14, and save 50%!
—–Lucy White—–