Nestled in the foothills of the Appalachian Mountains in North Georgia, this race offers natural scenery that will take your breath away. That is, if you have any to spare after negotiating the killer hills, briskly cold water of the streams and ponds to negotiate, and some seriously fun and challenging obstacles.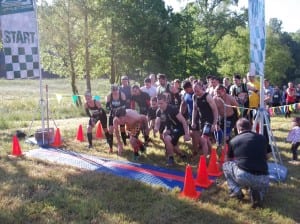 Xtreme Ranger is a local, homegrown obstacle race that can go head to head against the big boys like Spartan, Tough Mudder, and Savage when it comes to a course that tests all aspects of an OCR athlete's all around fitness. There is nothing here that would prevent a beginner from testing their mettle on this race course, but they'd better be prepared to do a lot of walking up steep grades, accepting assistance on some of the obstacles, and being mentally prepared to fail some of the tougher ones while learning from those failures that there are areas where they need to improve.
Saturday's Spring Race promised to be warmer than last Fall's 29 degree starting temperature, but a late cold front still had it in the low 40's when the first wave took off. The remnants of the bonfire from the previous night's campers were rebuilt with some new wood, and everyone congregated around the fire pre and post race.
Various GPS devices showed distances between 4.75 and 5.25 miles, but given the width of some of the trails, and the mountainous meandering through creek beds and around (and through) ponds, there were bound to be variances in the distance each runner traveled overall.
The race started right off by taking the runners up hilly trails through the woods that had some folks breathing like freight trains and others walking so soon into the race you could practically hear them thinking, "I did all this training, and this is still killing me?"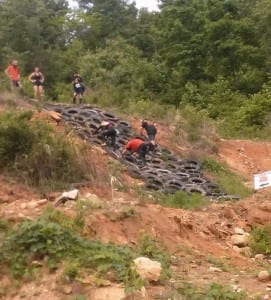 The obstacles were imaginative and varied, so you never knew if the next one was going to require upper body strength, balance, legs, courage, immunity to cold water and mud, or any combination of these attributes.There were normal and customary obstacles like a pond crossing in frigid water, rolling mud, a net crawl, a tire crossing, monkey bars, A frames, a log carry, balance beams, a cargo nets, and bales of hay.But there were also twists thrown in that made some of these just a little more interesting, challenging, and fun. Rolling mud had barbed wire strung across the top of each mud berm so you couldn't just throw yourself over with reckless abandon. The tire crossing was up an incredibly steep hill that pictures just can't do justice.
The stationary monkey bars were thick and slick and pretty normal, but there were also swinging monkey bars over water that are like temporary ladders horizontally stretched and moving with every change of grip. The log carry had truly heavy logs, and the biggest hill to climb I have yet to see in a weighted carry at any race I've done.
There was a lot of running in ice cold streams and creek beds, slowing even the fastest runner just due to the hazardous footing.
But the signature and universally favorite obstacle was the Zip Line over a chilly pond. Overall it's pretty easy – just get a running start and hang on, but your ability to pull up on the handle and bring your feet as high as possible dictated whether you reached dry land, or took a dip in the drink. Even the ones who hit the water squealed in delight at the experience.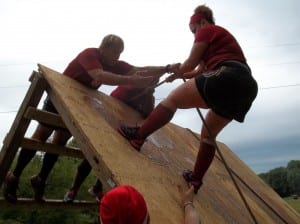 The elite podium winners posted some impressive times, the more recreational racers took longer but managed to impress themselves, and beginners took the Finish Line in extended times but all shared a real sense of accomplishment and pride in completing this course.
Ricky Woody and Floyd Wimpy have designed a course that should experience great gains in competitors at their races because truly every participant thoroughly enjoyed the entire race experience from start to finish and people were already clamoring at the end of this race to see if there can't be another one scheduled for the Fall.
5 out of 5 stars
—–Tony Ferrante—–
Did you do the XTreme Ranger? Share your own rating & review about the event today!