Wow, with three races completed in a one week period, it was a hectic schedule so we decided to end with a FUN race where we did not have to take ourselves too seriously. Dressed in tutus and animal hats we shuffled off towards Buffalo to play in the foam.
This race was located at the Motocross track in Batavia, NY, USA. The race was 5K and looped you up and down throughout dirt trails and woodlands. The start line gets you all foamed up and photographers are on-site to capture the excitement.
Parking is $10.00 per vehicle and well-organized. All vehicles are within walking distance to the main registration area. Washrooms are ample and families can purchase extra tickets to participate in a foam carnival-like environment.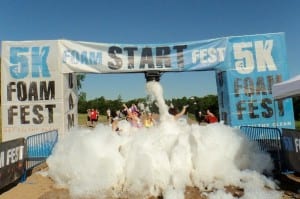 The MC kept race heats on time and there were no line-ups for us during the event for any obstacles. Registration was well organized by last name and IDs were checked to confirm participants name and age. Bibs were provided and Foam Fest stickers. There were volunteers at every obstacle and they were very friendly and polite. Water stations were located twice on the course and first aid was available back at the main event area. The obstacles were fun and creative but did not offer any challenges for seasoned racers. The terrain was hilly so it kept your cardio up and the wooded section was cool and muddy with a few spider webs to challenge runners.
The finish line is a bit of a letdown as you wound your way out of the woods and switch backed down a hill to an uneventful finish. Water and power bars were offered and you picked up your t-shirt and medal. T-shirts were nice tech material and the advanced t-shirts were a nice touch for early registrants.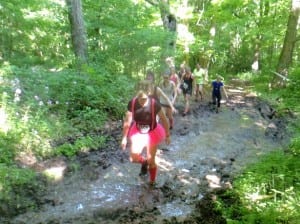 Very well organized, nice layout, but the woods lacked obstacle challenges and foam. Fun family event or for beginner racers wanting to see what it is all about. Costumes add a nice touch. This was a non-timed event. Bag check was free and well-organized.
Tips: no protective gear required at all. Do not eat the foam or get it in your eyes. Hose off stations and change tents are provided. No food available at this location and we did not see any 'free beverages' that we thought were included in our entry fee, however Red Bull girls wandered around offering racers free sample cans.
Feedback for race: add more obstacles especially something near the finish line.
Overall the race was a 2 out of 5 stars based on level of difficulty, location, organization and cost –not recommended if you are looking for extreme obstacles or athletic challenge. But it would be a fast course for racers. If you are looking for a family-friendly event, then this one could be considered.
Photo Credits: Kelli McRobert
Did you do the 5K Foam Fest in NY? Share your own rating & review about the event today!