On May 31, 2014 I had the privilege to run in the Gladiator Rock n Run just outside of San Antonio, TX. I have to say this is one of my new favorite events. From the packet pickup to the after party, it was put together beautifully by what I can only describe to be as a very impassioned crew and their leader, Dan "Nitro" Clark.
I drive myself out to Floresville and arrive at Cycle Ranch Motocross Park (http://cycleranchmx.com/) early enough that they think I'm a volunteer. No worries, that just means I got a GREAT parking spot. While walking over, the lot was very close to the venue, and the festival area blew my mind. I've been to events that are much larger in terms of scale and attendance and the people at Gladiator Rock n Run could show some of the big boys a thing or two. The main part that really stood out is the entire main congregation area the housed registration, bag check, vendors and the band was all covered. Being in south Texas, I can't tell you how much of a reprieve this was from that hard beating sun the entire day.
After checking my bag I met a few of my teammates from The Lone Star Spartans I began my pre-race warm-ups and rituals. We all have them. I jogged around and sized up the parts of the course I could see. Since this was on a motocross track I already knew to expect hills. They did not disappoint. The crew took great advantage of the course topography. I also noticed many mud/water pits. The weekend before, we had torrential rainstorms that seem to have added to the course unintentionally, but with great positive effect because it made the already technical course, even more so. The competitive heat lined up in the starting gates and we received our Pre-Race announcement from Dan Clark, along with special course instructions for the competitive wave. Once complete, we were off.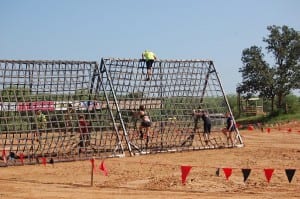 It was a hard straight run to a short concrete jump and then right on to the motocross course. The rain I spoke about earlier had still left much of the course very soggy. The name of the game was keeping off the lower parts of the terrain to keep your feet as light as possible. We came across some good rolling mud and then we came to 'Buddah's Burden'. It was a sandbag carry, all of them being the same weight (no difference for female competitors). Honestly, I stopped for a second to look at the statue because that was just cool having that there as an obstacle marker. This was followed by 'Dumpster Dive', which was literally jumping in to one of those giant dumpsters you see when they are doing construction and jumping back out. The concave shape and smooth sides made that more challenging to get in to than a normal wall. They had a wide variety of other obstacles from long balance beam walks, to high walls, cargo net climbs and a giant water slide down a motocross ramp.
The front pack was spaced really close to each other through a couple obstacles, until the burpees. By that I mean cinderblock burpees, thirty of them early in the race. This truly separated the front runners from the pack. With the collective group energy sapped, we went forward. The hills were testing our legs; the knee deep slogging mud pits forced you to use so much energy to push through them. One in particular was called 'Stairway to Heaven'. It was a good 50 foot high pile of loose gravel and rock. Finding your footing was key and being able to crawl up that high grade with a low center of gravity was key. They truly put the topography given to them to the best possible use.
The two standout obstacles were the giant hill slide and what they call "The Beast". This was the most formidable slip wall I have ever seen in a race. It was about ten feet and at a near vertical angle. It was definitely the toughest version of this obstacle I have ever encountered. After crossing the line I came out fourth overall and first in my age group. It was a very fun race. The course was a great mix of challenging obstacles without being too intense for the newcomer to the sport. This event is tailored to be a great, fun event for the seasoned athlete and newcomer alike.
Any time we do a race, people always want to know about the swag. The medals are first rate in their size/construction and the shirts provided by Hylete (http://www.hylete.com/) were extremely light and comfortable. I was able to talk to Jen and Matt from their team during my time there. They were an extremely friendly and knowledgeable duo that was helping outfit so many people there with new gear in a very quick and professional manner. I had picked up a few items from them before I even knew they were going to be here as well. It's some of the most comfortable compression gear I've worn.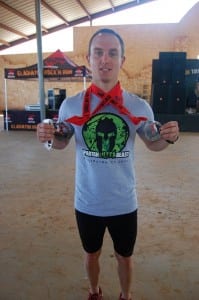 After this, Dan came up to the stage to give out the awards. There were trophies for top three in each age group as well as top 3 overall for male and female. Dan himself came up to announce the winners and take pictures with us all. I say "us" because I was up there because of my finish. After the main ceremony, The Lone Star Spartans took a couple pictures because the team ended up taking home 13 of the top placement awards. https://www.facebook.com/groups/thelonestarspartans/
Let me tell you about the man behind this, Dan Clark. Just from this one meeting, I can say with certainty that he is one of the most involved organization owners and race directors out there. Before and during I saw this man talking to the racers and spectators, shaking hands and taking pictures in between running over to the starting line to give every pre-race announcement and send the waves off, while then heading over to obstacles to talk with racers and give them more encouragement. I was able to grab Dan for a few questions. Normally when you interview someone, it's in a closed area and we focus on the interview for a few minutes. We were at the top of the slide obstacle watching people go down, stopping to shake people hands as they came up and Dan was talking to the entire staff on the obstacle making sure people were going down in a safe and orderly manner.
Me: I see a lot of room and stands for spectators at this venue. Is this something you specifically look and plan for?
Dan: Always. We make our events spectator friendly and we don't charge for spectators. We don't think we should. It's a lot of money you con monetize, but we don't think it's right if a kid wants to come see his parents or a Mom wants to see it and they got to pay.
Me: What is it about this particular sport that makes it rewarding for you to want to keep doing this?
Dan: When someone comes up and tells me 'It's the best day of my life.' (He pauses with a huge grin). People would say 'Oh my god I had so much fun. We also raised roughly 250,000 in Southern California for researching the cure and treatment of autism. We have also opened up to a lot of other chapters to sustain and help more kids. It's all of that, and getting people up, out and having a good time. (This race in particular was benefiting Morgan's Wonderland (https://www.morganswonderland.com/)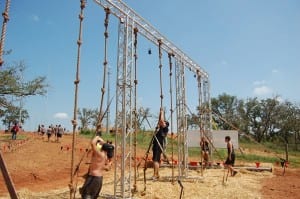 Me: Helping people to shatter their limitations.
Dan: Helping people shatter their limitations by getting together at as a community. I keep my race small; I had it bigger as far as venues are concerned. I just feel I couldn't give it as much attention as I wanted to and I wanted to cut it back down from 14 down to about 10 [events] this year, because I want to be there at the courses. I want to run the courses. I want to shake everybody's hand. I think that's what really makes us different than any other race on the planet. You have a guy who is a professional fitness expert, been on TV, professional football player and who is at every race who cares about it and shakes your hand to make it a down home family feeling. It's not a big corporation trying to get as many races and racers as possible. I'd rather have fewer racers, and each person have a good time and get to know me and what I'm about.
Me: So what is the normal racer count for a Gladiator Rock n Run?
Dan: It's usually about 3500-3500.
Me: Are there any plans for other event types, or is this the main style you are going to focus on?
Dan: We are going to do a Super Gladiator, but that's going to be its own event in California.
Me: In terms of what the venue has given you, are you pleased and will you return?
Dan: Oh yeah. This place offers so much in terms of topography, it's perfect. Every level is tested and it just challenges everyone. We will be returning to this venue.
We stopped again to look at 'The Beast' obstacle as he smiled and pointed and said,
"I love this man, check it out."
Dan: All of these people working hard, pushing and pulling each other to get through. I live for this.
Gladiator as an organization has done everything right. They have the mantra, they have the skills and they have the leader. I can say nothing but great things about the event a crew. It was a great race; I can't wait for them to come back down.
5 out of 5 stars
—–Matthew Willis—–
Did you do the Gladiator Rock n Run? Share your own rating & review about the event today!