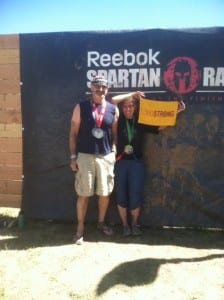 This past weekend in Utah was huge for over 2 dozen Colorado Obstacles Racers. We all completed our Spartan Trifecta. For those of you who do not know what that means, it is completing the 3 distances in the Spartan racing series. The Sprint which is usually 4 + miles, the Super 8 + miles and the Beast 10+.
By all accounts we completed a marathon of obstacle racing. My races were 27 miles total with over 90 obstacles.
Since this was only the 2nd beast that Spartan has done in this calendar year of 2014, we knew we would not be alone at Utah walking around with our 3 medals all connected together. It was amazing to see, the training, the sacrifices the absolute joy in getting this prize, the bragging rights. I will admit for me, it was difficult on many levels. I have been having health issues for quite a while and my training has been almost nonexistent. I actually did the 12 miles at Utah with cellulitis which is a bacterial infection that I had in my lower leg.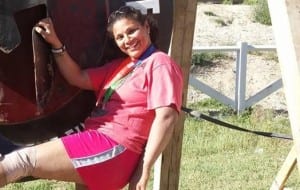 I wanted to find out what drove relatively normal people to attempt this feat in Obstacle Racing. Spartan does a great job with getting people to do things. I have a love hate relationship with that, as I personally do not push myself to finishing at the cost of my health. I feel that Spartan goes a bit overboard in that respect.
I asked a series of questions in my quest to find out what makes people attempt the sometimes impossible. The COR trifecta people ran the gamut of athletes from 16 year old Josh Stevenson to the old couple of the group, 59 year Chris Adler and myself at 58. We had people with injuries, the walking wounded, the elites. We had racers running solo and those running with a team. We ran starting at 8:00 am to 1:00 pm. And we all finished and we all had our badges of honor.
My first question I presented to COR was which was your favorite race and least favorite and why? 100% came back with the favorite as being the Colorado Military Sprint. Why? Because it is truly an obstacle race. Short, with obstacles thrown at you every which way. Everyone said the exact same thing, crammed with obstacles, fast paced and truly a test of what obstacle racing ought to be. I can say this as I did three other sprints in addition to Colorado, NY, AZ and Nebraska. Colorado was the best. Chris Adler loved this race because he came through it injury free, unlike last year where he battled separated ribs and hypothermia. Truly a triumph for him.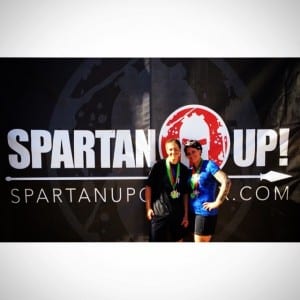 The least favorite with almost everyone weighing in was the Beast. Why because it was too long, single track, we went miles without obstacles. A couple of us had done the Super in Texas and the consensus according to John Gebhart "I found it somewhat boring, needs more obstacles to break up the running". And Elba Barr stated "the obstacles were stacked either in the beginning or end of the race making it feel like a trail race instead of an OCR"
Are you going for another trifecta? The answers were a resounding yes with the exception of myself and Chris Adler. We are not runners, we do not enjoy the other distances.
Some maybe not this year, but definitely have it in their sights, as Heather Stevenson said, "I like the concept of pushing myself past the point of where I thought I could go before"
I asked if there were any as sacrifices made and that was answered by the younger ones with out families as not really making any while us older ones did, money to travel to injuries . Yet we keep on, keep on going.
Did you alter your training? Pretty much everyone tried to adapt their styles to compensate for the longer distances.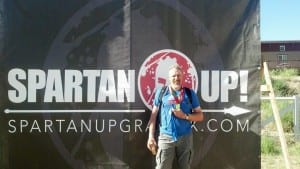 Why I asked? Why did you want to do all three distances? Truly the enthusiasm from 16 year Josh Stevenson who said "because it is a fun and great accomplishment and a fun time with awesome people. Plus bragging rights!" To Chris Adler "to get the three shiny pieces of metal that stick together and form one big medal." Heather Stevenson : "cause I love it" Elba Barr: " I run to be an example to my kids! you don't have to be in perfect anything to conquer the obstacle" .Michael Chiapinno " could I have a bit of the the virus that Joe De Senators created by now having issues with getting people to quit when they are done? " John Gebhart :"because I am addicted" Jennifer Roberts "why not? You only live once"
And me? Because it was there. "A man's reach should exceed his grasp or what's a heaven for?