Ever have a certain product that you use just about every day and can't be without? Well for me, this is it. Geigerrig Hydration backpacks are simply one of a kind and stand-alone from the rest of the competition! Geigerrig Hydration packs are a total game changer! What makes these hydration packs different from others is its pressurized system to squirt out water wherever needed. All you do is pump it (it comes with a easy to reach hand pump) to create the pressure & you're ready to drink or spray it. They are one of my favorite things I own for OCR's.
I consider them the top hydration choice for OCR's & here's why: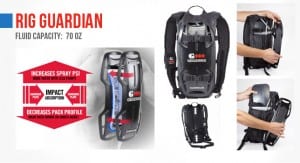 ~ When pressurized, the water jet shoots into your mouth just by biting down(no need to suck the water) or by pinching the nozzle . Makes it really easy for you drink without stopping while running.
~ Got mud in your eyes or feeling really hot? Pinch the nozzle & squirt some water in your face! Its great to refresh your self from warm weather or just clean your face from all the mud you just went through, all without stopping!
~ Their model RIG GUARDIAN & others have plastic plates that protect the water reservoir. Now you don't have to worry about your water sac busting while going through the barbed wire crawls.
~ I can literally share water with someone without having the other person put their lips on my valve. All I did was pinch the valve & since it is pressurized it launched water to the location you want it to go.
~Lifetime Warranty for leakage
The great things about these packs is you get hooked & use them everywhere you go. As for a husband and father of 2 kids and being in an active family, we do just about everything together. I not only use them in certain races but take it with me on hikes, kids soccer games, the park & so on. So I am constantly spraying my wife & kids to hydrate or keep cool in this Az heat we live in (did I mention Its great for hydrating your dogs too?). Its weird but since owning a Geigerrig hydration pack, I feel I drink a lot more water because of the ease of use. Another great perk is that you can easily flip the water reservoir inside out to clean or put in the dishwasher to wash when not in use.
They have a huge variety of different hydration backpacks to meet everyone's needs. From running models to cycling, tactical & larger ones for the day hikers. They even have an inline virus filters to connect to your water reservoir & be able to get spring water wherever you go. Great for those intense races like the DEATH RACE. The Award-winning pressurized Geigerrig Hydration packs allow you to spray water to hydrate, share, clean, cool & basically anything you need! You can find more info or see their demonstration videos at www.geigerrig.com
p.s. They are working on a Spartan Race Hydration model. Look for it soon or stay up to date with news on their Facebook page. https://www.facebook.com/geigerrig
* I don't work for or not affiliated with GEIGERRIG but in all honesty I love their product so much I wish I did!
—–Eric Acuña—–