Race Recap – Mud Ninja, Ohio
Saturday, July 26, 2014 South Salem, Ohio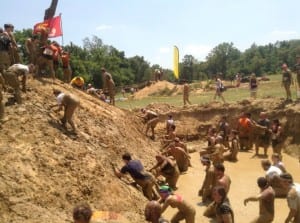 Mud Ninja is a small, local race that offers just about everything that the "Big Boys" of OCRs have to offer without the exorbitant prices and huge crowds that can make running in national races a bit of a headache at times.
The venue is in South Salem, Ohio which is sort of between Cincinnati and Columbus, but it's more like in the middle of nowhere after you've gotten there, taken a right, and driven for another 20 minutes. The remote location does absolutely nothing to distract from the quality of the race or the experience. Instead, the fact that it's far from a major city makes it an even better experience. The race uses the beautiful natural and rough terrain to its advantage at every opportunity, and even parking is close by and easy to get to. Bag check (which was FREE) is almost unnecessary because you could park so close.
Registration was fast and really well organized. Racers who wanted their times recorded for competitions were offered the opportunity to pay a little extra for a timing chip, and those who ran just for fun and the experience just got regular bibs. The Festival area was laid out extremely well with plenty of room for tents, socializing, food and merchandise vendors, and rocking music blaring out of the speakers all day.
There was no official "Competitive Heat". Rather, those who wanted to be timed for competition merely had to run in any wave so that they would be back before the Awards Ceremony and be eligible for a prize.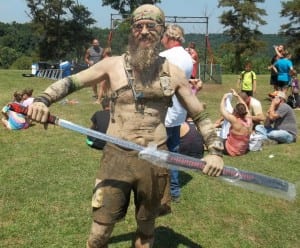 And the Prizes! Mud Ninja awards prizes based upon Male and Female Top 3 Finishers in EVERY AGE GROUP. Truly epic Samurai swords of different lengths based upon finishing order are awarded to all the podium winners. A slow runner over 50 has the same chance of winning a cool prize as a speedy 20 year old kid. This incentive alone makes training to be better and faster just a little more important.
Many of the obstacles were situated beside and through the Festival Area so that everyone was able to watch constant action throughout the day and cheer on their favorite racer without having to venture too far into the hills.
And there were plenty of hills to negotiate. I never thought of Ohio as being particularly hilly, but this venue is located in an area where the terrain is as aggressive as anything I've run so far. And there were loose rocks all along the trails that made safe footing a constant obstacle throughout the race.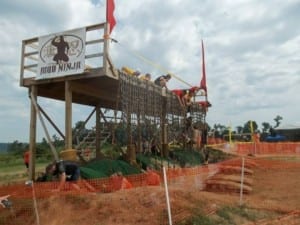 The starting corral wound its way around the premier obstacle of the race so you take off knowing a little of what you're getting yourself into. Springboards were set up to propel you upwards where you tried to grab a short cargo net and/or ropes suspended from a high platform. There was water under the nets and mattresses set up to soften the face plants that happened when you missed a net or a rope. People set up lawn chairs just so they could spend the day laughing and cheering for the racers.
The announcer at the start line did a wonderful job of keeping the crowds pumped up and enjoying the atmosphere. After a countdown, the runners were sent down the trail and into the woods. Rolling mud and water, over and unders, climbing walls and towers, and steep hills were there waiting for them. There was a nice rope tyrolian traverse, a fairly challenging set of monkey bars over water, and a big metal pipe to crawl up before sliding into a mud puddle. Many of the obstacles incorporated water and/or mud in them, so even the traverse wall was suspended above water and that prevented people from being helped all along the way. There was a nice crawl through tunnel maze that even had fake snakes just to liven things up a bit. Twice there were strap walks across muddy water, and balance beam log walks that were so slick even scooting across was chancy.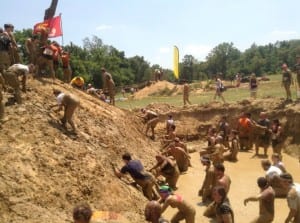 A huge obstacle was a big muddy water pit that you slid down into, then had to try to rope climb up a huge hill to get out. The mud was so thick and deep that more than a few people became stuck badly enough that rescue missions were in order. True teamwork was displayed when ropes were lowered to the stuck racers and all fellow racers joined in to pull folks out.
As you wound your way up another hill and returned to the festival area there were the last sets of muddy obstacles that were surrounded by cheering spectators and teammates. Crossing the Finish Line after 3.05 (per GPR) miles of incredibly tough and fun OCR racing you were presented with a really cool silver Ninja throwing star finisher's medal.
The only negative feedback I have from the whole day is what came next. The washdown area consisted of a pond of stagnant water complete with some sort of nasty green algae or plant life floating in it for the racers to "bathe" in, or standing in line for nozzles dispensing the same brackish water from the pond via a pump system so that you could "shower". It was pretty gross. I know I'm planning on running this race again, and I'm going to be sure to bring plenty of water on my own next time to use to clean off just in case this small detail cannot be corrected.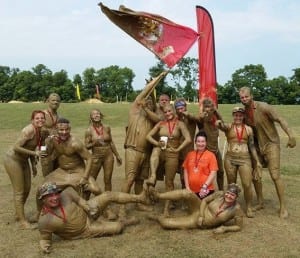 Once the racers were cleaner than before, the festival area offered great music, food vendors, and a fun time for everyone to just hang out and enjoy the experience with your friends.
This is a very well run and good 5k Obstacle Course race that should be experienced by anyone with a love of this sport. Mud Ninja has a good local race that makes any roadtrip worthwhile.
—–Tony Ferrante—–
Did you do the Ohio Mud Ninja? Share your own rating & review about the event today!