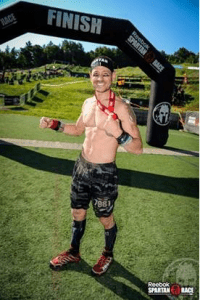 REMINDER – Use code MRG10 to save 10% at OCRGear or code MUDRUNGUIDE to save 10% at X-Racewear

OCR Ready basically means a particular product has been put through the ultimate test, that is, they are worn by an expert/serious obstacle course racer, during a serious obstacle course race. The product is then to be determined whether it can withstand the heavy duty beat-down it will endure every time it is used in an OCR, particularly ones of difficulty magnitude.
X-Racewear shorts are big on the scene and I attest that they are 100% OCR Ready. I have put quite a few miles on my pairs. I own both the zipper and Velcro black shorts but this time, I will talk about the black and gray camouflage with Velcro as they are their latest model. Like their black shorts, they have a thick and sturdy waistband with a drawstring, a built in brief for protection, very lightweight, quick dry material that does not retain any water, a seven inch inseam and of course, a built in 6×8 inch bib protector, which is not only used to fit any size bib, put the pocket can be used to store small items, e.g. my timer chip popped off my wrist one race. Luckily I found it and placed it in my bib pocket where it stayed secure for the remainder of the race. I also put electrolyte packs in there.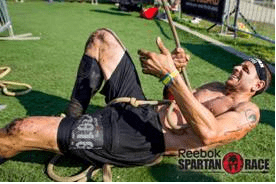 I am a veteran in the industry and can be considered a tier one elite contender. Throughout the years, an athlete of my stature learns a thing or two about proper OCR attire. I am not saying everything I wear is the best for everyone; I wear what works best for me and choose to share my knowledge of a product I see fit for the sport. X-Racewear shorts are designed to keep your bib on without the hassle/potential hazard of safety pins, using a technology of an ultra-strong mesh pocket sewn onto the front leg portion; the most likely location where people usually staple their bibs on. This is safer, quicker and way more convenient than any other option. The only thing more convenient is no bib at all. Even if you opt to not where a bib, these shorts still make a perfect running short for this sport.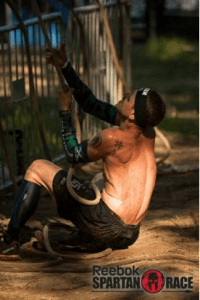 I have been wearing X-Racewear shorts for about a year now, ever since they made their way to the east coast. They coined the phrase "No Safety Pins," which became their slogan and helped them work their way up to the top of the mountain, metaphorically and literally speaking. They began with a pair of black shorts for men that sold for $39.95, and only one selection of men's shirt and one selection of women's shirt, both were black and equipped with a front bib protector. The shirt was certainly comfortable but needed some tweaking, however, it was their shorts I was interested in. Even back then when nobody gave them a chance, I was impressed with the design, durability and comfort.
Now, they offer a variety of shirts for men, women and youth, in addition to compression sleeves, shorts for women and my favorite, the camouflage short, sold for $49.95 and can only be found on their site and on OCR Gear. In just one year, founders Brian Chumbler and Orlando Alva found their idea grow more rapidly than anticipated, making X-Racewear premier apparel in the OCR world on both the East and West coast, where it began. This was all bought on by high demand, networking, feedback and the necessary trial and error.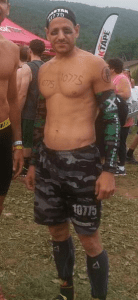 I wore my shorts last at the Palmerton Sprint in PA. It was Sunday and I was contending for a podium spot, close behind my brother Stephen Vassallo and Isaiah Vidal. I hit the barbed wire which is notorious for destroying any pair of shorts. I got really caught on a wire, so much so that I could not just push through harder and roll off it as my intent would have been to rip the shorts and save myself some time, as I did the day before with a pair of Adidas shorts I had on and destroyed. This moment even more so solidified my thoughts about X-Racewear shorts and how legit they were. I had to reach over the wire, cut my arm and get myself loose, and in the end, no rip/major damage on the shorts, as if I never got caught. I honestly expected them to rip, in fact I ripped my black pair on barbed wire at a previous race, so when they didn't, I said to myself "damn those guys for finding such good material, they just cost me about 30 seconds," and in the elite wave, that could hurt which of course it did.
So, are these shorts OCR ready? I say does that question even need to be asked? But for the sake of just hearing it again, yes they are and I will continue to wear them, in addition, I have been using their camo compression sleeves which come in red and black and green and black. They are comfortable and durable. They been through about 10 races they and still in perfect condition. They protect me in the way I need and I find them to be one of nicest design sleeves on the market and it's not just because I am favorable to camouflage, yet it can be but that irrelevant, a good product is a good product. I only support/back/write about what I believe in and I believe in X-Racewear. Find me on Facebook, follow me or look for me at a race. Feel free to ask me about what I find OCR ready.
X-Racewear, OCR Gear and Mud Run Guide fully support and are active parties in the OCR UNITED movement.
By
Charles Vassallo aka Jazz