9/22 Update: We reached out to Spartan Race founder Joe De Sena for his input on this article, his on-line response was quick to the point:
"Adversity breeds success in life. If they want it easy…well, thats not here."

– Joe De Sena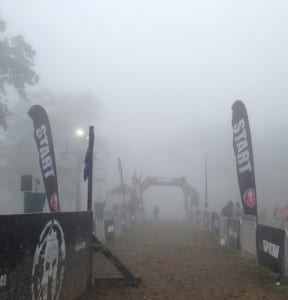 WINTERGREEN
Ever since signing up for Wintergreen back around May of this year I have heard little jabs about how tough the course was last year. "Only wish it on your worst enemy," and things of that nature. No amount of witty banter or raised eyebrows or widened eyes with dropped jaws could have ever prepared or accurately described just how intense this race is. There are those whispers within this community about Spartans being a different breed of OCR and this race turns those whispers into screams.
The Race
Whereas at the end of most OCRs racers ask one another what their favorite obstacle was, at the end of Wintergreen racers had a hard time remembering what the obstacles even were. Instead, the questions being asked included how many burpees everyone did, whether or not they slipped and fell, how difficult it was to travel up and down the slopes. What is most easily recalled is the terrain. The brutal uphill climbs, the dangerous downhill shuffles. The mud that was manageable for the first waves of athletes and gradually turned to a slide by the release of the last wave at three in the afternoon. The weather certainly did not help the conditions on the ground. In fact, all waves were delayed by thirty minutes because the fog was so dense. And that fog only got worse as the day wore on.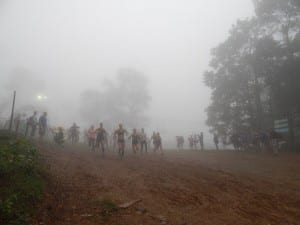 The obstacles included were typical of any Spartan race: several walls to climb over, a fire to jump, a barbwire crawl, a heavy bag to pull up and slowly lower down, a rope to climb. But what made the obstacles so difficult was, again, the terrain. It wasn't just a barbwire crawl, but a barbwire crawl while going uphill. Everything that could be was done uphill, and then right back down (with the exception of the Atlas Carry). Tractor pull: up then back down. Same for the log carry and the bucket of rocks. Even the tire pull: first racers pulled it up the hill, then dragged it back down.
One of the most interesting parts of the race was the extremely steep .7 mile hike racers had to endure. This climb was made even more dramatic by the fog. It truly seemed never ending, that no matter how many steps you took you would still look above you to see bodies in the fog, somehow still climbing. It really felt like it could have gone on for an eternity: A Spartan Purgatory. Another interesting part of the race was a split in the course for elite runners and open wave runners. Go right and it was more of the same: slippery downhill mud sprinkled with trees to hold on to. But for the elites who went left, they got to go downhill through a rocky river. This was actually an enjoyable part of the race, a nice change from mudslides. At the end of the race, after flailing over the fire (which was of course on an incline) each racer was offered a banana, a protein bar, a Core Power drink, and a blue ticket to exchange for the finisher shirt.
The Stats
Nearly 9,000 people registered for this event and just over 7,000 completed the course. The last runners crossed the finish line shortly after nine at night. The times it took to complete the course ranged from 1:47:01 to 11:45:01. The course map stated the average run time for the course would be 150 minutes.
The Festival
The festival area was very well organized. There was plenty of seating for everyone eating. The merchandise tent was huge and fully staffed. The results tent had several computers and tablets for racers to check their times on. A Spartan Chicked tent was set up on the outskirts of the area where people could go and have their questions about things surrounding that group answered openly. There were plenty of hoses at the shower station and even a high-powered sprayer for those who truly wanted to get clean. Spartan was prohibited from giving free beer at the end of this race but it could be bought at a tent in the festival area.
Everything In Between
The registration area was very well set up and executed. Details down to there being pens attached to the boards where bib numbers were displayed were noted. Joe DeSena was around working with the camera crews that were present. Shuttles were put to use to bring those who didn't pay $40 for VIP parking up to the race area. The medical tents were kept busy all day with injuries that varied from lacerations and ankle sprains to broken bones and stitches.
Get To The Point…
I don't think this race should be classified as an OCR, but rather something along the lines of a strength and endurance race. I understand Joe DeSena's view is one of push people to show them what they can do, to see what they are made of. You're tougher than you think, STFU! However this race was not consistent with the spirit of the OCR community that I've found. When you only smile once during a race, when you don't ever laugh, when so many say they felt they were broken a little bit, to me it seems a line has been crossed. We are weekend warriors, we are not warriors who have waged a war. Whether it truly was about pushing limits in this sport or looking good for TV cameras, something with this race seems to have gone awry. At the end of a race I usually cannot wait for the next one. This is the first time I've left saying I would never go back. But man, I know I will.
—–Laura Carroll—–
Did you do the Wintergreen Virginia Super Spartan? Share your own rating & review about the event today!