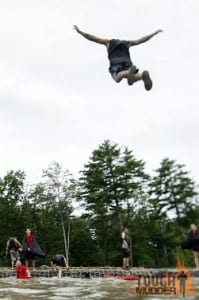 This was my first Tough Mudder and my experience from start to finish was great. I initially requested our editor (for mudrunguide.com) try to get me a pass to a run an OCR in New Jersey this past weekend which wasn't a long drive for me. He explained on the Thursday that with some of his OCR contacts it's very difficult to get in touch with them in the last-minute and arrange for a pass but with some of the larger OCR's he could have good success. I did like I always do and looked on mudrunguide.com and all the neighboring states (lots of open tabs) to find out if any of the larger OCR's had anything set up. I was happy to see that Tough Mudder did and was less than a 350 mile drive each way. I requested our editor try for a pass and within 15 minutes he received approval and I was good to go.
The drive was a long one and this was very last minute so I arrived just after midnight and ended up sleeping in the back of my SUV on a blow up mattress in a "park and drive" about 10 minutes from the Tough Mudder event. I got a good night's sleep and was up early and headed over to the event. I was amazed to see that just after 8am the main parking area was already filling up fast. Right away it was clear to me Tough Mudder has a huge following and loyal group of return supporters.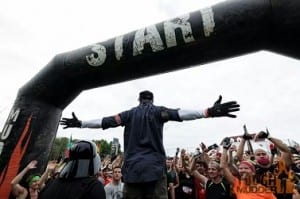 I was bused from the parking area to the event area. This was not the first OCR that I participated in that did this but it was by far the most organized with ample buses to keep the lines moving without delay (at least when I arrived and left). After arriving I went to where the normal participants check-in and get the race packets and was kindly advised I needed to go to the information booth. My observation was that the lines where all really short and moving efficiently and it was very easy to know where you needed to go. I went over to the information booth and I was checked right in and felt very welcomed by both the Tough Mudder staff and Tough Mudder's Head of Communications Ben Johnson.
I then changed in to my OCR gear and walked around the venue to get a feel for the crowd. Everyone was very happy and pumped up and enjoying the music and assorted events taking place. I noticed right away that not everyone had the same famous and coveted orange color Tough Mudder head band on, so I asked one of the participants why he had a different color headband. Not only did this one person answer the question but several others with various color head bands all entered the conversation and explained that the more Tough Mudder's you complete, the more head bands you were rewarded. Everyone I spoke with explained this with great pride and sense of accomplishment.
I arrived excited but after talking to these seasoned Tough Mudder's (those that have completed two or more are known as Legionnaires) I was now even more ready to rock and roll. Time passed pretty fast and before I knew it I was at the first starting line and ready to go. At this point we had someone really pumping up the group and getting us to stretch. We were then allowed to begin and I started to get myself in gear and noticed the group was stopping a short distance ahead as we had not actually started the course yet. The group was now being pumped up by Tough Mudder Motivator Sean Corvelle and he is very good at his job. He made it clear that Tough Mudder is not about going out on the course and running a blazing time but rather embracing a team spirit and helping those along the way. Sean spoke about previous participants and some of them being in wheelchairs or paraplegic's and how they always finished the course because of strong will and strong team work. I was running the course alone (which is what I pretty much always do) and it was a good feeling to know I was maybe solo but I defiantly was not alone out on the course.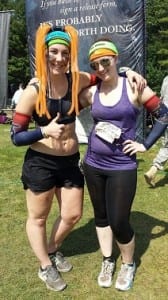 After a great pump up speech we were off and running. Right away I could tell a lot of this course was going to be run outside the tree line and in the direct sun light and it was about noon time and the sun was pretty strong. I felt really good and my bursitis was not hurting that bad so I was able to set and keep a decent pace. This being my first Tough Mudder I researched the typical obstacles Tough Mudder brings to these events and was really excited for a few like: Arctic Enema, Electroshock Therapy (yes I did say I like Electroshock Therapy!), Funky Monkey, and most of all Walk The Plank (don't tell anyone but I don't consider Walk The Plank an obstacle because it's just too much fun) and all of these obstacles where present today! The course was a total of 10.3 miles and 20 obstacles/hazards and I enjoyed them all. Most of the obstacle I mentioned above are not used at lot of other OCR events so it was great to get to do them. I love variety when it comes to obstacles and this is the reason why I am trying to run so many different OCR's. This was also the first time I got to do Pole Dancer and Warrior Carry and I was happy to get the chance to do both.
The course was not that hilly but it did have its moments and at one point later in the race we ran around a huge structure and I had this eerie feeling I was an extra in a Walking Dead episode.
Tough Mudder makes sure to have a lot of water stations and provides at least one good treat at most of them, such as Bananas, MET-Rx bars, and Clif Shot Bloks (which where my personal favorite). They also have a fair amount US soldiers (dressed in full camouflage fatigues) throughout the entire course that are cheering for everyone and passing out high fives. They are in addition to Tough Mudder's own staff which I noticed a lot of throughout the entire course.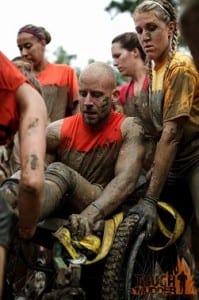 I had just passed the 8 mile notice and was feeling really good so I figured I didn't have a long way to go and would push myself harder. I approached an area where the course was going in to the tree line and discovered a large group of others participants stopped and waiting to proceed. We were stopped and did not move that often for about 25 minutes. The course was taking us through an area that was bottle necked and the dirt had worn away and became very slippery. I have to be honest, I was kind of shocked to find this scenario as everything else I had done that day was so well planned out, they had over 8 thousand people do the course on Saturday and obstacle lines where not a big issue until this point. What I saw when I arrived to the last bogged down area was awesome, it was Ben Johnson (Tough Mudder's Head of Communications) and several other Tough Mudder staff working with hand saws cutting bushes and smaller tree's down to not only widen the path but to be used to give better traction on the slippery areas. I gave him a smile and was back on my merry way to finish the course! I won't lie, after standing still for about 25 minutes and out of the direct sun I was not able to immediately muster the same speed and pace I had before the delay. I did what I had to and completed the rest of the course. I was looking forward to the "Fire in your hole" obstacle but it turns out I wasn't able to do that obstacle as it's only for repeat Tough Mudder's.
After the race, I had an opportunity to talk with Ben Johnson and I was very impressed. He is well spoken and knows everything when it comes to Tough Mudder. I asked Ben how they decided on the 20 obstacles/hazards for this event and he explained several factors are always considered: obstacles to distance ratio, the type of dirt/terrain they are working in and can excavate, and where they are allowed to build or dig on the course site. Ben explained the build team was shocked how rocky and tough the dirt was so that limited the build team when it came to any type of obstacles that would need a great deal of excavating. The area is a golf course so this limits some of the builds they could do on the course as well. I asked about a few obstacles I noticed on mudrunguide.com not used and he explained some of them where no longer part of the course and others where actually still in beta testing to be used down the road. At this point I brought up the delay, Ben was blunt about it and explained the area wasn't even an obstacle but rather just a section of the course that was meant to take us through the tree line and woods but after having a lot of participants travel though the area throughout the day the ground gave and it became slippery and slow to maneuver through. I pointed out how I was very impressed to see him out there cutting down smaller trees and bushes and I didn't think that is something you would see being done at other OCR events by the head of communications. Ben explained it was all hands on and they were able to cut enough debris down to clear out another safer path and create better traction on the original course path. We then talked about the clientele Tough Mudder reaches and wants to reach and it was clear the goal Tough Mudder has is to put on a great event for the whole family and build a great team spirit but most of all have a great time and not take things so seriously. I finished my conversation with Ben discussing the upcoming Las Vegas Nevada World's Toughest Mudder on November 15, 2014 and Ben and Tough Mudder have huge plans for this event and expect it to be awesome. Ben was kind enough to invite me to come take part in that event. I have another OCR already scheduled on the same day which is not across the country, but I am giving real consideration to going.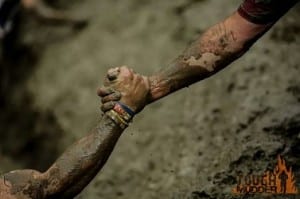 In closing I'd like to reiterate how great a job Tough Mudder does in just about every aspect of the event. They have even taken the time to make a map handout that includes the entire course layout and an awesome "Suggested Spectator Journey" section that clearly breaks down how spectators can start at one end of the course and see friends and loved ones complete at least 6 different obstacles. They also have an awesome play by-play announcer (Clinton Jackson) at the Electroshock Therapy obstacle and finish line who fires up both the participants and a boatload of spectators (Tough Mudder had over 2 thousand spectators over the weekend). I witnessed a lot of people having a great time and plan to do another Tough Mudder in the future. Both Tough Mudder and Ben Johnson where amazing hosts to me and I just want to thank them and mudrunguide.com for the opportunity as I had an amazing day.
4.5 out of 5 stars
—–Walter F Hendrick aka. Sandy—–
Did you do the Maine Tough Mudder? Share your own rating & review about the event today!