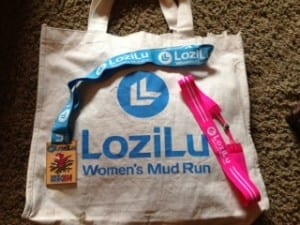 I did a fun race this past weekend with a girlfriend. It was the Lozilu race which took place in Broomfield, Colorado. Normally I steer away from girl only runs as they are not as challenging as I would like. But that is because I have over 50 OCR's and these runs are great for 1st timers, with no pressure of elite anything. It is to go out and laugh your butt off and to play, like when you were kids.
I spoke with Brittany the race director about certain things that I saw and appreciated. Lozilu was great with email updates. Check in was painless and fast, although no event shirt is given, you do get a tote bag, headband and some girly stuff. Really how many t-shirts do we need? But they were reasonable priced for purchase at only $15 at the site. Parking was free as was bag check. There were close to 1300 participants for the Denver location according to Brittany. It was women of all shapes and sizes and all athletic abilities just out doing something different and new.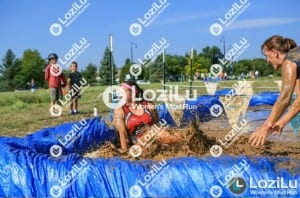 The course was at Broomfield commons park, so it was flat and relatively fast, with only 13 obstacles. I have noticed that when I am in obstacle race or mud run sometimes I cannot totally recall the obstacles that I am doing. So,I really appreciate when the race has an actual course map that you can have. We started off with some low walls to get over, maybe about 5 or 6 in a row. I am faster on the obstacles but then I just hate to run so people always catch up to me. We went through a bungee cords criss-cross obstacle that I elected to just crawl through. Jennifer and I had a different approach to each upcoming obstacle. She ran right up to them, while I will always slow to a walk, check out what I am going to be doing and take my time. I try to find the place where no one is so that there is not a bottleneck for me. This helped us with the cargo net as they were only allowing 4 racers at a time on it. One of the favorite obstacles for me is always mud crawl. Jennifer and I decided to roll in this first one, but alas she ended up kicking me in the face and I had grit and crap in my eye and we had to stop so that I could wash it out. We had two balance obstacles, which I actually like. One was a low zig zag pattern and the other one was about 3 feet off the ground at an incline. We had 3 high walls to get over on the back side of the course. This is where most of the spectators were and they cheered everyone on at this point. We were headed to the last part of the course and this was probably the most fun that people had with the obstacles. We had two giant slides to go on and then came down in a pool of water. The first one was a bit short at the end and you had to be careful when you hit the edge. The 2nd one was slippery and I slid back down and Jennifer told me to use the rope. Rope? There was a rope? You bet I used that. That made all the difference. We landed in a bigger pool of water on this one. After the water slide we headed towards the finish line with one more mud pit to get through. This is where where we threw mud at each other, and I grabbed her back into the pit when she tried to get out.
This was fun, that is what I can say. This is a great race for someone who wants to get their feet wet and start doing OCR 's. My friend Jennifer was high-fiving everyone in sight and you should have seen the looks of appreciation and joy she got with her endless enthusiasm and motivation. She was great to race with. We enjoyed ourselves immensely . We crossed the finish line together and got cool medals. I so love getting medals. This is a very doable no pressure event, it is a great start and that is what this race gears itself towards. Yet it works for all levels and abilities.
I give this a 4 only because you have to pay for your photos. There were 26 of them taken for me and Jennifer and that would have cost us $100.
—–Martha Pasquale—–
Did you do the Colorado LoziLu? Share your own rating & review about the event today!