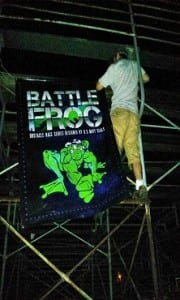 After learning about I was thinking about going and running the course. While researching the event and obstacles I noticed the volunteer link on the BattleFrog website and checked it out. The idea of volunteering and getting to run the course for free made BattleFrog seem like a no brainier. BattleFrog would get awesome help (me) for the day and I would meet the staff, hang out with SEAL's, meet more OCR regulars, and run the course for free? I signed up via the website and noted I was recovering from severe bursitis and would like to be placed somewhere that would not put a great deal of strain on my injured hip/leg. Oscar BattleFrog's volunteer coordinator was very fast to respond and assured me they would accommodate my request. I also had an 18 year old (my sons best friend) staying with me, and no matter how hard I tried I could not get this kid to get a job or make goals for his life, so I decided what could be better than making him come for the day and have him volunteer and meet the SEAL's? I explained to Oscar I was going to be bringing this kid and that he had no intentions of doing the course and I would like to have his future BattleFrog IOU transferred to me. Oscar again promptly replied and said that would be no problem. So now this was a big time win for me, I was going to run the course for free and have an IOU for a later date/event. I also had my friend Kelly coming to volunteer with the intentions of saving her IOU for a later date.
I decided to drive down Friday night as it was about a 140 miles drive and we were scheduled to start volunteering at 6am Saturday morning. We made really good time and arrived in Englishtown before 8pm. It was still light out so I decided to head over to the raceway and get a really good look at some of the obstacles and introduce myself to Oscar. We arrived to find a very aggressive and hardworking build team. Right away I noticed that everyone was hard at work but focused and yet polite to us. We were directed to Oscar and had a very quick face to face introduction. Kelly and I had already decided prior to meeting Oscar if they were really busy and it looked like we may be able to offer assistance we would offer to help that night. Oscar was very happy to take us up on the offer and directed us to the festival director, Lex. Lex assigned the three of us tasks and for the next few hours we pretty much worked around the main festival area putting up barricades and BattleFrog signs. Before we knew it, it was almost midnight and Lex said it was time to call it a night. We spent the next few minutes talking with Lex and other BattleFrog staff and then we began to make our way back to my SUV. On the way we noticed we missed several unused barricades that needed to be stacked in a safe zone, so the three of us made sure to stack them where they needed go. While doing this Lex pulled up in his car and like a parent insisted we call it a night and go get some sleep. It a was a great start to the weekend, Lex made sure to let us know the three of us had already earned three future BattleFrog IOU's for helping out that night.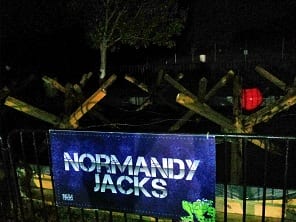 After a very late night meal and not the best night's sleep, the three of us where back at the Raceway at 6am and ready to start volunteering. It was a pretty bad morning; it rained most of the night and was still raining pretty hard. This was not good for obvious reasons and as well Oscar had a fair amount of volunteers call that morning and cancel. Kelly and I decided the night before we really liked Lex and we wanted to continue to volunteer with him the rest of our time. I approached Oscar and explained this and he was great and assigned the three of us to Lex for the whole day. I learned pretty quickly Lex doesn't have a full time staff and he relies on the volunteers at each event to help him set things up. This presents a challenge for Lex (one he has no problems with) as he has to each time explain how to set some of the festival items up. I was the oldest of his volunteers and as well felt I had a really good idea what he was looking to get done so I made it clear I had his back and I would try and be his right hand man. Lex was great about this and didn't consider me trying to overstep my welcome but rather embraced having someone experienced to help him. We spent the first hour getting various floats blown up and anchored down. Once all the festival items where set up Lex gave Kelly and Conner (the 18 year old I brought with us) new tasks to do and I was going to be with him. Off the two of us went in a golf cart in the pouring rain to get important tasks done. A short time later, the BattleFrog staff radio became active; one of the obstacles had run out of gas and the buried tubes (to crawl through) where starting to flood. Lex did not hesitate to answer the call for assistance and told them he had a full container of gas and we would have it to them within minutes. At this point Lex took the golf cart off the concrete and we were on the dirt and mud in the rain storm. I won't lie; I was scared and holding on to the bars for dear life. Lex got us to the obstacle in one piece and he was able to save the day and prevent them from having to shut down one of the obstacles.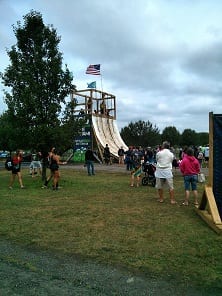 I spent a little more time with Lex and then met back up with Kelly and the two of us where assigned to the face painting booth. I am no artist and was worried I would do a pretty crappy job with the face paint but I took the challenge head on and made sure to have fun doing it and try to get a laugh out of all the people's faces I painted. We ended up painting a lot more adult's faces then kids and I had a few people that gave me free rein to do whatever I wanted to them. So I painted a few people entire heads! We stayed at the face painting booth the remainder of our time volunteering.
I changed in to my gear and ran the 15K version of the course with the other volunteers. I loved the course and would like to go in detail about it but another Mud Run Crew writer is handling that portion of the event. I will only share one story, due to raining much of the day most of the rope obstacles where difficult as the ropes became very slippery. I got to the rope swing and thought I had a good grip and attempted to swing across but unfortunately my hands slipped and I wasn't able to make it across. I was very disappointed and started to do my "8 count bodybuilder" pushups and the BattleFrog staff that was supervising this obstacle stopped me and said you know if you do those and leave here not completing this obstacle you're going to be upset with yourself? He was so right; I was going to beat myself up about this later and on the way home! I stopped the pushups and attempted the rope swing again and this time I made it! That type of encouragement and attention is not something I have experienced so far at any of the other OCR events I participated in and this is just one of the prime examples that separate BattleFrog from a lot of the other OCR players.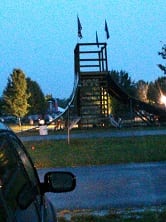 To sum my experience, I was able to have bird's eye view on how BattleFrog runs it events and I am so impressed with each and every person we had the opportunity to work with or meet. This goes for all the unnamed build staff, Lex, Oscar, Allan (merchant director), Garfield (race director), Chris (mentor), Michael (Navy SEAL), and entire group of SEAL's that participate in the event. Every one of these people is a class act and wants to make BattleFrog the best OCR product/event they can. When I realized this was only BattleFrog's fourth event and they are already doing an amazing job and putting out a product that is either better or comparable to the other OCR big players I was even more impressed. This group of people are not just spending all there time on their primary tasks but they are also watching and listening to everything the customers are saying. They are committed to the putting the best product they can each and every time and are eager to hear both suggestions and criticisms to make sure to correct them in the future. I will close this article by mentioning I asked several of the staff about the other Navy SEAL's OCR Company Bone Frog Challenge and each and every one of them praised Bone Frog and encouraged me to go to and run that event as well. I had an amazing time and will be volunteering again! I strongly suggest others volunteer as well at a future event, this is a win / win for everyone and you won't regret it.
—–Walter F Hendrick (Sandy)—–