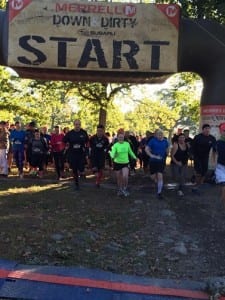 This was my first Merrell Down & Dirty Obstacle Race. Due to the typical problems I have been having as of late with my GPS, I was happy to see plenty of signs placed out on the highway leading to Pelham Bay Park that directed me in the right direction. I arrived in the event parking lot and it was already getting full. This being my first Merrell Down & Dirty Race, I was not sure what to expect when it came to turn out so I was pretty impressed right from the start. It was sunny, but a little cold with a brisk wind, yet the turnout was well in the thousands. I made my way over to the event area and checked in with registration within minutes. I surveyed the event and saw participants of all ages and gender, Merrell Down & Dirty clearly has built a fan base that covers just about everyone.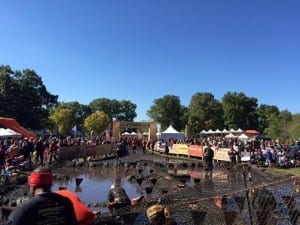 I got my gear on quickly and handed my bag off to the free bag check. I made my way over to the starting line, and like I always do, I went to the back of the line as I like to start from the back and figure out how hard I can pace myself. With Merrell this turned out to be a mistake, they have the line sectioned off in waves and I was in the very back wave for the 9:30am start. What I didn't know, was they didn't allow the entire group to start at once but rather they have each wave start and then wait several minutes before releasing the next wave. I ended up not starting the course until just after 10:05AM.
The course started out with a left turn and very shortly after I was running in a part of the park that was designed for walking with a really amazing view of Pelham Bay on my left hand side. It didn't take long to get to the first obstacle and at this point I had made it up to about the fourth runner that started in my wave and I had already passed several dozen people that started in a wave prior to mine. The very first obstacle was the ladder wall; I climbed up and over and noticed a female participant struggling to get over the ladder wall. She was clearly afraid, so I hopped over to her side of the wall and proceeded to coach her and help her get over the wall. I made sure she was able to safely climb down and I told her to make sure to take her time with the course and be safe. I started running again and right away I could tell I was going to like this course, it was pretty flat and the wind coming off the water was nice and not too cold.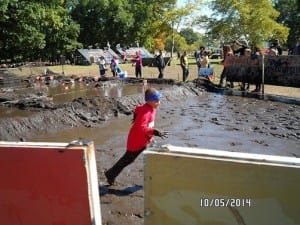 I was setting a pace that seemed really fast for me and passing a lot of participants. I found myself in a zone running to a comfortable pace and listen to music (from my MP3 player). I was enjoying the obstacles as they were all pretty cool. I came to a very cool two level ropes and metal climbing obstacle called the Monster Climb and got right up the first level. I was about to start my way up the next level, when I noticed another female participant struggling to get up the first part. I made my way over to her and provided her a hand and encouraging words and helped her up the first level. I gave her a few words of encouragement and off I went to complete that obstacle.
I eventually came to a split in the course for the six mile version and I noticed no one else seemed to follow me. I ran the next few miles and only saw one other participant. I did several obstacles that were unique to the six mile version of the course and before I knew it, I came to a part of the course that brought me back on the same course with those running the shorter distance. I was feeling great physically and mentally and turned up my running pace even faster. I came to the beach and entered the ocean, I was concerned it would be really cold, but it turned out to be warmer than the mud pit I would also have to enter on the course. I then came to the slippery mountain obstacle which was an inclined wall with a rope that had what appeared to be soapy water on it. I was able to climb right up and was about to hop over the wall when I saw another participant struggling to get up the wall. I climbed back down the rope and was coaching the girl and giving her words of encouragement! She was giving it everything she had and getting up the wall slowly but then lost her step and was holding on for dear life to the rope! I asked her if it was okay to give her a push on her behind and I saw her smile so I placed my hand on her butt and with one strong push got her to the top of the wall! I helped her climb back onto solid ground and then apologized for having to touch her butt, lol. At this point, I had just one obstacle left, the mud pit, which I crawled through and completed the course!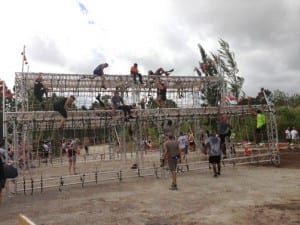 I was given the finisher medal and right away I was very impressed with it! It's not your normal dog tag style that I was expecting, but rather is a much bigger and thicker metal. I have to admit, I was disappointed I got the same medal the shorter course participants received, but I am still very happy with my new bling and will show it off with pride!
I then went over to the water hoses to wash the mud off. For any first timers that read my article, they have this car wash like cleaning device that is more for fun than getting clean. The good news is they also have lots of water hoses available to clean off with.
After I got most of the mud off, I went back to the event area which had thousands of people both spectators and participants having a great time. I asked where I could get my results (I normally don't bother, but I felt like I put up a good time) and was directed to a wall with papers on it. I had to wait for the kid to staple the latest results on the wall. When I looked at my age group I was taken back to see they had my time as 2:34:22, which I knew was not right. I figured out what happened, I originally was scheduled to run the course at 8am but due to traffic, my typical GPS issues, and as mentioned above, waiting for my wave to start, I ended up starting sometime after 10:05AM. So my time was only checked at the finish line and not the start. I am okay with this and only point it out for others to be aware of it, if they run a future Merrell Down & Dirty Obstacle Race.
The schwag is nice, as noted above the medal is really nice and not cheap. The shirt is a nice black one. They also provide nice little branded hand towels at a booth and as well I received a nice orange Merrell bandana.
The event had a total of 4,700 adult participants and 600 children, which are amazing numbers for a race taking place in the month of October. Merrell was able to raise over $7,000 for charity on this one day alone for Operation Gratitude! Operation Gratitude sends care packages filled with snacks, entertainment items and personal letters of appreciation addressed to individually named U.S. Service Members deployed in hostile regions such as Iraq and Afghanistan, and on Naval ships at sea!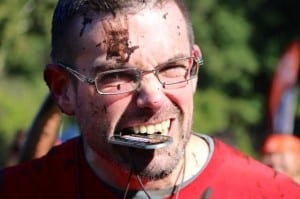 The event was a lot of fun and found the course to be very enjoyable. I really like to help others while I run my OCR's so I felt great about being able to help several people on the course. I will definitely do another Merrell Down & Dirty Obstacle Race in the future, but next time make sure to use all the lessons I learned at this one. Merrell Down & Dirty Obstacle Race is clearly attracting participants from all walks of life and types and I was great to see people running the course that you typically will not see in such large numbers at some of the other OCR's.
I am going to score the event/course a 4.5 out of 5 stars, and as always I want to thank both MRG and Merrell Down & Dirty Obstacle Race for the opportunity to have such a great day.
—–Walter F Hendrick (Sandy)—–
Did you do the New York Merrell Down & Dirty Obstacle Race? Share your own rating & review about the event today!