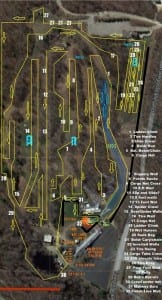 This was my second OCR of the weekend and I drove over a hundred and eighty miles Saturday night. I arrived at the Yawgoo Valley Ski Area & Water parking lot at about 1 AM and slept on my portable air mattress in the back of my Prius. Volunteers and staff started arriving just before 6 AM and the parking lot started to fill pretty fast. I got up and introduced myself to Lynn Hall the owner/participant/and brain child behind BoldrDash. It was around 6 AM and Lynn was already hard at work directing dozens of people at once. She was still able to greet me and chat about the upcoming day; she happened to mentioned to one of her Captains (I will explain later) that she wished she had someone to spare that could setup a net crawl at one of the obstacles, I eagerly offered my services and jumped at the opportunity. I walked up the mountain and set up a very cool green net for participants to crawl under. This was a first for me to be part of an actual obstacle build team and after I had the net setup all I could think of was how it would be cool if we could get another net and make the crawl double the distance and double the work! The staff just chuckled at me, as I was clearly coming off as an adult version of Dexter the mad scientist and they said they didn't have another net to setup (DARN)!
This was the fourth straight year BoldrDash was being run at Yawgoo Valley Ski Area & Water Park in Exeter Rhode Island and it was easy to see that BoldrDash had a great idea how to best use the ski mountain as an obstacle course. They designed the course to use the mountain in a zigzag (snake) pattern which took you up and then down the mountain many times. This was great for several reasons as it created a course that was a challenge, and as well used every inch of the mountain to its fullest potential. The four mile course consisted of over twenty five obstacles on a mountain that has some very challenging vertical ascents and descents. The obstacles are all built out of top materials and carpentry and a lot of them could ,and should, have been part of the previous weekends NJ Spartan Super race course. The obstacles are a mix of some that would be challenging even to an Elite OCR athlete and others that are pure fun like the 210 feet Slip and Slide! The BoldrDash build team created a course that is a lot of fun and challenging to any participant's level of fitness. They had several obstacles that I had yet to see at any of my previous events and they were all challenging and thrilling!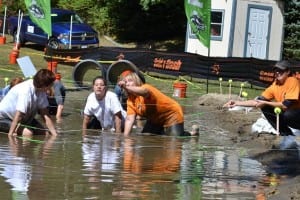 The course starts out right away with a challenging vertical accent and just as you break the top of the climb you notice hidden just under the tree line a military ladder climb. As noted above the course takes you up and down portions of the mountain a lot of times and you never find yourself for long periods of time just running or walking. They had the perfect amount of obstacles to keep you active the entire four miles. Some of the obstacles are pure fun like a huge bolder you have to carry above your head made out of Styrofoam and others are not easy such as: heavy double sand bags you have to carry up and down a large area. The course for the most part included everything I experienced the week prior at both of my NJ Spartan Supers (Saturday and Sunday) minus the rope climb, gravel bucket, water obstacle, and Atlas ball carry but it made up for those by adding obstacles like the tire hurdle which was 3 larger tires attached to spindle like device that you had to climb over. Other challenging obstacles were a tire swing that you had you swing from tire to tire, and wall that made you spider crawl with your arms on one wall and legs on another. I could easily spend a great deal more time in this article going over all the obstacles but I think readers will get the big picture, this course was awesome!
It would be easy for me to get lost in this article and talk only about the course but that would do BoldrDash a huge injustice because even though they had the best under 15K course I have run to date, that was by no means the highlight of my day. For those of you that have read my "I am OCR" story (if you haven't, please do) you know I have not always been the person I am today so being at BoldrDash was very emotional for me. I found myself running over to the finish line several times to hug finishers. I by no means want this to come off in a bad way because it's not meant to be taken that way at all, seeing people Sunday complete this course that either have special needs, were extremely over weight, or had physical disabilities was one of the best feelings I have had at any event. I saw people approach the finish line and final smooth wired mud crawl that where almost unable to walk and in extreme pain and yet they still completed the whole course! Seeing these people's faces of pain change to one of accomplishment and extreme pride is something you cannot ever see or experience enough . I personally enjoy seeing these type people complete an OCR course way more than one of the Elite athletes.
When you meet Lynn Hall you can tell right away this is not your normal person, even at 6am on a Sunday morning after doing all this just the day before on Saturday she was full of energy and had a presence that lights up the entire area. Her staff clearly sees this and all of her regulars and Captains would do anything and everything to not let her or BoldrDash down. She created a really cool black sleeveless shirt that says Captain on the back for her top staff that all the volunteers are assigned to and they worked all day! She had a total of 12 Captains and approximately 85 volunteers with each Captain being in charge of a certain area and all the volunteers within that area.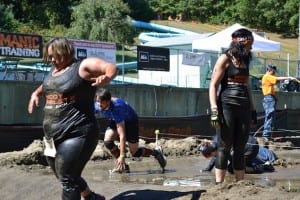 BoldrDash like BattleFrog, MudManX, and other OCR's allows the volunteers to the run the course for free during the last start time of day. I myself have done this for BattleFrog and MudManX and think it's a win/win for both the volunteers and OCR Company and I wish more would adopt the policy. BoldrDash is clearly not in the OCR world just to make money and are doing it for all the right reasons. Lynn has created an event that has built a huge following in the Rhode Island / New England area for not just some of the top local athletes but more so for those that are the exact opposite and need an event like this to live life to its fullest enjoyable potential. Lynn ran around all day making sure the event ran smooth and taking care of any issues that came up, I personally saw her handle a few things and she always put the participant/customer first. Even with all this she somehow was almost always at the finish line to congratulate many of the finishers she either personally knew or was aware of an amazing accomplishment being done. Lynn also ran the course with some of her family during the last run of the day (she left her husband Greg in charge) which included all of the volunteers. I cannot say enough good things about Lynn, Greg, her Captains, and staff as they worked very hard and where driven to put on an amazing event from every perspective.
Lynn and I spoke after the event and I asked how many total participants they had over the two days. They had about 1300 participants Saturday and an additional 600 on Sunday. I asked about the difficulties of setting up the course and how it affected the choice of obstacles. She explained building the course at Yawgoo was mostly difficulty because the entire land mass is extremely rocky. There was very limited digging they could do anywhere on the course because of the boulders beneath the land. Yawgoo is also very small when it comes to ski areas and 80+ percent of the land is in use. Lynn explained, obstacles are what BoldrDash is all about. They want events that focus on obstacles and not running and aim to have 25-28 obstacles at each of their events. They also create obstacles in levels whenever possible; they have a three level design on many of the more difficult obstacles. An example would be the 12 foot slippery wall; it's naturally slippery by design. Along with a rope at each section, one section they have cleats on the surface assisting the runner, the middle section has less cleats, and only uses them toward the top of the wall to assist with the transition at the top. The final section has not assistance (I did this one and it was slippery!). When a person first comes to BoldrDash they can choose to use the easiest side as a starting point. Each year as they return they can attempt to push that up a level. Once you can complete the unassisted side, you can work on decreasing your time going through the course. There is always an option to challenge yourself at your level. As your level of athleticism increases BoldrDash offers you new opportunities to increase the challenge.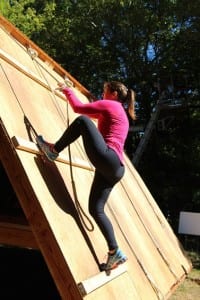 I asked Lynn what BoldrDash had planned for the future. She explained they have become good at what they do and now plan to start perfecting taking the events on the road! She feels they are now ready to begin taking the event outside of Rhode Island and are looking to move into either Massachusetts or Connecticut for 2015 and are trying to locate the right venue .
I asked about the charities BoldrDash contributes to and estimated money rose. Lynn said the amount raised has not been fully determined as of yet. She explained they do not only contribute money, she explained they hired Trudeau Consumers ( to assist with setup, packet stuffing, medal prep, event prep, and clean up. She explained creating jobs in the community was an opportunity that helped integrate consumers. They also had consumers and employees of the Trudeau Center at the event in various volunteer positions including obstacle instruction. This is the third year they supported the Trudeau Center. She was happy to that some of the consumers ran the event this year as this is something they have been working on for quite some time. For those of us not familiar with the Trudeau Center, Lynn felt there mission statement says it all: "Our mission is to promote an enhanced quality of life for individuals with developmental disabilities." The Kids Events supports the University of RI Club Sports.
Lynn talked about the sponsors and booths. She said sponsors included REI, Lepre Physical Therapy, Paul Baily Dodge, Peoples Credit Union, Tori Lynn Andreozzi Foundation (no booth, Cathy Andreozzi ran the course with a girl named Nina who is in a wheelchair from Trudeau Center), and Manic Training East Greenwhich. (no booth). Booths included: REI Stretching station, Green Screen photo op, Lepre physical therapy had pre-race warm ups, The National Guard had their inflatable football toss, Rock taping for Athletes, a hydration center with free samples, and other informational booths.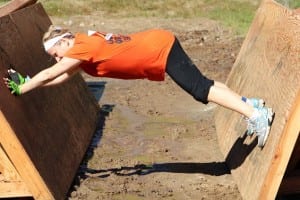 Lynn explained BoldrDash recognizes that spectators are an intricate part of the BoldrDash experience and having friends and family surrounding you at the finish line is something that makes each participants experience special. This year they decided to make the festival area more of a friendly party atmosphere. She said they added human Foosball, Corn Hole, a knockout game, and "be the face of BoldrDash cut out".
I asked what separates BoldrDash from the other OCR companies. Lynn explained they focus more on the obstacles and the determination to overcome limitations. Being BOLD means: Boldly, Overcoming, Limitations, with Determination. They want everyone to succeed at their own level and this is why they build obstacles for various abilities.
I like to close all my articles talking about the good I see being done at each event and for this one that clearly has to be about the special needs participants. Lynn said they had a few teams with special needs. One was Mary, a young lady with Down syndrome. Lynn explained in 2013 while being interviewed on a Special Olympics television show, Mary (who worked behind the scenes on the show) asked her about the Yawgoo's event. She told Lynn she skied there and she wanted to know how she could do BoldrDash. While talking they learned Mary worked out at a local gym that is one of BoldrDash's biggest team supporters. Lynn contacted the gym and let them know Mary was interested. Mary ran her first BoldrDash with the support of the Body Complete team in September 2013. She has gone on to run the beach event in May of 2014 and returned to Yawgoo again for 2014. In addition to Mary in 2013 they also had Baily a young lady who has personally trained with Lynn at BoldrDash Boot camps. Baily ran with the support of a Special Olympic partner who she has completed several other 5 K's in the past with. Baily has a fear of heights, yet she climbed to the top of BoldrDash's 10 foot wall obstacle and while on the top yelled to Lynn "I'm crying Lynn, I'm crying, but I'm here!" This year Baily again participated in the BoldrDash boot camps and completed the event with her friends Bill and Andrew.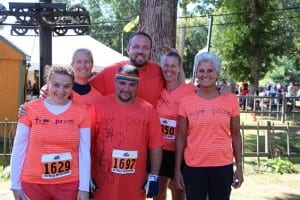 The Schwag was nice, I received a really nice finisher medal (with a woman on it, which I loved), a nice bright jail color orange shirt, I am going to include the free bag check that came with a garbage bag for your wet gear (very nice touch).
This was an amazing day on so many levels, this was by far the best under 15K obstacle course I have done to date, the festival area with the booths and games was great and people had a blast. Being able to see an meet amazing people with amazing stories was the highlight of my day! With all that being said, I did see two area's of improvement that I have mentioned to Lynn. They need a motivator at the start of the race, and in my opinion they have the perfect person for the job already attending most of the time, Cathy Andreozzi. Please Google Cathy because she is an amazing person who has survived a horrific accident to her daughter and is an inspiration to us all. The only other area of improvement would be the his and her changing rooms, at least on Sunday they where a little beat up but and I seemed to be the only one I saw use them. I am giving BoldrDash a 4.5 out of 5 stars.
I want to close by saying all I could think about on the way home was how come BoldrDash could create a way better obstacle course then I ran just a week earlier at the NY Spartan Super? I hope Lynn keeps going even bigger and better in the future and I can convince her to bring BoldrDash to Upstate New York. The million dollar OCR players needs to take note that some of the smaller players on the block are doing a lot better job and not resting on their success. As always I want to thank both BoldrDash and MRG for the opportunity to have such a great day.
—–Walter F Hendrick aka. Sandy—–
Did you do the BoldRDash In The Mud? Share your own rating & review about the event today!