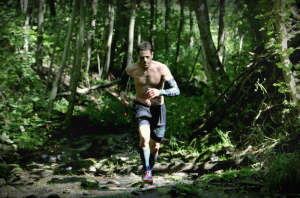 I have been competing in OCRs at a high elite level for just about four years now, with Spartan Race being my main/go to race as it is the primary event for competition and challenging courses. It did not matter what race I ran or its location; wherever I was, if I came across my peers/fellow athletes, we, by default and by association referred to each other as our Spartan Family, for it was the one place that united us together. It was not until now that I can honestly say that there is a new family in the sport of OCR and that is the BattleFrog family. Ever since they entered the scene in the Spring of 2014, they have been everything you can could ask for in an OCR. The staff embraces everyone at every level, creating a friendly environment for everyone participating, making you feel like part of their B-Frog family.
Don Mann, 21-year Navy veteran and SEAL, author of 11 books including his autobiography "Inside SEAL Team Six: My Life and Missions with America's Elite Warriors," has over 35 years (1,000+ races) worth of competitive racing experience, and was once ranked 38th in the world as a tri-athlete, is one of the founders of BattleFrog.
He says, "At BattleFrog, we believe we have an event for everybody in the family and/or workplace. We have a very professional and experienced staff of over 50 professionals including our team of NAVY SEALs. We have an aggressive schedule and have received reviews from the top bloggers and top athletes in the sport stating that from our very first race that BattleFrog has raised the bar significantly in the sport of OCR. BattleFrog has the experience, vision and the backing to quickly become a leading company in the sport of OCR,"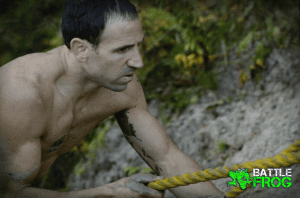 After running their Tri-State event on August 2nd 2014, I was hooked. I knew B-Frog had something very special and was something that the sport was in dire need for, that is, a quality race that offers a challenging course including terrain, deep competition with an elite wave, attractive prize money, great overall vibe, family friendly and less registration fees; all while staying true to the sport. I ran the 15K elite wave and the 5K open in their Pittsburgh location, which technically was not Pittsburgh for those wondering about how a course can be designed there. It took place in Beaver Falls, PA, 40 minutes north-west of the city at a place called Mines and Meadows. It's an unlikely venue for an OCR but BattleFrog's Assistant Race Director and advisor Christopher Accord, 14 year Navy Veteran and seasoned obstacle course racer says,
"We chose this location to offer the unique ability to incorporate mines into the sport of obstacle course racing and create a truly one of a kind athlete experience."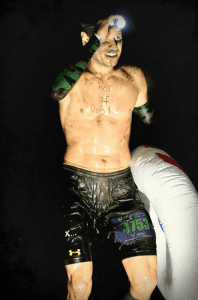 Undoubtedly, the mines were truly a unique experience and wonderfully tough obstacle, with low temps, very wet and dark conditions even with the headlamps provided, giving you limited sight distance and making it difficult to navigate, tricky footing, a 100yard swim in what seemed like 40degree waters due to my body being numb, and a three-part glow in the dark paint ball shooting station, but it was just one of the several tough challenges in the 15K and 5K race. Both those stages will make or break you and you will be TESTED, so if this appeals to you, then B-Frog is a must do on your to-do list.
The race did not take place on a mountain but definitely appeared as though you were on one at times, as much of the course was mapped out in the woods, with many portions of it on moderate uphill climbs. It was hard to get equipment to build obstacles and safely secure them in some of these areas so the course designer took full advantage of nature's gifts, meaning, the use of a long, slippery creek, which meant very technical and dangerous footing, soft and deep muddy surfaces, trees, branches, thorns and jagged/shale rocks, making very hard to pick up speed and momentum. Much of the trail running took place on the beat up and run-down ATV trails which also made it substantially difficult to maintain a steady fast pace.
What I found to be to the most difficult of obstacles was the modified monkey bars which were not monkey bars at all, except for the 2 monkey bars in the middle of a train of mountain climbing grips/holds on a 15-20ft declining wooden beam suspended 15ft high over water. It would not have been that bad except the grips were too small after the 2 monkey bars and spaced to far apart, making the failure rate on it at about 90% and this was in the elite heat with experienced and ranked OCR athletes. The use of that side of the obstacle was mandatory for us; however a standard monkey bar option was available for the elite women and open heats. I am certain that it's placement was strategically placed, about 3 miles in and maybe being a half mile after the mines, when our arms and legs were still cold and numb from the swim, so I am sure that played a role in its difficulty.
"The intent was to bring the athlete a fresh twist on an otherwise typical monkey bar; something typical and unexpected. It's a true "obstacle" to shake up the runners from OCR athletes," says Accord.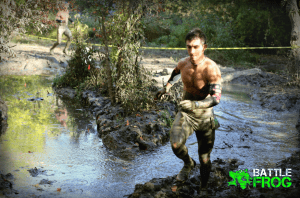 My only real gripe with this obstacle is that if you couldn't complete it, there was no penalty option and you were automatically disqualified. Every race tries to be unique/different in their own way; basically presenting something that makes them stand out above the rest. In the competitive/elite heat only, B-Frog has now implemented an every obstacle mandatory rule, which essentially means what it says. Complete every obstacle or don't but then you must hand in your elite wrist band, which you are given at registration and you are disqualified from any podium or prize money contention, which I thought was outright absurd, and I tried to not let it bring me down when I failed the obstacle, even after making three very valiant attempts. In fact the three guys that did complete it got a 10 min extra head start after all my attempts. I caught up to them anyway and was right back in podium contention where I belonged, but for what? I felt demoralized and lost a little bit of that drive after losing my band.
Accord adds, "If you do not complete the obstacles, how can it be an Obstacle course race? Then it's just a run with some body builders mixed in. If you want the cash I feel it's only fair to win money in an obstacle course race by completing the obstacle. I support it!"
Challenging obstacles is always a bonus in my book, but there is such thing as to difficult. I have much faith in B-Frog as they are the new big boys in the sport, where soon, other races will be modeling after them. I believe in this fine colectick group of talents and know that they will hear our cries and feedback and tweak whatever needs to be tweaked. Power-house or not, they are still new to the scene and will make some mistakes. They will learn from them and make any necessary adjustments that they see fit and that I can guarantee. Mann is out on the course all day at every single race, observing and hearing what people have to say. Chris Accord is one of the most genuine people I know and when he is on the scene, good things happen. I met other staff members like Ben Killary, Diana Zagales, Allan Ajoy, Michael Donnelly and Coach Pain Dewayne. Each one of them has their own duties and knows how to work together as a team to help the gears spin, like a fine tuned machine.
Speaking of fine tuned machine, Coach Pain Dewayne (41), fitness industry professional for 23 years, certified fitness coach (ISSA and SGX group X instructor), certified nutrient specialists and B-Frog's official festival area MC since they began, really knows how to get the people going. His loud, directive, military like approach during the pre-wave warm-ups are just what the people need.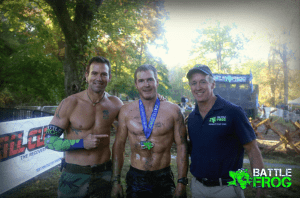 "I believe OCR is a remarkable approach to bringing out the best in every human being, from the young to the old, to embrace their challenges on and off the battlefield. I respect it 150% and I truly believe that OCR will be around for years to come. As we evolve as human beings, I see the OCR evolving as well. The journey will continue and I am excited to be a part of it, not only as a witness and a semi-participant, but as a fitness coach, for, that is my true passion. I help prepare those for the challenges both mentally and physically," says Pain.
I have never seen a group of people who are about to endure a grueling course, responding so positively to a person that is about to give them a little bit more pain right before they go out. Even myself, after my 15K and right before my 5K, participated in his frog-legs challenge, where he took a group of people and had us complete a series of leg destroying exercises in an attempt to see who can last the longest before failing or who can stay up until the end, giving us frog-legs. I did not falter and I was ready for more because he makes you want more. His approach confines to the military style theme, because as we all know by now that B-Frog is designed and ran by Navy Seals but it doesn't mean that Coach Pain is not an approachable man. From what I saw in Pittsburgh, he encourages people to speak to him, ask him questions and get some advice or tips. He is there to give you a hug, encouragement or a muddy high five when you cross the finish line. He is a true leader, great motivator and has more in store for the future and B-Frog participants.
Pain adds, "I'm excited and proud to be a part of this organization. To work with an amazing staff and of course alongside the Navy Seals. It gives me a sense of respect and integrity and with that I hope that what I bring to this organization would allow me to continue my work with Battle Frog Navy Seals."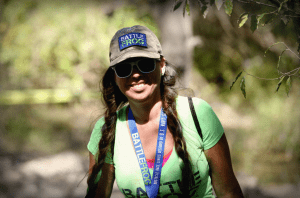 I have said this in my prior review on BattleFrog, this is a tough race with A LOT of climbing and let me not forget to mention climbing and more climbing. The 15K is not for everybody. There are several course stages to cater to all fitness levels and all ages. It's a very family friendly environment. All these are important to know. Also know this; the OCR movement has just begun. This sport is the number growing sport in the world right now. It's not enough to see it, you have to strive to be it and get yourself out there. This is the place to start. Be a frog and join the family.
"BattleFrog will in time, grow to be a huge national and international player in the OCR market," says Accord.
"There are reports out stating that there are now more people competing in OCR than there are in marathon running. I can not substantiate that report but I can say that OCR has something for everybody. It appeals to the athlete, the recreationist and actually to the non athletic types just looking for something new and exciting to do with to do with their family and friends," says Mann.
"I believe B-Frog is the new OCR challenge. The uniqueness and mindset that they bring to the sport definitely will launch them to be one of the most talked about events. Not including that this is organized by the Navy Seals which makes it all worthwhile," says Pain.
How can you argue with those guys? HOOYAH!
4 out of 5 stars
By Charles (Jazz) Vassallo
Follow Me:
Facebook – Instagram
———————-
Did you do the Pittsburgh Battlefrog? Share your own rating & review about the event today!