The Dallas races this year came earlier than last year's "Winter Wonderland" which was considered by many to be the coldest Spartan of 2013, but it was still pretty chilly with 35 degree temperatures at the start of the Men's Elite Heat on Saturday. At least it was sunny so it warmed up to relatively bearable conditions by the afternoon. Spartan split the races up by staging the 13.2 mile Beast on Saturday and the 4.8 mile Sprint on Sunday. Many people traveled long distances from all over the country in order to compete in these races and sew up Trifectas for themselves.   Almost everyone left the weekend feeling that the money, time, and effort spent in order to run these events was well worth it.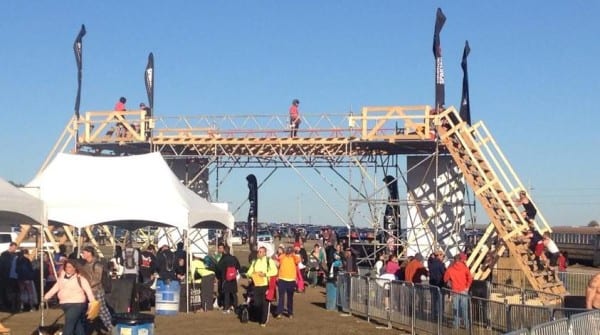 Venue & Registration
The race venue was Rough Creek Lodge and Resort in Glen Rose, Texas which is about an hour and a half drive from both Love Field and DFW if you flew in, and it was a beautiful place to spend a weekend. Parking was on site and close enough that you could keep your bag in your car if you wanted to, and even go back and get in a warm car and run the heater if you wanted to thaw out a bit before or after your race.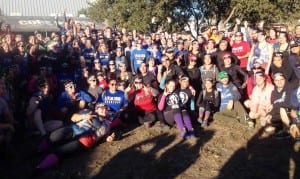 Registration went quickly and was relatively easy as you went under the signature Bridge obstacle and were able to see mid-course racers competing while you were preparing for what lay ahead. The Festival area was nicely spread out and the Lone Star Spartans earned the Biggest Team Tent which was right in the middle of the action versus at other races where this tent seems to be shoved off in a remote corner somewhere.
Many Elite Racers participated so that they could compete for the cash prizes being offered in their "Triple Crown Series". There were 4 person Elite Teams competing where they were required to have the first 3 members of their team cross the Finish Line within 30 seconds of one another or be disqualified. It seemed like a curious rule considering that "No Spartan Left Behind" should have meant that all 4 crossed within that time frame instead of 3 faster runners finishing, and then waiting for the 4th member to come across some time later.
Saturday's Beast Race
Saturday's race began with the customary playing of the National Anthem, but with a fantastic twist. As the Announcer attempted to play the song via his iPhone, Siri dropped the recording after the first few notes. Laughter and heckling ensued along with calls for us to just sing it ourselves. The crowd of racers and spectators then burst into an impromptu, a capella version of The Star Spangled Banner that had voices raised to the heavens and gave everyone participating a serious case of chill bumps and pride. It was probably the coolest thing I've ever been involved in at a race. Having the people sing the National Anthem should become a tradition.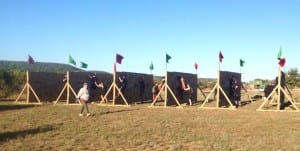 We ran through the fields and encountered some of the usual Spartan obstacles like climbing walls, but there was an added twist to this race whereby some obstacles were separated by whether you ran as an individual or a team. The Team walls were taller, the log flips were bigger, the tractor tires were heavier, etc. It added something interesting to how you approached each obstacle.
There was a memory test where you were given a specific letter and seven digit number to remember based upon your bib number. I'd never done one of these at a race before and it was challenging to locate my particular code and start repeating it to myself in order to recite it later in the race. Some folks had markers to write it down, but that was considered "cheating" and we were told that it would be frowned upon. I was able to recall mine at the challenge point, but others who couldn't had to do burpees.
The terrain of the venue was full of cacti with long, nasty thorns as well as spiny yucca plants and sticker bushes. Crumbled sandstone makes for unsure footing at times also, so actually just the running parts required constant vigilance and it was a "technical run". Because we were running through fields and pastures, we had to cross many barbed wire fences and Spartan made each fence crossing interesting with different types of A frame obstacles.
The barbed wire crawl was on a slightly downward slope but instead of mud it was full of dustbowl style dirt, sharp rocks, cacti, and yucca plants. The wire was low enough in areas that I had to lift it with my hands in order to duck under. This obstacle took a lot of flesh with it.
The bucket and sandbag carries were on some of the most aggressive grades I've seen, and the footing was in question most of the time. They were incredibly challenging and people took many rest breaks along the way just in order to complete these two obstacles.
There was a long swim across part of a lake that also was a good challenge. Flotation devices were offered and there were divers in the water which was good because the water was so cold, it was very long, and swimming in your gear and shoes is much harder than what most folks are used to. I saw many racers running out of gas before the end and being towed to shore by others. Immediately after coming out of the lake was the Hercules hoist. Soaking wet runners have a tendency to make the ropes wet, so this was a true challenge also.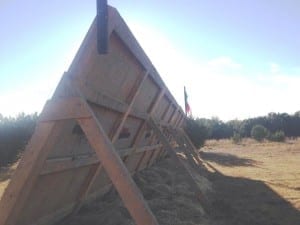 Making a return from being absent at last week's Carolina Beast was the Tyrolean Traverse. Long ropes stretched out across a cold, muddy pond. People either hung suspended underneath like scooting sloths or dragged themselves across the top. If you were good enough to reach and ring the bell you could continue along and not go into the water at all. Everyone else got a muddy, refreshing dip in the water.
After hopefully repeating the memory test correctly we proceeded to the Spear throw which is one of the most failed Spartan Obstacles. The spears were once again tethered to strings so that the next person could reel it in and do their throw. I love the spear throw, yet HATE the strings. Many people fail this because the line gets twisted, or tangled, or they're actually standing on it. It should be viewed as another twist to this obstacle and confronted and dealt with because it seems like the strings are going to stay.
After running through 13 miles of hills, cacti, and obstacles you found yourself back in the Festival Area and the Inverted wall was at the beginning of the final gauntlet. Spectators enjoyed being able to watch the racers tackle this challenge, then proceed into water, the slippery wall, and the Fire Jump. Cheers of encouragement helped people cross the Finish Line and racers received their Beast Medal, a protein drink and bar, a banana, water, and a ticket to redeem for a Finisher's Shirt. Trifecta Winners were directed to a tent where their race results were checked and they received their Double, or Triple, or whatever Trifecta Medals. Spartan seems to have come away from offering the Single Trifecta Medal this year which is a huge shame. The 3 pie pieces will join together via magnets (which very often fall out) but there isn't a single Trifecta Medal given out that you can hang around your neck. This is a true shame and should be reconsidered. Sure, you can buy the gorgeous $20 metal "Tri-pie" holder to put your pieces in, but you still can't hang that around your neck.
Spartan Beast Rating 5/5
---
Sunday's Sprint Race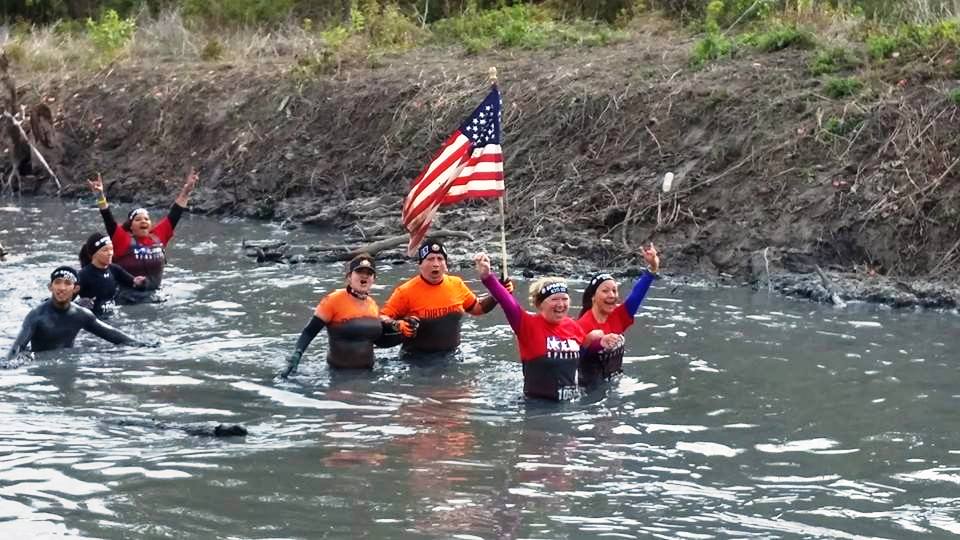 Sunday's Sprint was just a little bit warmer and on the same course, but with detours that cut the length while negating a lot of the great obstacles from the Beast. Gone were the Hercules Hoist, the Sandbag Carry, the Bucket Carry, the Lake Swim, and the Barbed Wire Crawl, among many others. Some of those needed to be eliminated in progressing downward in difficulty, but the barbed wire crawl has always been a Spartan signature obstacle regardless of distance. There was still the Dead Fish Pond and the Spear Throw among some favorites, but we even had the Memory Challenge without having a place where we needed to recite it at the end. Kind of a bummer, actually. The Sprint was a fun OCR to run, but somehow it just didn't seem to feel Spartan enough. Maybe running a short race the day before a long race would be a better way to go so that racers don't feel a huge letdown if they do both events back to back.
Spartan Sprint Rating: 3/5
---
Overall the Dallas Spartan Weekend was a huge success. Based upon Bib numbers more than 12,000 people registered for the two days, and that signifies a large amount of people who created memories that will last them a lifetime.
Overall Texas Weekend Spartan Experience Rating: 4/5
Did you do the Spartan Race in Texas? Share your review!