Sunday was finally here, this was one of my longer, harder, and best weekends, so far, Tough Mudder was going to be my third obstacle course of the weekend in three different states (two on Saturday and Tough Mudder on Sunday).
I arrived early to the preferred parking with the intentions of taking my time to get ready and dressed to run the course. This was my second Tough Mudder so I was very excited to know I would be able to take the Legionnaires loop this time and do the "Fire In Your Hole" obstacle. As I dressed in the parking lot, I was pretty impressed to see the large turnout for a Sunday, the second day of the event. I can't say that I was shocked because I learned at my first Tough Mudder in Maine that they have a huge following and support. I talked to a few people while I got ready, some I had never met before and others I had met at previous OCR events and everyone was excited about the course and the weather. Unlike the day before Sunday was really nice and the course would be a lot of fun to run on such a nice day.
Once I had most of my gear on, I went to the information booth and checked in and received my race packet. This was a fast process just like my first Tough Mudder. I made a point to see how the lines were moving for regular registration and the lines were moving fast and I saw no delays. I was directed to the Legionnaires booth/tent to check in and get my wristband to be able to run the Legionnaires loop! Those lines were fast as well.
At this point I checked my gear bag in at the bag check and it was just about go time. I made my way over to the starting area and had to wait about 15 minutes before we were allowed to enter the Englishtown Raceway race track, this course would be starting on the race track. We now moved to the actual pre-starting area of the race and we could hear some woman on a speaker system doing her best to hype us up. Shortly after we were allowed to climb over a ladder wall to the true starting line.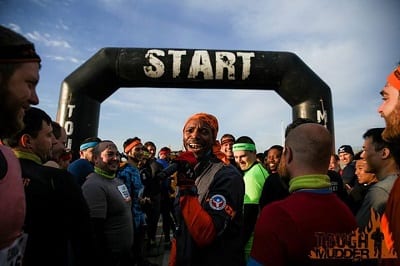 We were met by Tough Mudder motivational speaker Sean Corvelle. This was my second encounter with Sean and I was so looking forward to it, he truly is an amazing person and the very best at what he does. Right away I could sense Sean was on fire, this was the last group of the day and weekend and New Jersey is a very special place for Tough Mudder. Sean talked about these things and went on to discuss how no one is left behind. He walked throughout the crowd of participants and happened to walk right by me, I had to give him a hug and tell him how awesome he is and how much I respect him and look forward to his pre-race speeches. He made sure to ask for all the former and active military participants to stand up and we paid them our respects. He also had words of wisdom for the first time Tough Mudder's. We were now all fired up and ready to run the course and we wanted to be unleashed! They had a monster truck that lead the group out and Sean set us on our journey. I made my way over to Sean one more time to let him again know how much I appreciate him and he told me to make sure I Facebook friend him when I get home (I did).
We started out running on the blacktop on the Raceway race track and it was pretty sticky, we spent about five minutes on the blacktop before we turned and entered the dirt terrain. Right away the course was designed to get you dirty and we were in some very deep mud in the obstacle "Pitfall" and now covered head to toe with a lot of mud. Shortly after, we found ourselves at the second obstacle "Pole Dancer" and we had to cross the obstacle still covered in mud. Immediately after "Pole Dancer" we entered a large motorcycle dirt race track which had a lot of decent size climbs. This was my first chance to start helping other participants, my Icebug Acceleritas4 sneakers are like Velcro in mud and I was climbing up the dirt hills with no problems, but others were struggling so I would grab each one I came across and pull them up the hill with me. I would smile and point out they need to buy a pair of Icebug Acceleritas4 sneakers and then off I went to continue running the dirt track. The obstacle "Cliff Hanger" was on this dirt track and I was able to help several participants climb up the hill.
I exited the dirt track and I was feeling pretty good and setting what felt like a good pace, it didn't take long before I started seeing participants that began waves prior to mine and I was making sure to offer a hand whenever I could but also I wanted to run the majority of the 10+ mile course so I was trying to not stop for long periods of time. As if we didn't have enough mud on us already, the next obstacle up was "Mud Mile" and I climbed through it as fast as I could only having to stop a few times to help others. After "Mud Mile" we ran for a little bit with the race track (we started on) now to the right side of us. After a few minutes of running we took a hard left and came to a part of the course that had us run near the event area for just a brief moment. Just after exiting the event area we came to the next obstacle "Arctic Enema" and I have to be honest, I was excited to know I would be able to wash some of the massive amount of mud off my body and was not worried a bit about it being cold. Well, I did get a lot of the mud off me, but this was the last run of the day and a lot of participants had entered the Ice tank prior to me and the water was pretty filthy and cold! I still took my time while in the tank and didn't try to exit fast like most others do, just like the day before at Savage Race, MD I received some very odd faces from the volunteers (lol).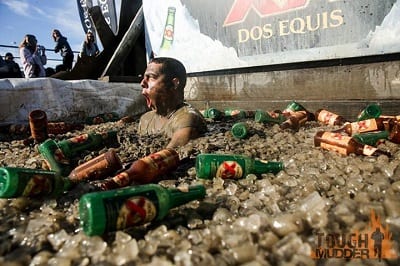 After exiting the ice tank, I was able to run for a few minutes and get my body warmed up and somewhat dried off before I came to the next obstacle "Balls To The Wall" I have been working on strengthening my grip the last few weeks so I was very excited to see how I would handle this obstacle. I was able to climb up with no problems and got to the top of the wall. While at the top of the wall I could see a girl on the rope next to me having a little a problem so I reached down and offered her my hand, she smiled so I grabbed on to her and helped her get to the top of the rope as well. On the other rope was another female participant that was also struggling and I was able to also help her get to the top. She was really nervous about climbing over the wall and was just standing at the top of the wall but not getting her leg over. I decided it was best to climb down and run back over to the other side and see how I could help her on that side. What I ended up doing is having a male participant stand on my shoulders and literately help push her over the top of the wall. This was team work among strangers at it's finest and it made me happy and fired me up to continue running at a good pace and moving on to the next obstacle. Up next was "Kiss of Mud" and I was able to get through it nice and fast as was everyone else.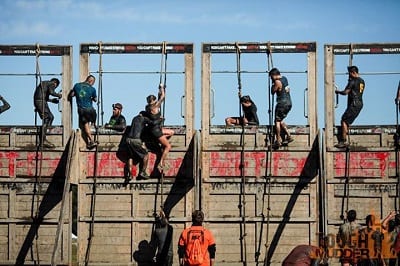 It was now time for the obstacle "Funky Monkey" I tried to dry my hands off as best I can and I started to cross the bars. I got myself to the bar just last from the very top of the obstacle and when I went to grab the next bar, I slipped and fell into the water. I was so upset with myself and when I got out of the water, I removed my hydration backpack and went back and tried again. This time I did not fail and conquered the obstacle! Up next came the "Warrior Carry" and I was running alone, so I asked the person next to me if he wanted to do it with me. The guy looked at me and said, no I rather not carry someone that weighs (215) as much as you. I looked at the volunteer and asked him what I should do and he said, you can carry me, I laughed and asked him how much do you weigh? He said about 195 pounds, I looked at the guy that refused to team up with me and said 195 pounds plus my bursitis, this will be a piece of cake and I told the volunteer to get on my back and off we went! Up next came "Berlin Walls" which I was able to climb with no issues. I made sure to help several others get over the walls prior to my doing them and then over I went and continued with the course.
I now came to the obstacle "Pyramid Scheme" which I was able to scale with no problems. Next up was the obstacle "Everest" and everyone seemed to be struggling with this one. So I helped a girl scale the warped wall to a set of helping hands at the top and then I got a running start and scaled the warped wall an grabbed on to someone hands. I looked down at the others struggling and suggested they use me as a ladder to climb up. Wouldn't you know it, the very first person to take advantage of my offer was the same guy that refused to team up with me on "Warrior Carry" I spent a good fifteen minutes at this obstacle helping others conquer it and then I was off and running again. Up next was one my favorites, "Walk The Plank", I jumped and did my patented double bicep pose on the way down!
Up next was the "Sewage Outlet" and this would end up being the one obstacle of the day that was a problem. At this point of the day I had now caught up or passed participants that started hours before me so when I got to "Sewage Outlet" the lines were pretty long. As luck would have it, I ended up on the same line as a participant that was not really ready for this obstacle. The participant took a while to crawl through the mud portion of the obstacle and when they reached the tube part of the obstacle they were very hesitant to enter. After what seemed to be over five minutes they entered the tube and started to crawl to the top of it. This as well took a while and I was going to get off the line and get on another one, but the participant's spouse said to us they were fine and would be done in a moment. Well, unfortunately that wasn't what ended up happening, the person ended up getting very scared at the top of the tube and did not want to drop into the water. At this point the people on the line next to me suggested I cut them. I thanked them and moved over to the that line. I got myself through the obstacle fast and made sure to give the struggling participant some words of encouragement.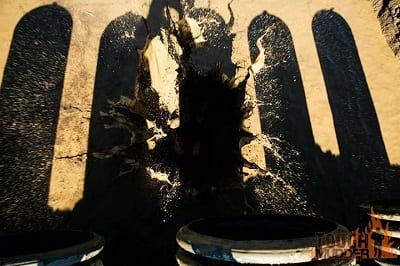 Unfortunately, over thirty minutes passed waiting at the "Sewage Outlet" obstacle and I had gotten cold and now was finding it hard to pace myself at the speeds I was prior to "Sewage Outlet". At this point the course didn't have a lot left and I was able to maintain a running pace all be it slower and completed both "Tired Yet" and "Devil's Beard" with no problems. Around this time I came to a fake version of the "Electroshock" obstacle and had to laugh and smile as I ran through it! I then came to "Glory Blades" and I won't lie, I was now feeling a little tired and the weekend was catching up to me, I was able to use the side supports of the walls and scale the obstacle myself.
It was now time for the Legionnaires loop! I proudly showed the volunteer my Legionnaires band and went on to do "Fire In Your Hole" which was fun! Up next was a series of hanging rings suspended over water with a rope in the middle called "Hangin' Tougher" I tried my best on this one, but wasn't able to complete it! I then did a series of smaller wall climbs and came to the last obstacle of the day! It was time for "Electroshock" I was shocked to see how many participants were skipping it, but I wasn't going to skip it! I approached the starting line and was looking and listening for the obstacles play by play man Clinton Jackson and I didn't see or hear him. I looked over to my friend Bob Mulholland on the other end of the obstacle (he was the photographer for this obstacle for the day) and waved. Right at this time I saw Clinton and was super happy! I made my way over to Clinton to let him know he rocks and then off I went through the obstacle. Most people were taking the stealth approach and trying to avoid the electric, not me, I went balls to the wall and ran leaping over every hay-bale. I got electrocuted a lot of times!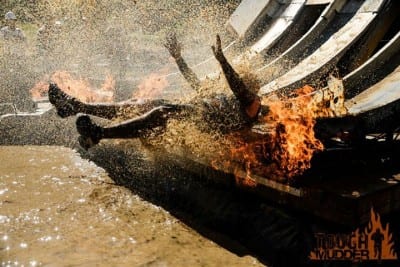 After "Electroshock" I made sure to talk to my friend Bob and was very happy to be done with the course and my long weekend! I then went and got both my headbands (orange and green Legionnaires headband)!
After the course I had a chance to talk with Tough Mudder's Head of Communications Ben Johnson. Ben ran the course himself on Saturday! He gave us some stats from the weekend:
20,000 People on Site for Tough Mudder Tri-State
12,000 Participants Saturday
5,000 Participants Sunday
5,000 Spectators over the weekend.
Ben said this was a great turnout for one of Tough Mudder's classic venues. He explained the Tri-State event was one of the top events by percentage of Legionnaires in 2014.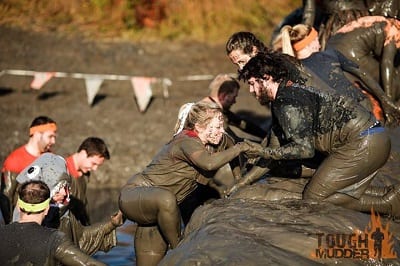 I really enjoyed the course and found it ironic the course started out on a very sticky blacktop as most of the day was spent in a deep mud that was not easy to move though very fast. My only slight negative for the entire course was at the "Sewage Outlet" and the above explained delays, I think the volunteers, the participant, and myself and others on the line could have done a better job at how we all handled the delays and for that reason I am not going to deduct any points from my rating of this event/course.
The schwag was nice as always, I received two headbands, a really nice finisher shirt, some good beef jerky, and a good amber beer.
I am going to rate this event a 4.9 out of 5 stars and look forward to many more Tough Mudder's in 2015! As always, I want to thank MRG and Tough Mudder for such an awesome day!
—–Walter F Hendrick (Sandy)—–
Did you do Tough Mudder Tri-State this year in New Jersey? Share your own rating and review! 
---
This article is dedicated to Bob Mulholland's mother Joan J. (Pastor) Mulholland. She passed away only a few days after the event on October 15th 2014. Our thoughts and prayers are with Bob, his sister Lori and the entire Mulholland family.