Participants: Myself and my husband Ryan Fick.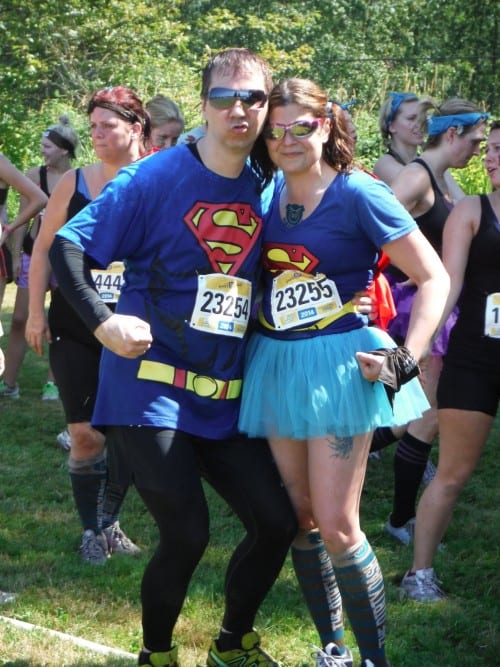 Obstacles:
2 large mud holes (one with a deep drop), wall climbs, over and under pipes, beer chug, large water slide, rope climbs over walls, cargo net climbs, inside pipe crawls, areas of sprinting, mud minefield (running through a large pit of water with mud being shot at you), foam spray, lots of water spray areas, second large water slide, and a huge mud pit area just before the finish line. There was a lot of good clean dirty fun on this course. The obstacles were well planned, and spread out nicely on the course.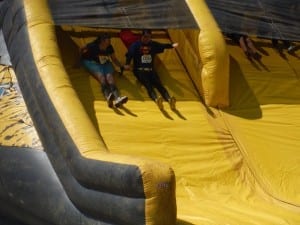 Pros:
Lots of mud and water related obstacles. It was hot and sunny weather during our dash and the combination of mud and water helped keep us cool. There was also a section of trail running through some trees that helped keep us all cool. The obstacles were spread out nicely, and I was honestly surprised at the quality of the obstacles. Although there was lots of wall climbs (2 sections of three walls each, and 2 seconds with rope climb walls), I found it to be quite challenging.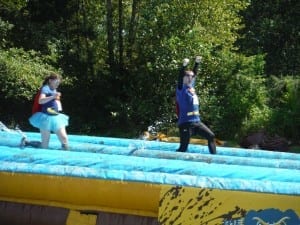 This was a very family friendly event, and we saw lots of parents with their kids, and lots of teams helping each other and cheering everyone on. At one point there was a guy in costume who stayed at the climbing walls on one knee to help people over the wall. The beer chug on the course was a new obstacle for me. It was about 20 minutes into the race and was very welcomed and refreshing. I also loved the amount people that were dressed in costumes to run the course. Myself and my husband both wore Superman / Superwoman costumes but there were people dressed as brides, Hawaiian hula girls, fairies, lots of men and women dressed in tutu's, and of course lots of teams in matching tanks / shirts.
The giant waterslides were a big hit with most participants. At this obstacle, you got to see people become kids again, and just have fun flying down a huge blow up slide. After you crossed the finish line, there was a specific area to get finisher pictures with the professional photographers. He took a few shots: one with us being strong, silly, and of course proudly displaying our bib numbers.
After a race, I am all about the merchandise, and I have to say it was reasonably priced, although by the time we were done most of the smaller sizes were sold out. The music and atmosphere was really positive, and there were lots of cute motivational signs on the way to the starting area. The hose off area was very large, and although we had to wait a few minutes to get hosed off, the cold water was very welcomed. I was also very impressed with the quality of the pre-race swag that was handed out. I purchased a $7.00 tutu to run the race in, and it held up the entire time, brought it home covered in mud and water but it did not get ripped or torn at all. The race shirt that was part of your package is nice; it's light and very comfortable.
Cons:
Getting to the venue was tough. It is in an area surrounded by lots of farm area, and there was only one road with two lanes (going to the venue, and coming out). This made for a very long line of traffic waiting to get there. We ended up having to get out of the car, and jog up to the starting line, and almost missed our heat.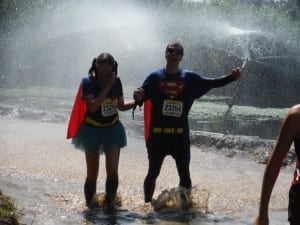 In the email received pre event, it was recommended that we show up 45 minutes early, but next year due to experience, if the Dirty Dash is held in the same place we will be leaving up to 2 hours early. During the running portion of the event, we got turned around a few times and had to double back as the course wasn't clearly marked. There was caution tape, but it would have been great to see course volunteers on the course showing us the way, or even more course related signage.
One of the mud pits had a huge drop; we discovered this as we waded deeper and deeper into the mud. To get past it, you had to swim a little bit once you hit the drop. It wasn't a big deal for us, but it was a bit of a shock thinking that you could just walk through the water / mud. A sign stating that there was a bit of a drop in this pit, to give everyone a heads up would be a good idea.
In terms of merchandise, I was disappointed in the available clothing options for younger children. They had sizes for young babies, older kids and adults, but nothing for toddler aged children. I have been to a couple of different races now in search of a shirt for my 2 year old daughter and everything is either super small or way too big. It would have been nice to see something for toddler aged children. I understand that this was more of a fun run, and as such no finisher's medal was handed out at the end of the course.
I would personally like to see in future years the Dirty Dash hand out some sort of finisher's medal at the finish line. The other thing I did not like, is that there wasn't any professional pictures included in your package. In other races I have run you at least get your choice of ½ free pictures, and had that option been available to me, I may have been willing to purchase at least a couple more professional pictures.
Quick Facts:
Date: July 12th 2014
Location: Thunderbird Show Park – Langley, British Columbia, Canada
Distance: 5km.
Rating: 4 out of a possible 5.
---
Have you done a Dirty Dash? Share and rate your experience!