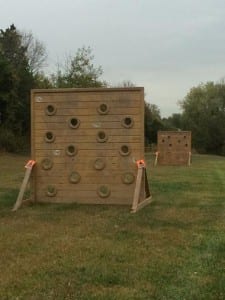 The day of the Filthy Fun Mud Run started out a cold and rainy October day. I was in the parking lot very early and wondered how many people would show on such an ugly morning. It didn't take long to see that Filthy Fun Mud Run would have a decent turnout. Quickly groups of friends began showing up to run together and even families with young children on this drab day. A good forty minutes before the first car (other than mine) arrived, buses were already lined up and waiting to shuttle participants and spectators to the event venue. The bus ride was a fun one, everyone had big smiles and all looked ready to have a good time regardless of the weather.
I exited the bus, and I immediately could hear music and the DJ doing a good job welcoming everyone arriving and providing information and it was only about 8:20am. I went to registration and was able to check in very fast and get my race packet.
I was happy I still had some of the free Frog Fuels left I received at Bone Frog Challenge the weekend before and made sure to digest two with about fifteen minutes prior to race time. I quickly put all my gear on and checked my bag in with the free bag check. I had zero time to spare and ended up hurrying up to the starting line about thirty seconds after the start of the race. I didn't even have my MP3 player plugged in yet so I started running and fumbling with my waterproof IPod trying to get it in the special pocket sewn in my shirt. I was finally able to get my IPod all set and rocking tunes and it was now time to see how much I had in the tank.
The Race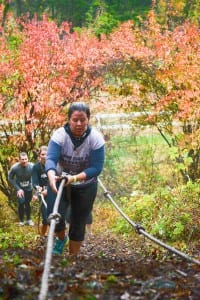 My bursitis was acting up, (the cold and rain didn't help) so I hoped the course wouldn't have me crawling a lot. I guess the course designer didn't have my hip in mind when they designed the course because it had at least three tube crawls and several under obstacle crawls. The course for the most part consisted of three types of obstacles, tunnel crawls, wall climbs, and under barrier crawls. It also had a water slide which I made sure to slide down on my stomach and face first! Another obstacle was a hill climb with a rope and when I got to the obstacle both ropes had people climbing up them, I figured I am wearing my Icebug Acceleritas4's so who needs the rope and even though it was muddy and my hip was hurting, I climbed the hill like spider pig within seconds (I love my Icebug's). The course mud pit was pretty deep and freezing cold so I made sure to get in and out as fast as I could! The course was almost all run on well packed dirt which made running not too difficult.
For most of the course I seem to run about the same pace as three women. At one point, I was able to help one of them on one of the wall climbs that really seemed to get into her head, she got to the top and froze and her legs were shaking badly. I climbed up and with help from one of her friends; we coached and helped her get over the wall. I was happy to be able to help others on the course and most of all that no one got injured.
The four of us finished at about the same time and I could already see the other participants that also completed the course with a beer in their hands. I went over and received my finisher medal and beer and talked to a few of the participants, including Todd McDannell who is a beast and runs a lot of OCR's.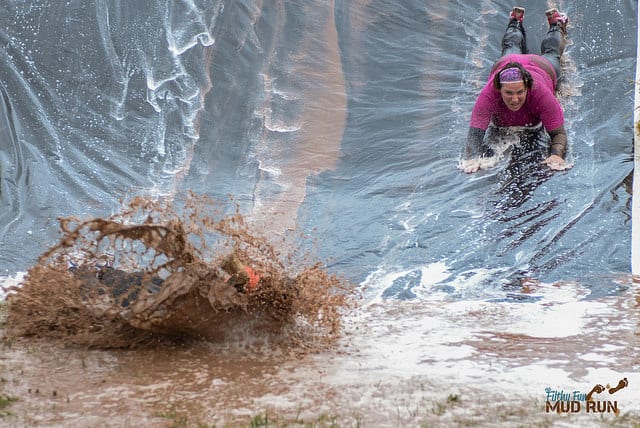 Overall Feelings
I personally enjoy when I get a chance to run smaller OCR's that attract local participants and spectators looking to have fun with friends and family and are not as intimidating as the bigger OCR's and that is exactly what Filthy Fun Mud Run is. I witnessed a lot of children with big smiles and parents enjoying time outdoors with them and the weather did not hamper attitudes at all. I was also very impressed with the staff and volunteers, as everyone was very polite and the event as a whole ran very smooth.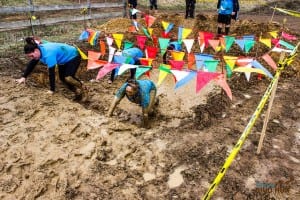 Anyone looking to run a fun and very doable OCR should keep an eye out to see if Filthy Fun Mud Run comes to their area. The price is very affordable, the course is a challenge, and this is a great event for first timers and people like Todd that are looking to have a good time and keep themselves fit and ready for the larger OCR's.
The schwag was nice, the medal may not be the biggest or most flashy I have received, but it's still a medal and bling! The shirt is a dry-fit shirt and it appears they change the shirt color every year, with this year being green. I was able to buy a second (black version) shirt for $1 as it was a shirt for a previous year.
I enjoyed the course but would maybe like to see them add a little more variety in the future, but with that said the course was a challenge and well worth my time! I am going to rate this event and course a 4.5 out of 5 stars, I had a good time and look forward to my next opportunity to run a future Filthy Fun Mud Run race. 
Filthy Fun Mud Run Race Rating: 4.5/5
---
Have you done a Filthy Fun Mud Run? Share your experience and rate it for yourself!