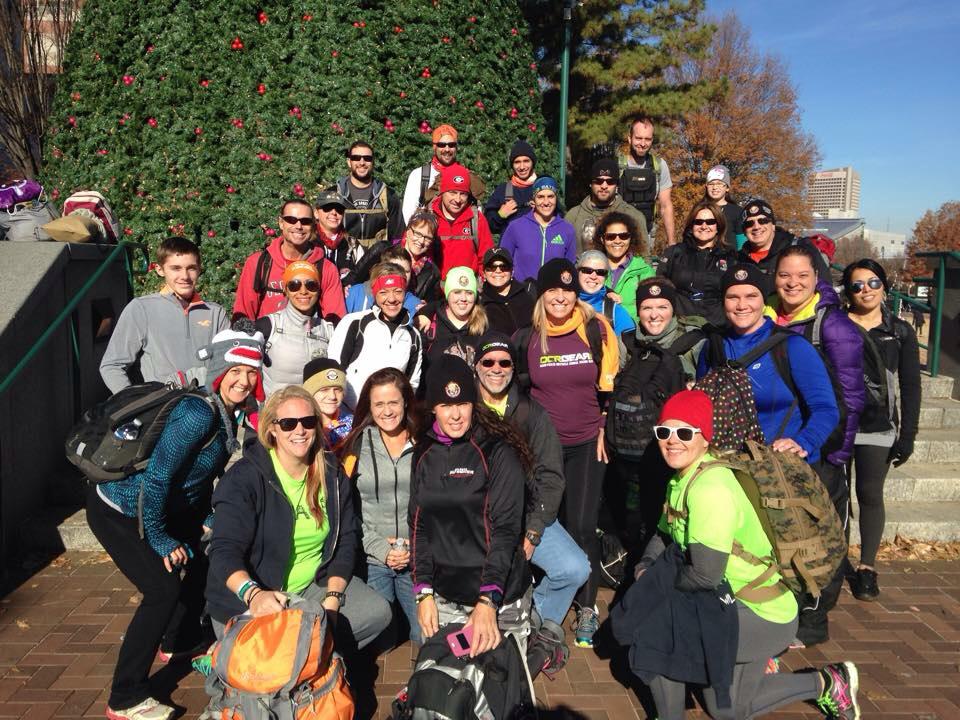 For the first time ever, the OCR World Championships organized groups of "Ruckers" in cities all over the country to participate in a "Rucksgiving" where people would carry food, warm clothes, and care packages in back packs and bags on the Saturday after Thanksgiving and give back to their communities by donating these items to shelters and homeless people on the streets.
Atlanta Event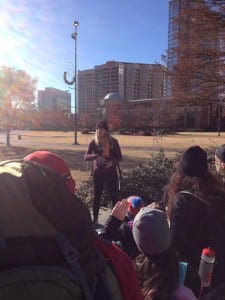 The Georgia Obstacle Racers and Mud Runners (GORMR) supported this initiative organized by GORMR Team Leader Delaine Anderson , but many people joined the group that had never done a Mud Run before and merely wanted to help people less fortunate than themselves. Anderson mapped out a route for the group from Centennial Olympic Park of around 5 miles that would take the ruckers past several downtown Shelters and give maximum exposure to our efforts to feed the homeless, but by the end of the day we actually covered 7.5 miles.  It was a beautiful and chilly morning as we gathered around the Christmas Tree to head out into the city's "mean streets".
The Ruckers
We started with full packs of canned goods, waters, and care packages, and some people were very heavily loaded down with supplies.   There were 35 of us when we started and our ranks included several children there with their parents in an effort to foster community service among young people.   Our burdens got lighter as we progressed and gave out our donations, so no one complained about being tired, no matter how far we walked.
The Route
From the moment we left the park our group encountered street people in passing and gave them food and care packages. We donated canned goods, water, and clothing at the Salvation Army, Atlanta Union Mission, and the Peachtree-Pine Homeless Shelter, just to name a few. The crowd of homeless people congregating outside the Shelter on Pine Street was rather overwhelming. We were literally walking in their "bedrooms" as we gave them food, hygiene packs, and warm clothing next to the pallets where they sleep each night along the sidewalks. I've lived in Atlanta for over 40 years and had no idea that this many people lived outside on the streets just blocks away from the Fox Theatre and Atlanta's thriving business district. It was a moving display of the needs of our community.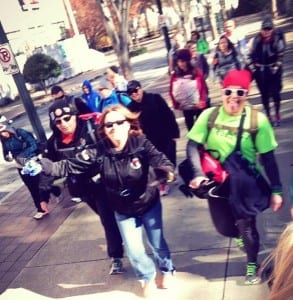 Next Year
Every person who participated left with a deeper appreciation for their own blessings and the need to reach out and help people more directly. We are already planning next year's Event and are working to get more people involved so that we can help more people. The local News Stations ran stories about Rucksgiving, and hopefully the exposure will yield more donations and more Ruckers for 2015.
---
Editors Note: This is the first of two articles on the OCR World Championships initiative this Thanksgiving called Rucksgiving. We will be featuring our story on the other cities that participated throughout the country next week. 
Did you participate in a Rucksgiving event? Share your experience in our comment section and let us know where you participated and what it meant for you!
---