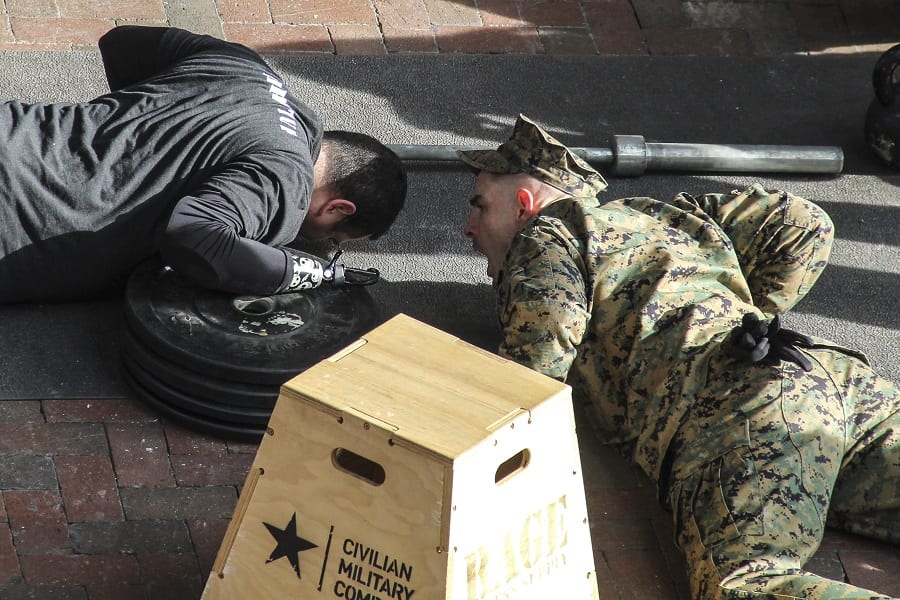 This was my last scheduled event of 2014 so I was very excited for this one. The event diverted from the normal Civilian Military Combine (CMC) format, which typically begins in the "PIT" and then has the participants run the 4+ mile CMC obstacle course. Unfortunately, CMC was unable to close down city blocks in Baltimore and had to remove the obstacle course portion of the event. Instead adding additional PIT challenges to replace the obstacle course. My CMC contact made me aware of this and explained that I was still welcome to come participate, but I would have to bring a teammate. I contacted my friend Raymond Figarella and he was able to come and do the event with me. CMC also matched up teammates for those that came single without one.
Instead of just the one typical CMC PIT challenge they added two additional PIT challenges that would have competitors running, carrying, pushing and clawing through the Baltimore Harbor's Power Plant.
The PIT:
The first PIT challenge was the ARMY challenge which started out with a "buy in". Teammates had to do four rounds of 15 Dead Lifts and 10 Shoulder-to-Overheads with the teammates choosing how to split up the exercises with one partner resting while the other completed the exercises.
Raymond and I opted to switch when one of us started to slow down or had difficulty. The PIT was much harder than expected, I train hard and do a lot of lifting, but do not train in a CrossFit gym so this style of events was new. After Raymond and I completed the four rounds we sprinted 100 meters to the next part of the challenge.
The next part of the challenge was scored using an AMRAP (As Many Reps As Possible) scoring system and consisted of 50 KB swings, 50 box jumps (20"), and then 50 sandbag squats with a fifteen minute time cap for the entire challenge. Our strategy was to have each of us do twenty five reps for each exercise for the first set, then take over for each other once we started to slow down. Neither of us have trained for these three movements but afterward we felt we did a good job, but clearly would not be challenging others for a top three finish overall. After the fifteen minutes expired, we had about a forty five minute break.
Challenge Two ・ CMC: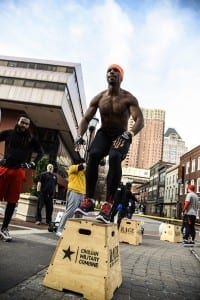 The second PIT challenge was the CMC challenge which did not include a "buy in". This challenge consisted of ten minutes AMRAP and each teammate had to complete each movement before we could continue on to the next. The movements were 5 shoulder-to-overheads, 7 burpee box jump overs, and 9 KB swings. For this challenge we had no team strategy because we both had to complete each exercise to be able to move on to the next. With no "buy in" and this only being a ten minute challenge it was the easiest of the three challenges. After the ten minutes expired, we again had about a forty five minute break.
Challenge Three ・ NAVY:
The third and final PIT challenge was the NAVY challenge and again had a "buy in". The "buy in" was four rounds of 15 burpees, 10 ground-to-overheads, and 15 hand release pushups with the teammates choosing how to split up the exercises with one partner resting while the other completed the exercises.
Our strategy for the "buy in" was to have Raymond do the majority of the burpees and then we split the lift doing five reps each and I did the majority of pushups. I don't do hand release pushups normally so it was a little bit of a mental challenge to do them. This strategy worked well until the final round and took turns doing some of the burpees in the final round trying to conserve energy. "Buy in" done, we sprinted 100 meters to the second part of the challenge.
The second part of NAVY was an AMRAP that consisted of 50 back squats, 40 sit-ups, and 30 burpee box jumps (20") with a fifteen minute time cap for the entire challenge. The only difference from the first challenge was both teammates worked simultaneously. While one teammate completed the exercises the other performed a sandbag carry and teammates chose when to switch tasks. Initially we opted to, just do one lap with with the sandbag and switch to stay fresh. We started out doing this, and I took the first sandbag lap while Raymond did the exercises. We then swapped and I took over doing the exercises. Raymond did his lap and started to come back over to swap again, but I was feeling really strong and instructed him to do another lap with the sandbag. The fifteen minutes seemed to go fast and before we knew it the final challenge was done and we had completed the entire event.
Overall Feelings: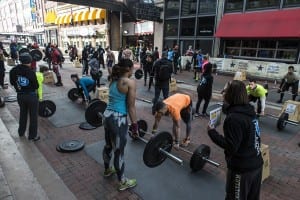 CMC is one of the OCR events I had much anticipated for 2014. As it turned out they couldn't put on the obstacle course part of the event and decided to add two additional PIT challenges and make this a very unique event. I am always looking for something different, so the change allowed me the opportunity to take part in an event very different than I had so far.
Raymond and I had a blast and we both agreed we were very happy we went and took part in the event. From start to finish our experience was awesome. We had time to take advantage of the free ROCKTAPE booth and get kinesiology tape applied to some sore body parts. The ROCKTAPE booth was run by Dr. Jenn Davis, DC and her awesome staff. I love to get free ROCKTAPE whenever it's offered at events, and Jenn and Jason were so friendly they made the experience even better.
I had the chance to talk with CMC's CEO and Co-Founder Keith Gornish and I was very impressed by him. Keith and his partners Matt Keller and Sean Rogers clearly want to put on a great event every time and wants to hear from their Combiners to learn ways to improve. He also never stopped the entire day, he was running around making sure everything was going smoothly. On several occasions during the challenges he came over to give us words of encouragement and provide tips on how to better complete each exercise. We also talked about the changes to this specific event and having to remove the obstacle course portion and he made it very clear it was important to him and CMC that they informed all the athletes prior and give them the opportunity to request a refund.
The volunteers at this event, were amazing! The volunteers that work in the PIT are not the typical OCR volunteer each one is trained to recognize and score movements properly, not a simple task, and CMC executes it well. Every volunteer I talked to was amazing and it really made for an exceptional overall event and experience. I talked with CMC's Director of operations Nikolay Venev about volunteering and he explained the volunteers get to run either the event they volunteer at or a future event. Volunteers also get some cool schwag and a free meal. For this event because all the PIT work took place outside on a colder day CMC also gave each PIT volunteer a really cool CMC zip black hoodie. I am a huge fan of the volunteering system that allows volunteers to run the event for free and it's a win for everyone involved and strongly suggest everyone take advantage of this opportunity in the future.
The Schwag:
The schwag for this event was a customized dog-tag that that indicates which CMC event you took part in, a nice gray CMC T-shirt, and a "The Vitamin Shoppe" branded drawstring bag. I also was able to get a CMC bumper sticker and a CMC rubber wrist bracelet for free from the sales area.
Overall Event Rating:
Although the event wasn't what I originally thought, it was awesome from start to finish. The staff, volunteers and participants all were great and have no complaints about the day. I am rating this event a 5 stars out of 5. I look forward to doing the normal CMC event next year, but I am grateful to do this unique CMC event. I even pointed that out to my friend Raymond on the way home, we and the other teams all took part in something that CMC doesn't normally offer and that I think that is something to be proud about.
Event Rating: 5/5
---
Have you taken part in a Civilian Military Combine? Share and rate your own experience.
---