EXPLORER CHICK
As a fellow traveler, OCR runner  and adventure-enthusiast, I am excited to share, an up and coming company that caters to women who are looking to break out of their comfort zones.  It all started with the vision and passion of founder and CEO of "Explorer Chick,"  Nicki Bruckmann.  I had the pleasure of interviewing Nicki to learn a little more about her and what makes "Explorer Chick" stand out from any other adventure travel company. 
THE FOUNDER
We all have that moment in life where something clicks and you find your calling; your passion. For Nicki, it happened in 2012 with a little help from her brother's suggestion of running a Spartan Race. Feeling like she was in decent shape, she agreed, not quite fully knowing what she was getting into until after watching the promotional video. On race day, as she faced 40 degree weather, she experienced one of the most rewarding parts of OCR besides finishing: the camaraderie. While out on the course, she was encouraged by fellow runners and helped over difficult obstacles. This day, this race. fundamentally changed Nikki. She stated, "At one point on the course I stuck both hands in the dirt and swiped both of my index fingers across my cheeks in true warrior fashion. It just seemed right. As someone who sat in an office for 8 hours a day, it was the primal, gritty, challenge that I needed. It made me feel human. It made me feel strong. And I wanted more."
Nothing could stop Nicki after that race. She went on to complete the Spartan Trifecta and become an active member in her local OCR team, the Crazy Mudder Muckers. She began blogging about all her training and races. She became that crazy racer chick with muddy pictures all over Facebook.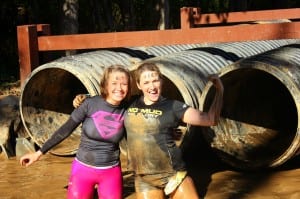 Outside of OCR, Nicki says this of herself, "I am an Explorer. I am the cat that curiosity will kill. I live the frustrating life of someone who must always be entertained or learning something new. Stagnation scares me. Regret scares me even more. I love adventure. I'm a leader. I'm funny. I'm fun. And people will attest to it. I'm more often than not, accidentally entertaining (read: uncoordinated). I cherish my laugh lines. I have an unbelievably strong faith and trust in people. I love training. I love cranking up my music turning my love of cooking into a simultaneous dance party. I can spend hours in the woods or lying on the ground looking up. I value respect, trust, honesty, and accountability."
After learning a little about Nicki, it is clear that she found her calling and wanted to share it with the world. She combined her love of OCR and adventure with her lifelong goal of becoming an entrepreneur. She did what a lot of people are afraid to do when life gives them obstacles…just like her Spartan race, she made the commitment and went for it! It was obvious to me that Nicki truly cares about this company, but I still wanted to ask Nicki why "Explorer Chick" was important to her? She responded with "Because I know amazing things will happen for the women who go on Explorer Chick trips. They will inspire or be inspired through the women the meet, the challenges they conquer, or the deeper meaning and gratitude they find in their lives. "
THE COMPANY
Simply put, Explorer Chick is an adventure travel company for women. Explorer Chick creates guided trips with itineraries that will have you doing things you either always wanted to do or never imagined yourself doing while creating a supporting community of like-minded women. The goal is inspiration. As far as the actual product, each trip is well thought out and planned, so each woman just has to show up.
Nicki says, "What we do is we remove the worry and stress of the details, allowing each woman to truly take a vacation, let loose, free her mind, and enjoy herself. We provide transportation for everyone to the races and the various excursions, most meals are provided, a schedule will be handed out the first night, plenty of free time is allotted so as not to feel like a strict bootcamp, vendors/lodging/activities are all researched and called upon, we arrive to the destination early to iron out any last minute details. We work hard to serve an amazing experience on a silver platter. Our goal is to inspire and be inspired. Going to an all-inclusive doesn't change lives, but an Explorer Chick adventure will."
There are 2 types of trips offered by E.C.: Race & Adventure and Yoga & Adventure. You do not need to be an experienced OCR for the Race & Adventure Trips. You do not have to be a Yogi to go on the Yoga & Adventure trips. The essence of the Explorer Chick, after all, is doing new things. Group size varies from 9 to 25 girls depending on location. 
WHO IS AN EXPLORER CHICK?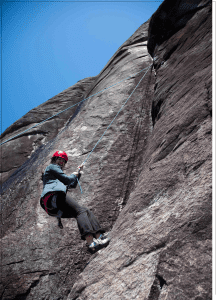 I had to ask Nicki what some of you may have been wondering…..what about the guys? This is one of things that sets E.C. apart. No boys allowed. It's all about women, whether they are in their twenties or their fifties, there really is no defined target age. The one unifying factor in an Explorer Chick is she goes all in. Nicki further says this of an Explorer Chick, "She wants to experience adventure and life. And, yes, she may be scared. Heck, I'm still scared of heights despite having jumped out of an airplane, leapt off my fair share of high surfaces over water, and climbed over that cargo net at the top of Mt. Killington during the high winds this past September. But an Explorer Chick is courageous. And each trip will be a community of women who will certainly encourage and support one another. The varying ages and experiences of the women on an Explorer Chick adventure will enrich the experience. We will be instantly bonded together by the shared physical experiences on the trip and each woman's zest for life, but what each woman brings to the table from her personal life will really make each adventure profound."
Learn more about what makes an Explorer Chick at: http://www.explorerchick.com/adventure-blog/whats-in-a-name 
WHAT ABOUT THE TRIPS??!!
In the Race and Adventure category, there are are four trips to look for in 2015. 
Miami Race and Kayak Adventure, which includes the popular BattleFrog race on Saturday; Yoga and Surf or SUP on Sunday, Kayaking in the Everglades on Monday, with a free day onTuesday. 

Carolina Raft and Race Adventure, which will have white water rafting down the Chattooga River, Zip-lining with lodging in Yurts. Then you will travel to Columbia for racing on Saturday and Yoga on Sunday. 

Cincinnati Rock Climbing and Race Adventure where you will spend a couple of days in Red River gorge for rock climbing, hiking and swimming and then racing a Battle Frog at the home of the 2015 OCRWC.

Austin Texas: In the works!
In the Yoga and Adventure category, there are two trips on the agenda:
Las Terranas, Dominican Republic. Here you will spend a week in villas on a mountain overlooking the ocean. The mountain has a cave in the side of it, which the owners built out into a beautiful, open-aired yoga studio. Trip includes 4 yoga practices. You will travel to Samana Bay to spend a morning watching Humpback whales where they migrate yearly to mate and calve. Then you will cascade down a series of waterfalls and experience ziplining. There will be plenty of free time to explore the beaches or relax by the infinity pool. 

Miami, Fl trip will be added soon and will be in congruence with the Miami Race and Adventure weekend in February. The Explorer Chicks on the Yoga trip will spend the afternoon snorkeling through a shipwreck and coral reefs at Biscayne National park on Saturday instead of racing the BattleFrog. 
One can expect changes on a year to year basis which could mean anything from new destinations, elimination of destinations, or new excursions. At the same time, there will be some trips that remain the same year after year. Explorer Chick is always listening and open to ideas. Feel free to drop them a line on their Contact page on the website. 
Pricing varies depending on the destination. Each is priced appropriately for the destination and the service provided. With each trip, you have 1 to 2 Explorer Chick guides who will work hard to make your vacation memorable and carefree. 
As far as the adventures go, Nicki says, "Oh, the adventures to be had are endless! We're just scraping the tip of the iceberg so far. Right now we are doing everything from Whale watching to Kayaking with Alligators to Jumping off waterfalls to ziplining to racing one of the best OCR series in the industry to rock climbing to white water rafting to snorkeling. I have a vivid imagination, an infinite amount of determination, and a "What the hell" attitude. I can promise adventures of epic proportions. ☺"
EXPLORER CHICK AND OCR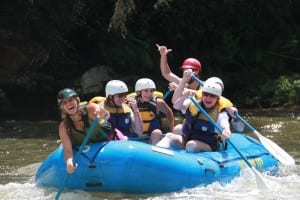 The stand out characteristic of Explorer Chick is that it's the only Adventure travel company where you get to race a premier obstacle course and go on some amazing adventures in the span of several days with women you may not even know. Explorer Chick is also good for the OCR industry.  Nicki says, "I meet so many people who tell me they want to do one [OCR], but do not have anyone to race with them. Explorer Chick lowers that barrier inviting more women to try an OCR. They may sign up for the trip alone, but upon arrival they are immediately immersed in a community of support. Another scenario is maybe you have that one friend who you are begging to try an OCR. You know deep down in your heart, that she will love it. Now you can sweeten the pot." 
Currently, Nicki is only working with BattleFrog on the OCR side of things. She chose to work with them because she believes they are a real stand out operation. Nicki says of BattleFrog, "Every interaction I have had with them has been positive. They believe in the industry and understand the true potential of the sport for both Elites and your average racer. Their announcement on Wednesday (12-18-14) regarding their prize purses and Championships, only deepened my belief in them and reinforced my decision to work with BattleFrog. As far as other OCR companies, I would certainly be willing to work them. I use discretion when planning my own race schedule focusing on races that I know will be challenging, fun, and worthwhile. This same discretion would be applied to any other companies we choose to partner. And I definitely want to get an international race on the schedule." 
THE FUTURE OF EXPLORER CHICK?
You can expect to see Explorer Chick expanding to more states and countries. They are currently working on a Yoga trip to Belize and a trip to Austin, TX for 2015. 2016 may even bring Nicaragua to the schedule. Nicki plans to do some independent traveling this year to research new areas and adventures. "As demand grows, so will Explorer Chick. To grow year after year, we must stay fresh and we will."
I don't know about you, but I fell in love with Nicki's story and her idea to unite women and empower them through camaraderie and challenge. With 2015 in sight, what better way to make a change than to challenge yourself to fun and adventure? So what are you waiting for? Gather your girlfriends and go to www.explorerchick.com to plan your trip.