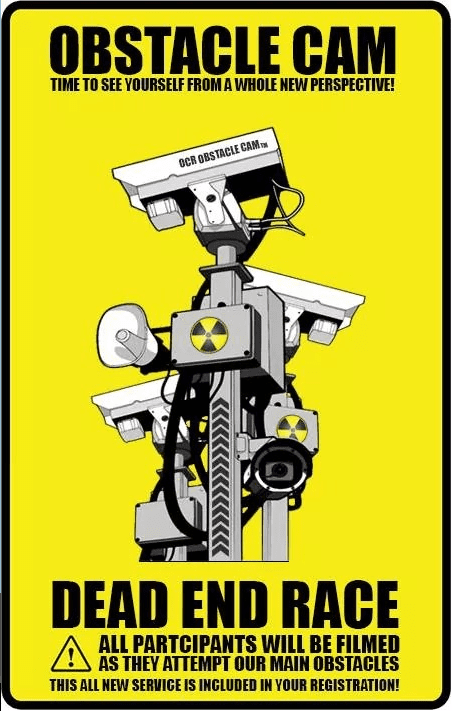 Marketing Director Brian Townsend for the Canadian based obstacle races Dead End Race and Super Splash 5K Race announced recently that both events will be featuring OCR OBSTACLE CAMS a new service free of charge to all participants.
Adrenaline Event Promotions has added OCR OBSTACLE CAMS to their main obstacles at each event. In addition to the race day photos, custom bibs, and swag already given at each event now participants will be able to receive hi-def video of them on signature obstacles.
Teams will have HD video cameras positioned on several of the events premiere obstacles. Points of view will be like be nothing seen before and all racers will be filmed at select obstacles for complete minute-by-minute coverage!
Cameras will film every participant as they climb, crawl, jump and/or splash. Participants will be able to see themselves and teammates on these obstacles and share adventures with everyone afterwards. These videos will be published online for all to see in the week following the event.
This free service will be offered to all participants of The Dead End Race on June 27-28, the Dead End Race – Apocalypse on August 30th, and the Super Splash 5k race on August 15th!
About Dead End Race:
The Dead End Race is a Canadian obstacle race and endurance challenge. Our team has created 50 obstacles on a 12km advanced course. Each and every obstacle will test your limits and determination like no other while keeping with The Dead End Race's idea of original and unique obstacles. This will be the ultimate challenge and it will be a medal you will cherish the rest of your life.
About Super Splash 5K Race:
Super  Splash 5K Race is a Canadian obstacle race for adults, young adults and kids ages 8 and up. The 5k SuperSplash has slides, tunnels, walls, floating structures and mazes.