Rachelanne Gladden covered the 2015 Fuego y Agua Survival Run on the ground for us during the event. She recaps her experience and the race.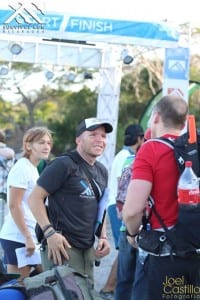 I would say this race was unlike any other Fuego y Agua Survival Run event before it, but unless you have been there before, that means nothing. If you have been there – it means everything.
As usual, upon arrival to the island, getting acclimated to Ometepe Island is tantamount. Where is HQ/The starting/finish line from where we are staying? Where is the hotel where the party is at? Where is the hot water??? Once all that is worked out, the gathering of the crazies can begin. Some met Christopher (Accord) and I at the airport, but the big reunion happened the evening before the race – and it was, as always, amazing. Seeing faces we know, and others we only knew from Facebook – you are instantly bonded, or rebounded by the 30 or so hours that lay before you. Whether staff, volunteer or racer – you will all be on that island together, and you will all need each other.
The next day people gathered at Villa Paraiso where the start and finish of the race would be. Calories consumed and delayed hydration hastily attempted, the racers began to make their way around 4pm, to Check in and then gear check, where the volunteers had the very difficult job of taking anything away from the racers that was NOT on the gear list. Dry bags? Paracord? Flint and Steel? Nope. Sorry. Everything you would need was on the list, and not a thing on that list was extraneous. If you made it through every challenge, every item would be used.
Five pm sharp, and Josue Stephens, Race Director and creator of Fuego y Agua events took the stage and began to explain what the racers would need to know as they funneled into the starting corral. Ending with a group chant of "If I get hurt, lost, or die – it's my own damn fault!" and they were sent down the beach to their first challenge – Bib procurement.
Bib Pickup
Anyone who has done a Survival Run before, or has known anyone who has done one, or has paid the slightest bit of attention to the chat pages, knows FYA does bib pickup like no other race. As happened last year, the racers swam out to the affectionately and aptly named Birdshit Island where they received their bibs. This time however, they were given an egg AT the island, and were informed this egg must be unharmed throughout the race and would be checked at EVERY challenge point. Egg gets cracked or broken? Find a street-side vendor willing to give or sell you one, or you will not continue on. Several clever racers bought a couple eggs at the first glimpse of a produce stand as insurance for later. You know your seasoned Survival Runners fairly early on in this race. Once they reached land they had to find the tree with their bib number and cut down a bundle of plantains and hump them back down the beach. Teams, as with most challenges from this point on, only had to share one load. And while this was a seemingly huge advantage, it did not change the fact that this was going to be a hell of a ride for everyone.
The Race
At this point, it was dark, and as the racers collected petroglyph rubbings at each challenge (an amazing keepsake for those who would not collect an idol that day) the first idol had still not been collected. A tank dive to retrieve a heavy rock with their slingshot bands attached, and wet and tired, they began their trek up Volcan Maderas, which claimed the race of several athletes. Those who completed the dark, muddy, treacherous trek and lagoon swim, were awarded their first idol – FAIL.
Things did not get any easier after that however. They came down to take a hike up to several more difficult tasks, including rolling heavy boulders up and down hills, filling their burlap sacks with gravel or sand and taking it up a steep path to leave at the top, just to come down again and repeat four more times (again, teams could split the load or take breaks and just follow their teammate so that they were not out of sight) and cut a large length of bamboo with their hacksaw blades (no easy task) that they then had to carry to the next big challenge. This is where we lost most of the racers to their DNF's. They either called it quits after an incredible personal race, or continued on without their bamboo, or with it, knowing the time hack was creeping up on them quickly. The racers were bruised, bloodied, stung, bitten, sunburnt and truly inspiring. When they finished their long trek to the water, most of the remaining racers were without their bamboo and could not do the tree climb for the petroglyph rubbing and could not make the raft needed to go out to the island to collect their second idol. Some stopped there, while others continued anyway and made their way to what was arguably the toughest part of the race – the coastal traverse.
At this point, we were down to just a smattering of athletes left who could potentially finish and only three (Paco Raptor, Chris Shanks and SR first timer badass Mark Wheeler) with all of their challenges completed. Those that completed the traverse in time, came out at Punta Gordo, where they had to dive for a marked rock, 12' down, using their floatation device and length of cord collected at the last challenge. At this point, it appeared only those three would make the time hack to climb Concepcion and finish the race. Raptor, Shanks and Wheeler (in that order) ascended and descended the Concepcion, ran to the coconut tree challenge to retrieve their final idol – where ALL. THREE. FAILED. Yes. At the very last challenge – not one of the exhausted athletes were able to collect their final idol. So – they raced to the finish line, and after counting idols, petroglyph rubbings and times, finished in the order that they came in. All under 30 hours. All smiles. All greeted with cheers and surrounded by loved ones. The remaining racers that ended their journey after the chicken run, came in to cross the finish line to equally phenomenal support and respect for what they had accomplished.
This race was and is no joke, and there is nothing like it anywhere out there. To truly understand the magnitude of what every one of these incredible athletes achieved you have to have done it yourself. Even being right beside them is not enough to fully realize what they have carried out. From the first DNF of the night, to the first place finisher, each and every person who undertook this event has something enormous to be proud of. And I for one, have the utmost admiration for you all, and I hobble lovingly in your general directions.
---
Editor's Note: Thanks to Rachelanne Gladden for all her coverage of FYA following the race, tweeting, instagraming and updating us who could not be on the island.