Sneak Freak
I'm going to try and keep this post short, and while being as descriptive as possible I will eschew the flowery superlatives that I am prone to in most conversations about my shoes. You see, I'm a shoe junkie, a zealot for kickery, a sneak freak… and I'm constantly driven to find the best of the bunch to shod my little elf feet in. I'd be lying if I said I didn't have a shoe manufacturer's logo tattooed on my right ankle.
Newton Running, the company who paid for my '09 Ironman AZ entry, got hundreds of hours in product testing on my feet, and forever etched into my skin after the challenge was completed.
Monkey feet? Yeah, I was one of the early adopters of Vibram FiveFingers; in speaking with the VP of Product at Outdoor Retailer, he read one of my exhaustive blog posts from early 2009 on how to modify (melt) VFF KSO's to fit athletes like me who have Morton's Toe.
From minimalist sandals to maximalist Hokas, I've run the gamut of different running shoes, and never fell in love with – believed in, and wore for years – any other shoe quite like Spira Footwear XLT's and Stingers. This little company out of El Paso TX makes the fastest road running shoes I've ever had the pleasure to wear, and they've been great friends of mine for the better half of a decade. (See the interview with Andy Krafsur at Spira on Obstacle and Adventure Weekly). I consider myself fortunate that shoe manufacturers seek me out to try their new stuff and give honest feedback, which on occasion can be brutal. There are plenty of shoes that didn't make the cut, and those give the praise of a few I believe in even more weight.
But all those other shoes are not what this article is about. I'm here to present you with a weapon to take on obstacle courses and mud runs like no other; the Icebug Zeal.
Before I dig in, let me come clean that while I have no direct incentive from Icebug for anyone buying their off-road or lifestyle shoes, they are an advertiser with Mud Run Guide, the Official Shoe of OCR Warrior, and Official Shoe of OCR World Championships. I choose to endorse Icebug footwear because I trust in their quality and performance, and really dig all the Swedish meatballs involved with this company.
Icebug Factoids
SOME of their shoes have carbide-tipped spikes for traction, (called BuGrip) and these are NOT the ones I recommend for OCR's and mud runs.
The rest of their off-road running and lifestyle shoes have soles made with this revolutionary rubber compound that's sticky as all get-out, RB9X
Icebug is a Swedish company that has offices around the world, including Icebug USA.
And Now, Something Completely Different
Before the Acceleritas4 were announced by a doorbell chime from my UPS driver, I was pleased with the shoes currently in my mud run rotation that I was sent to test: Salomon Fellraisers and Inov8 Bare Grip 200. Both fit well and had great traction, while the Fellraisers were very heavy and the Inov8's began to show signs of wear after the first two runs, they both performed up to my expectations; why change? My first trail run answered that question while giving me a whole new level of appreciation for traction and how flexible a knobby sole can actually be. I was blown away how the soles countour (see slow-mo in video below) around objects and allow my feet to grip the rocks on the trails around my house while still providing protection from the sharp edges. The grippy RB9X sole makes climbing anything from steep, rocky trails to a warped wall surprisingly easy – so easy, in fact that at Rugged Maniac in AZ last year I nearly ran over someone who reached out to give me a hand from the top of the warped wall as I ran up and over without any need for assistance at all. I love these shoes, but that's STILL not what this article is about. (For the record, I ditched the other shoes and have been exclusively in Icebugs for the last 8 months)
OCR WEAPON.
I've been testing the Icebug Zeal since December 3, and after a month or so of only seeing photos I was really excited to get my feet into 'em. I'll use the term "into" quite literally, as the radical midsole design envelops most of your foot, designed for lateral stability and an overall low 6mm drop from heel to toe. Here's what they have to say about it:
Zeal RB9X®
The holy grail of trail running is to provide both stability and flexibility, but to make a midsole stable yet soft has so far proven too difficult for PD teams world-wide. Until now! The development of Zeal has taken more than three years and after numerous tests and prototypes it's ready for launch. Upper material is a light yet durable nylon textile, and together with the lacing system it embraces the foot firmly. But it is the midsole construction, and the HGMS2 technology*, that is the true innovation. Zeal provides a stable but soft heel grip, this is the impossible combo, made reality through the moulded midsole cradle on the interior side of the shoe. The midsole not only adds superb fit, it also turns into the reinforcement protecting the foot in serious terrain. The height of the heel cup is slightly reduced at centre back in order to reduce the pressure at the Achilles tendon. The medium last is half lined with Quick dry mesh. The torsion and cushioning is in fine balance
and together with the low sole profile the ground control is just outstanding. The outsole cleats are positioned so mud doesn't get stuck, and as if the deep lug pattern wouldn't provide traction enough the RB9X® outsole the benchmark among "sticky rubbers"!
(*Holy Grail Midsole Soft AND Stable – technology)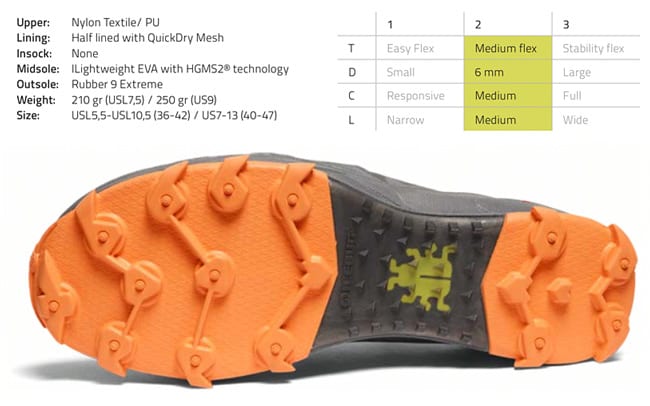 Here's what I have to say about the Zeal:
"Holy Sh*t, these rock!"
Fit, traction, and protection in a low-drop, lightweight shoe like this is unheard of, and there's no better test in my mind than bombing down a steep, rocky trail at full speed and being able to trust that all the technology in this shoe is working to keep you safe:
The molded midsole cradle providing stability
The protective (spiked) midsole plate taking the brunt of any harsh footfall on sharp rocks
The RB9X rubber gripping the rough terrain while absorbing impact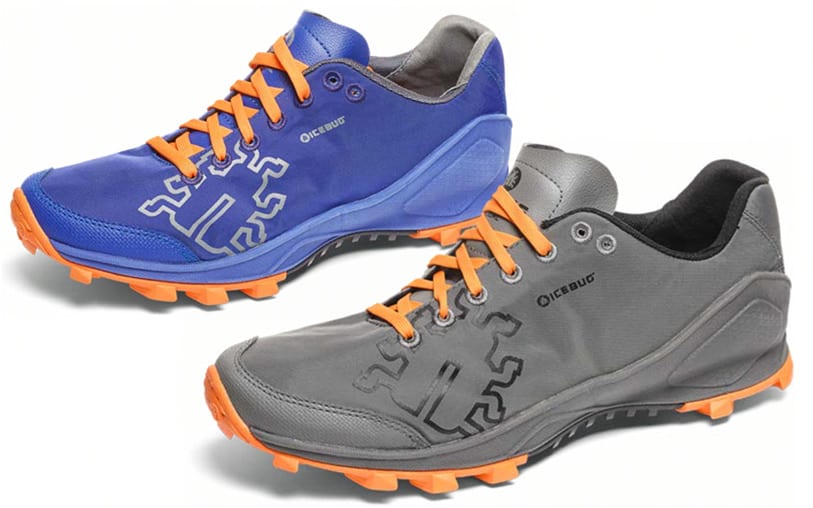 I call these shoes a "tactical weapon" for OCR for many of the above reasons, but the protective midsole plate really earns its place on the shoe when it comes to traction on obstacles – especially ropes. The teeth grip like mad when you wrap the rope over your lower foot and clamp down, almost as if you were cheating on a rope climb. For all other surfaces, the pyramid-shaped claws poking out of the midsole are a secondary level of surefootedness: if the RB9X treads on the bottom doesn't catch hold of something, these will.
Over, under, & through anything, these shoes are tough and stand up to an amazing amount of abuse. The water-resistant and mud-shedding upper helps shield your feet from moisture, while feeling almost like they were made of bulletproof kevlar while they take a beating during any adventure. Primary ejection point for water that makes its way inside the Zeal is around the base of the tongue, so water can get out when you run after a complete immersion without having holes that will let water, sand, and little rocks constantly in. The tongue and sockliner is designed to be light and not water-absorbing, with the right socks (hint: hydrophobic, all man-made materials) and proper fit, water is ejected quickly and efficiently.
Zealous? They are Available!
Our buds at OCR Gear are the official distributor for North America along with Shale Hill in Vermont. You can order from OCR Gear here and even get 10% OFF w/code MRG10!