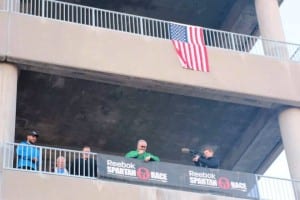 Spartan Race once again staged a Stadium Event in Tampa that had tie-ins with Special Operations and the Military, and this year's event was even better than last year's. They took a race that was considered to be a favorite among many people who ran multiple Spartans and they added obstacles, made the race more challenging, and it was greater fun. Less people participated this year which is a puzzling shame, but maybe the chilly temperatures (for Florida) and running on Valentine's Day made some folks stay home.
There was speculation and conjecture leading up to the event on whether there would be additional "Special Ops" medals and a military presence because of some of the negative feedback about low donations from Spartan last year, but the rough spots seem to have been smoothed over, and the Honorable Bob Buckhorn, the Mayor of Tampa, was again present at the Starting Ceremony to speak and welcome the Spartans to his City, and the limited edition Spartan Special Ops Medals are pretty cool.
Venue and Registration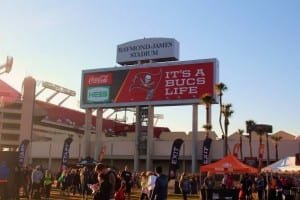 Raymond James Stadium is the home of the NFL's Buccaneers, so there was plenty of convenient parking in paved lots and registration was just a relatively short walk for a pre-race warmup. There is something magical to me when I'm racing in a stadium venue where we are running and climbing and crawling in an environment where the majority of people never get to play and act like overgrown kids.
Festival Area
Upon entering the Festival Area you immediately came upon the Biggest Team Tent of MudRunFun who raced with their awesome Teammate, Darien Trombley. At 16 years of age, Darien conquers Cerebral Palsy every day by refusing to sit back and watch. He crushed this race, and has a goal to earn his Trifecta this year. Biggest Teams this year have an added perk from Spartan because each member earns a special patch commemorating the achievement.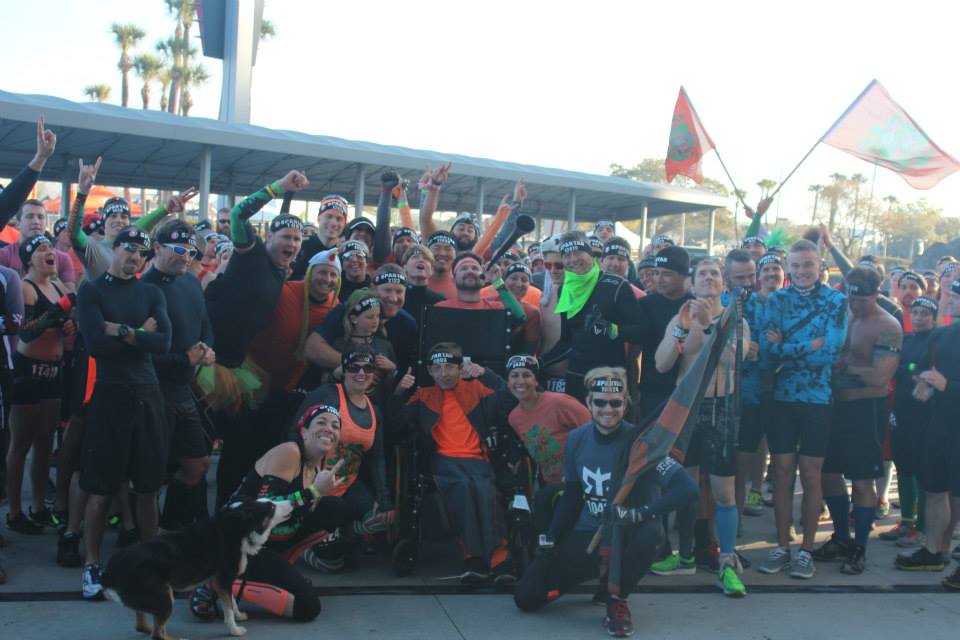 The Race
Spartan said that there were a total of 24 obstacles, but that number is rather low considering that just running flat between the seats and avoiding cup holders can be an obstacle for some people. The distance was advertised as being 4.2 miles and this was verified on a lot of GPS devices which is difficult at times because so much of the race had us going up and down ramps and stairs. Millions of stairs. And that many obstacles in this short of a race kept anyone from having to run too far at any one time. And the stairs kept lots of folks from running a great deal too. Did I mention the stairs?
Unlike some Stadium events where there is absolutely no mud or dirt, this race had a mixture of concrete and sandy mud. The infield was being re-turfed so we ran and crawled through sand, then once we came out of the stadium we wound around in the grassy areas outside and went into water and wet dirt in several areas. Hard to really call "mud", it did get you and your feet wet, but cleanup was a breeze afterwards.
The Elite Race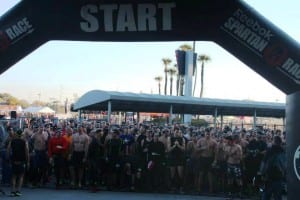 There were not as many Elite runners on Saturday, so people wanting to test themselves by joining the Elite ranks had an opportunity to race with and against the best, with a chance for even higher placement than usual. The Men's Elite had 209 racers, and there were only 54 Elite Females. After hearing from the Mayor and Dustin Dorough's Pre-race pep talks, they took off up the ramps and into the stadium.
The Men's race had a truly exciting photo finish with Isaiah Vidal and Ken Corigliano running neck and neck through the final obstacles and crossing the finish line in a diving tie to the delight of the cheering spectators. Timing chip results had Isaiah edging Ken by one second for First Place. Joey Patrolia ran a good race and came in Third. The Women's race saw Kate Cramer, Karlee Whipple, and Rachel Covington placing First, Second, and Third respectively.
The Open Heats followed at 15 minute intervals and were well spaced out to help alleviate bottlenecks that invariably happen at all races. 5,248 people ran, and this venue could have handled many more racers and run heats even later into the day.
The Obstacles
There were many new and improved obstacles at this race. The very first ones encountered were new and quite challenging. Wooden 4×4's were horizontal at 5' in the air with nothing under them. You had to jump up, muscle over them, and get off without splatting onto the concrete. Many Elites were doing burpees right off the bat here.
The traverse walls featured the new "zig-zag" element where you have to negotiate an outside and inside corner on the wall while hanging onto your blocks. This was incredibly difficult, especially for those of us who are vertically challenged.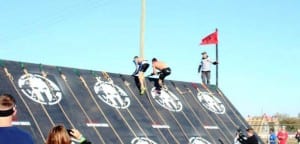 Some of the new obstacles included weighted jump ropes while wearing the old "Hobie Hop" rubber band around your legs. 25 rotations seemed like a small number until you actually had to make your arms and shoulders spin the heavy rope without knocking your feet out from under you and ending up face down on the concrete.
Jerry Cans filled with water were added too this year. Elites carried two, and they were unbelievably heavy and difficult to negotiate between the narrow seats as you wound through the stadium. This became a bottleneck problem, and by the Open heats the requirement dropped to only one heavy can per racer that you could carry on your shoulder.
The Vertical Cargo Net obstacle was much improved over the last several Spartan races I've done. Instead of being slung over a cable which invariably sags and gets lower throughout the day, this one was very tall and erected over a wood frame that made it a better obstacle. Completing this obstacle while down on the playing field provided an incredible view of the surroundings.
The Barbed Wire Crawl was 100 yards of sandy fun across the field also. Spartan wasn't allowed to make it a mud pit, so they added old artillery rounds, wood blocks, and other "speed bumps" under the wire so that it was fun and challenging.
These obstacles all occurred in and just outside the stadium on concrete, and you were constantly running between the narrow seats, avoiding cup holders, climbing over short barriers, and negotiating the steps up and down. But then you emerged from the stadium at around the 2.5 mile mark and still had about 1.7 miles of Obstacle Course Racing to do in the grassy areas outside the Stadium. People who wore slick street running shoes for the concrete areas sometimes found that their footing was somewhat slippery out in the grass.
The Plate Drag was a variation of the tire drag, but the plates were weighted so heavily that as the day progressed and the ruts and holes got deeper many people found their sled hopelessly stuck in a hole. Blisters ripped and shoulders screamed as you struggled with your rope to free your stationary burden.
The Inverted Walls, the (dry) Slip Wall, and the Fire Jump brought you victoriously to the Finish Line where you received the Special Ops Medal, the Red Ribboned Spartan Sprint Pie Piece for the Trifecta and the round Red Spartan Sprint medal. Quite an impressive array of heavy metal clanking around your neck, but many racers wore them all weekend and on the trip home just to celebrate thieir accomplishment.
After the Race and Impressions.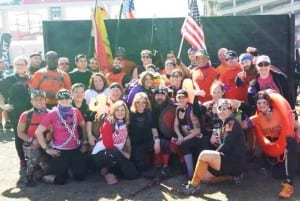 With the lack of sticky mud, it was easy to use the wash down areas and change into clean, dry clothes. A pleasantly warm afternoon made it fun to hang out and socialize with your friends and Teammates. Since this was the first Spartan of 2015 on the East Coast it sort of felt like a Spartan Family Reunion.
This was a very good race, and a fun and challenging way to get out there and do what we love with the people that we love. It was extremely well organized and well staffed. There was no apparent lack of volunteers anyplace where they would have been needed, and the overall impression was that Spartan pulled off a professionally run, world class event and let all of us join in for the fun.
I would highly recommend the Tampa Special Ops Stadium Sprint for next year, and it will still be Valentine's Day Weekend, so bring your sweetheart too!
Overall Rating: 5/5
---
Have you done the Spartan Race Tampa Stadium Race? Share and Rate Your Experiences at a Spartan Race….
---